DELTONA | A creeping humidity settled into 76-year-old Nestor Ramos' home. Caused by intense rains over the past two years and Hurricane Ian, his roof developed a leak that trickled water onto the floor near his kitchen. After Hurricane Nicole, a tree fell onto the already weakened roof. The leak began to soak the carpet in his living room, and a hole opened in his bedroom allowing even more water into the home.
Ramos tried to get government assistance but was denied. A mustiness pervaded the home making it hard for Ramos to breathe because he battles emphysema.
Over the previous six months, due to his family's limited income, Ramos frequented the Catholic Charities food pantry. He made friends and often spoke to the staff, sharing his situation. It was during one of those visits he explained the damage to his home.
Deacon Wilmar Rojas, director of operations, who was working with St. Vincent de Paul assisting Hurricane Ian survivors with unmet needs, sent a roofer to examine the home while Ramos gathered repair estimates. Within a month, Ramos had a new roof, courtesy of Catholic Charities partners, Catholic Charities USA and the American Red Cross.
"Coordinating resources, both financial and human, is always an enormous endeavor," Deacon Rojas said. "However, the rewards are boundless."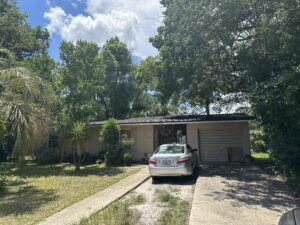 In a letter of gratitude to Catholic Charites Ramos wrote, "We were facing an overwhelming situation with our damaged roof. The relentless leaks were not only causing serious damage to our home, but also affecting our overall well-being. We were losing hope and feared that our humble abode, our sanctuary would soon be lost forever… We were touched by the outstanding level of expertise and craftsmanship displayed throughout the entire process. Moreover, your constant communication and willingness to address any concerns provided us with the reassurance we desperately needed during those challenging times."
Ramos said the generosity and compassion offered by Catholic Charities granted him "the ability to continue living safely and securely" in his home, giving him "stability and peace of mind."
"Acknowledging that we at Catholic Charities are a vessel for Christ's love to families in need is a deeply humbling experience," Deacon Rojas said, crediting the Eucharist for guiding his team to overcome obstacles and work with wisdom, compassion and mercy.
By Glenda Meekins of the Florida Catholic staff, September 22, 2023