COCOA BEACH  |  As you walk into Grace Young's apartment, witnesses to her faith abound — the statue on the foyer table of the Holy Family making their way out of Bethlehem, the cross on the wall, her devotion to the Blessed Mother.
She noted it is the Blessed Mother's "image of goodness and kindness" that compels her.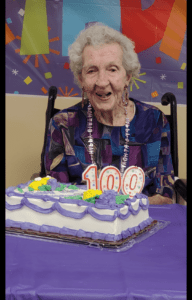 The warmth of an ocean breeze fills the room as Young enjoys a cookie and coffee, sitting serenely wearing her gold drop earrings and pastel shades of lilac and yellow. Her calm, frail demeanor does not hint to the enormity of her character and strength. Young had a stroke two years ago, but that does not deter her from answering queries — slowly and deliberately — about her life, her memories, and her faith.
Young is a legend in her own right. She celebrated her 100th birthday March 3, 2023, and her life's story is inextricably intertwined with her fervent faith.
Moving to Florida with her family in the early 1950s, she made her home in Cocoa Beach when it was a sleepy beach town. The road down her block was the first of many paved roads to come after the Space Program put the beach town on the map.
The eldest of four children of James Young, an American, and Anita Sartoresi Young, a native of Costa Rica, she grew up bilingual. That skill was advantageous when St. Mary in Rockledge established the mission parish of Our Saviour in Cocoa Beach, when it was still a part of the Diocese of St. Augustine. In June 1968, in response to the influx of Catholics in central Florida, the Diocese of Orlando was established, and Young was there at the forefront of it all.
She helped pioneer her own parish, Our Saviour, which was a mission church of St. Mary. Mass was celebrated in the local bowling alley at first, dubbed St. Jake's by the Sea, where children also received faith formation.
"(During Mass) we put chairs on the alleys, and the ball return was the communion rail," Young said.
In the 1960s, Msgr. Richard Walsh, pastor of St. Margaret Mary Parish in Winter Park, was one of the first of many Irish priests sent to the new diocese. He was assigned to Our Saviour in 1968, as a parochial vicar then as pastor in 1975. He recalled Young's energy and zeal.
"Grace was instrumental in organizing and teaching religious education. She ministered to the Cuban immigrants, helped with housekeeping at the rectory and organized volunteers," he said. "She was devoted to her mother who she cared for through Alzheimer's disease. She was God's gift to the parish. She should be canonized."
Young worked in accounting at General Dynamics at the height of the Space Program, which dominated the culture and economy of Cocoa Beach. Crew members and staff were often part of the Mass intentions and Prayers of the Faithful were frequent. The position enabled her meeting the crew of Apollo 11. Together with then parochial administrator, Father Vincent Smith, they coordinated the celebration of a special Mass for the astronauts' safety and successful journey, followed by a breakfast in the rectory. It is still Young's favorite memory.
She also helped establish Small Christian Communities using the Sunday Gospel commentaries written by prolific writer and former pastor, Father Eamon Tobin, who died in 2021. Young also formed a Spanish Small Christian Community and because in-group Spanish translation was tedious, she found someone to translate the commentaries in advance. The commentaries are still available in Spanish, English and Vietnamese.
Longtime friend, Flori Loymes, spoke for Young's community. "She helped us understand the Gospel and explained it well, to apply it to our lives," she said.
Our Saviour former pastor and current Diocesan Vicar for Senior Priests, Father Fred Ruse, spoke of his admiration for Young at the recent celebration of her landmark birthday. He noted her collaboration with the Sisters of Mercy, Irish nuns who came to grow the school and teach religious education. "Grace is strong-willed and affectionate," he said. "She gave you a job and had the confidence you would do it."
At her birthday celebration, hosted by her parish, Father Peter Sagorski – who knew Young since before he became a priest — described Young in his homily, as "100 years young." "Her name, Grace, is what God gives us and we thank God for the gift of Grace," he said.
That sentiment is typical of all those who knew her then and know her now.
Although never married, her family life is rich — filled with 16 nieces and nephews and 57 great and grand nieces and nephews — 35 of which came from Colorado, New York, Illinois, Missouri and other parts of Florida to honor her at her 100th birthday celebration at Our Saviour.
Cherish Young, 21-year-old grandniece from Missouri shared, "She's a really cool aunt. We vacationed with her since I was a child and it always impressed me that she woke up at 7 a.m. every morning to go to Mass. She's incredibly nice and good with people," she said adding how faithful she is.
When asked what "grace" God has given her to accomplish so much of His work, Young smiled broadly and said, "Guts!"
Her advice to young people is a motto for any life well-lived. "Religion is primary. God is first," she said. "And the foremost ingredient is honor and love."
By Glenda Meekins of the Florida Catholic staff, March 17, 2023