WINTER PARK | Meet Jack Timmes and Eddie Emons, Catholic school pals who graduated from St. Margaret Mary and Bishop Moore High School together and now dedicate their lives to service. One chose law enforcement, the other firefighting, but their faith taught them they could not survive as public servants alone.
Timmes was just 14-years old when a mission trip to Louisiana sparked a love of service inside him. He returned home sharing stories of an adventurous ministry leader who was also a firefighter. Timmes' family encouraged him to try a ride-along to see if he really loved the career and, it turns out, he did. Witnessing a car crash in high school solidified that decision.
"I saw a bad accident happen in front of me and, without even thinking, I jumped out to help the people out of the car," shared Timmes. "I got home and told my dad and he said I should be a firefighter and it was meant for me. I prayed on it, and it felt like a true calling."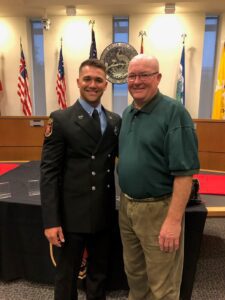 Prayerful discernment runs in the family. Timmes' father is a deacon at St. Margaret Mary Parish in Winter Park, always pointing to the faith. His grandfather was also a deacon, soldier, and police officer. That trust in the Lord and selflessness keeps Jack going.
"I only knew my grandfather for a little bit before he passed away, but the stories I've heard about him and knowing what he did, that is one of the biggest things that keeps me into it," said Timmes. "He was very involved in the Church."
Timmes also leans on Emons, his friend since birth who studied criminal justice and currently serves as an Orange County deputy. They both have some tough days on the job, meeting people who are suffering and afraid. When the burden grows heavy, a hearty conversation often helps.
"It's nice having a best friend who is also in a field that's hard and having the faith so we can share thoughts and feelings on it," noted Timmes.
Emons agrees, "We both have the same beliefs and views on everything, so we can fall back on each other when a normal person might not understand everything we're going through and everything we see because they don't get to see it every day."
Emons always had the desire to work in law enforcement. When Winter Park police officers visited his schools growing up, Emons would stop and chat with them. His eyes were opened on a police ride-along while in college. The positive impact police had on the community inspired him.
"I've always felt the calling to help others," Emons added. "I get a lot of joy in my life when I'm able to help solve someone else's problem or work through a situation. Throughout the shift, I got to observe officers and realized that every call we went on, there was a solution that we were able to help the person with. I realized becoming an officer would help me solve issues and further help people every day at work."
His faith led him to law enforcement so he could "help others who need guidance." During serious incidents, Emons often finds himself praying for the families he encounters and then becoming the hands and feet of Christ. After responding to a call of a mother in need during Christmas, Emons and his co-workers bought bunk beds and toys for her children who had nothing.
"We are always taught to do God's work by going the extra mile to make someone happy and help them in a bad situation," said Emons. "It helps you understand and be the best person you can be to everybody, no matter what that person is going through."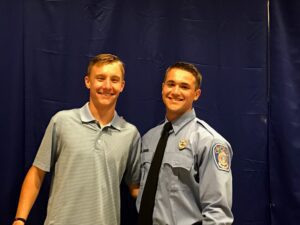 Timmes' and Emons' relationship mimics Christ's love for His people. As Pope Francis says in his Apostolic Exhortation, Christus Vivit, "Friendship is one of life's gifts and a grace from God. Through our friends, the Lord refines us and leads us to maturity. Faithful friends, who stand at our side in times of difficulty, are also a reflection of the Lord's love, His gentle and consoling presence in our lives."
By Lana Kaczmarek, Special to the Florida Catholic, February 2, 2022