OCALA | Before she was a three-time speedskating Olympian, Brittany Bowe was known as No. 5 on the women's basketball team playing for the Trinity Catholic High School (TCHS) Celtics.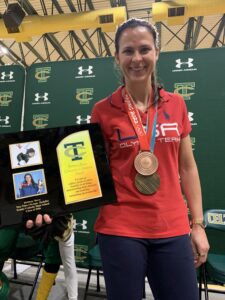 Bowe, 34, won a bronze medal at the 1,000-meter speedskating event during the 2022 Beijing Olympic Winter Games. As part of a two-day welcome home celebration in Ocala, Bowe visited her alma mater on March 25. She was greeted by high school friends, faculty, staff and a TCHS assembly of 525 students.
"She's inspiring to us all at Trinity," said Sean Rylan James, freshman basketball player at TCHS. "She has great character and means a great deal to us, especially the men's and women's basketball programs."
The 2006 TCHS alumna said the faith-based foundation of Blessed Trinity Catholic School (BT) and TCHS "has shaped me to who I am today, and I give all the glory to God. (My faith and belief) help strengthen my identity and help me through hard times, then it makes the great times even more glorious."
Bowe's mother, Debbie, said she and her husband wanted their children to have a Catholic education, pray when they wanted, speak openly about God and be around a good foundation of Christian beliefs. In addition to her Catholic education, Bowe credits growing up in a loving, selfless household with strong morals and values.
Having a special devotion to the Blessed Virgin, Bowe always carries her grandmother's rosary with her. "It brings me peace," she said. "It's a nice reminder that my grandmother is with me. When I can't sleep or I'm uneasy, I pray the rosary. It's my calm space."
Bowe's character was on full display in the international arena when she selflessly gave her spot in the 500-meter speedskating race to teammate Erin Jackson, who was ranked No. 1 in the event but slipped on the ice during the 2022 Olympic qualifying trials. Jackson went on to win that race in Beijing, becoming the first black woman to win an Olympic gold medal in speedskating.
"At the time, I didn't realize the impact that (choice) had, but it was the best decision of my life," Bowe said. "When I won (the 500-meter trials), I felt everything other than victorious because I knew Erin Jackson did not make the team. She earned and deserved her spot as the No. 1 ranked skater in the world. There's such a lack of diversity on the winter sports side, so for me to give her that opportunity to change the world forever was such an honor."
But Bowe's actions at the trials were no surprise to her mother who had witnessed her caring sportsmanship throughout her life. Debbie recalls when at the age of 12, Bowe won an inline skate race at the Sunshine State Games. "There was a special-needs person in that race and she finished several minutes after the top (skaters). I remember Brittany asking me, 'Mom, do you think I can give that girl my medal?' I still hear that young lady's voice saying, 'This is the best day of my whole life!'"
More recently, Debbie remembers looking for Bowe after she broke the world record for the 1,000-meter ice-skate a few years ago. She found Bowe gathering unopened food at the back of the Olympic oval so she could take food to the homeless.
While speaking with her alma mater's student body, Bowe encouraged the students to use their God-given talents to the best of their abilities. She also spoke to the importance of being a team player. When a student asked if she prefers skating or basketball, Bowe said there's just something special about playing team sports.
"When you come together for this common goal and sacrifice for one another, really special things can happen," Bowe said. "You all have to continue to lift each other up and empower one another."
When one student asked the biggest challenge Bowe has overcome, she responded that in 2016 she collided with a teammate which resulted in a concussion. It took her one year to recover. During that time, she relied on God to pull her through with the help of doctors, teammates and family.
"You've got to have God to get through tough times – that's a value people sometimes overlook. What a wonderful message for our students, especially on the Feast of the Annunciation!" said Monsignor Patrick Sheedy, pastor of TCHS and BT, who has known Bowe since grade school. "She's worked hard to magnify what God gave her."
After Bowe spoke, TCHS unveiled the "Brittany Bowe Character in Athletics Award". The award will honor senior athletes who display acts of selfless service and humility in all things, demonstrate high character and model outstanding sportsmanship.
"It's an incredible honor to represent the United State of America on the biggest sports stage," Bowe said. "It makes it even more amazing to share that with the people who have supported me along the way. To be here in Ocala and at Trinity is a blessing."
By Dana Szigeti, Special to the Florida Catholic, March 29, 2022