ALTAMONTE SPRINGS | Mateo and Lily, both age two, focused on the large red button before them as they were guided through the track designed by St. Mary Magdalen Catholic School students. Their toy cars inched forward as they discovered applying pressure would propel them into new possibilities previously thought unattainable. Cheering on the children with special needs were students from every grade level. "Put the pedal to the metal," one sign clamored. The week of preparation for this moment culminated in a glorious moment of triumph, resplendent with touches of Christ's handiwork.
Mateo's mother, María, found it difficult to contain her joy. Her son was one of numerous applicants for the Go Baby Go! program – hoping to receive a toy care assembled, rewired, decorated, and tailored to her child's specific needs. The project was a collaboration between St. Mary Magdalen Catholic School and the University of Central Florida (UCF).
When a parent, Jennifer Tucker, director of Go Baby Go! at UCF, approached principal Lorianne Rotz about collaborating on the project, Rotz said she kept tearing up and saying, "Yes. Yes. Yes." ""It matched so much with who we are and what we are trying to instill in our kids—the love, kindness and seeing everyone as a child of God," she said.
For the first time, the partnership would not be with one school's classroom, but with the entire student body. Tucker was undeterred. She said, as a Christian, "being able to do this in a faith-based school, allowing God's face to shine through these children has been a unique experience" for her and her daughter. "For (my daughter) to be embraced and celebrated for who she is, an experience we had not had in other schools, there was no doubt in my mind that we would have the same experience when dealing with children with unique abilities."
Tucker explained the toy cars are the same as any other child their age would drive. The idea is to allow children with disabilities, such as Mateo's and Lily's, to play and participate just like any other child.
"Mobility is important because we all learn through moving," Tucker said. "In a playground all the play happens when you move" allowing play and participation.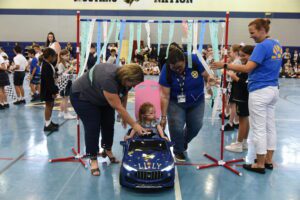 Taking on a life of its own, the week-long collaboration included every grade-level and all aspects of STREAM education, incorporating science and math in the building and rewiring the cars, the addition of safety features like PVC piping and pool noodles for safety, to decorating a track and car wash, and making signs. Some students held handmade signs and wrote encouraging messages on mock carwash streamers simulating water. Each grade level added a component.
"When you are doing something like this in a community of faith, it allows us to live out our values," noted Tucker. "It is living out compassion. When Christ was among us, He took care of those with leprosy, those with seizure disorders, those who were lame. We are giving children an opportunity to do those very same acts in present day. Hopefully that brings to life how they can continue to live their faith moving forward."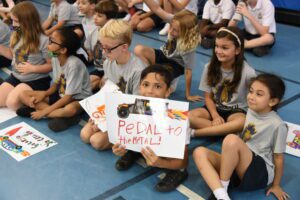 Rotz agreed. "It's one thing to teach our children what it means to love one another, but this week you see every one of them living it and it's just a beautiful gift," she said. "It is completely immersed in the understanding that we are made in the image and likeness of God. That is truly STREAM at its finest. Living our Gospel values, our Catholic values, in a way that helps them learn."
By Glenda Meekins of the Florida Catholic staff, June 01, 2022