The vocation to the priesthood is a marriage to Christ and to the Church. At the Chrism Mass, the priests who serve in the Diocese of Orlando gather together to renew their priestly commitment. During the celebration of Mass, the bishop asks for the prayers of the community of faith, "as for you dear sons and daughters pray for your priests." The bishop recognizes those priests particularly who are celebrating 25 and 50 year anniversaries of Ordination to the Priesthood.
Celebrating 50 years of priesthood
Father Charles Deeney, OMI
Missionary Oblate of Mary Immaculate Father Charles Deeney was born October 26, 1945 in Letterkenny, County Donegal Ireland, one of 10 children to James and Bernadette Deeney. He was educated in schools in Letterkenny and Dublin and studied at Milltown Institute of Philosophy and Theology and the Oblate Theologate in Piltown, County Kilkenny. At the age of 26, he was ordained into the Oblates of Mary Immaculate in Kilkenny, Ireland. The Oblates of Mary Immaculate's primary purpose is to bring the good news to the poor and most abandoned. This mission took Father Deeney to Brazil as one of his earliest assignments. He would serve as a pastor there for 16 years and would learn to speak Portuguese fluently. He returned to Ireland for several years before continuing his mission in the Diocese of Orlando, where he has served the communities of Annunciation Parish in Altamonte Springs, St. Ann Parish in Haines City, and St. Francis of Assisi Parish in Apopka. He is currently the pastor of St. Patrick Parish in Mount Dora where he has been serving since 2017. His ability to speak Portuguese has allowed Father Deeney to minister to the local Portuguese-speaking Catholic community. In 2001, he represented the Portuguese-American community on an advisory board to the diocesan Ethnic Ministries Department and he celebrated Mass in Portuguese once a month during his time at Annunciation. He will celebrate his 50th anniversary to the priesthood on Dec. 18, 2021.
Father Edward McCarthy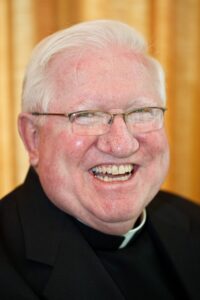 Father Ed McCarthy describes his parents, Peg and Redmond McCarthy, as "faithful cheerful Catholics" and it would seem that their love of the faith was passed down to their children. Of their seven living children (they had one son who died in infancy), they would produce two vocations – a religious sister and a diocesan priest. Father McCarthy knew from an early age he was called to the priesthood. So certain was he that when it came time for high school, he enrolled in Quigley Preparatory Seminary in Chicago; even though it meant waking up at 6:00 a.m. to attend morning Mass and then taking a train, a bus, a subway, and then walking four blocks before arriving at school. In four years, he was never late.
"When you know what you want at an early age, everything is pretty clear," remembered Father McCarthy. "It wasn't that challenging. I was just a happy kid doing what God wanted me to do."
From Quigley he would go on to the University of St. Mary of the Lake/Mundelein Seminary and after a period of discernment he applied to Bishop William Borders to come to the Diocese of Orlando. Not only did Bishop Borders agree, he ordained Father McCarthy at his home parish in Bensonville, Illinois, Sept. 18, 1971 and allowed him to complete his master's degree in psychology before beginning his first assignment. Over the years, Father McCarthy would continue to earn advanced degrees, including a master's of education in guidance and counseling, licentiate in sacred theology and a doctorate in ministry.
"As part of my doctorate, I developed a peer ministry program that is still going on in places," said Father McCarthy. "Some of my most cherished moments are seeing those men who were in the original program, now in their early 50s, who are outstanding members of their parish. They are participating, intelligent, wonderful Catholics. To see that and know I had a small part in that is a most treasured memory."
His work with youth would continue as the diocesan director of youth ministry and then as vocations director. He also served the parish communities of St. Charles Borromeo in Orlando, St. Patrick in Mount Dora, Divine Mercy in Indialantic, Our Lady of the Lakes in Deltona, St. Paul in Leesburg and the Basilica of the National Shrine of Mary, Queen of the Universe. Though technically retired since 2011, Father McCarthy continues to serve as the vicar for senior priests and assists at All Souls Parish in Sanford. Still, he manages to find time for a favorite hobby – gardening.
"I have fruit trees, a vegetable garden and a flower garden. I have nature all around me," said Father McCarthy, who says that his love of nature is part of his Celtic heritage. "You can find God anywhere, but especially in relationships and nature!"
Father McCarthy's long-time prayer has been to live to see his 50th anniversary to the priesthood. Now that it is here, he looks back with gratitude at a wonderful life.
"I have been very blessed," said Father McCarthy. "God has been unbelievably tolerant and merciful to me."
Father Anthony Quinlivan, CSsR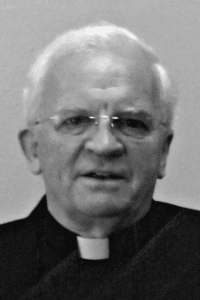 Father Anthony Quinlivan was born Jan. 19, 1940 in Cork, Ireland. At the age of 25, he joined the Congregation of the Most Holy Redeemer, commonly known as the Redemptorist Order. He completed his studies in England and was ordained June 29, 1971. Following Ordination, he studied at London University and the London School of Counseling and Therapy where he earned post-graduate degrees in education and counseling. These degrees served him well as he would spend the next several years as a high school teacher and lecturer at an international study center for priests and religious. He would then serve as an associate pastor for parish communities throughout England before arriving in the Diocese of Orlando in 1995. He began his ministry in the United States as parochial vicar of Ascension Parish in Melbourne and then became pastor of Blessed Sacrament Parish in Cocoa, where he would serve until his retirement in 2016.
Father John Ryan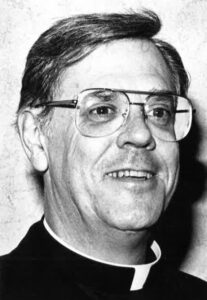 Father John Ryan was born in Newark, NJ in 1941. Following studies at the University of Colorado, Father Ryan entered St. Mary Seminary in Baltimore, MD and completed his studies at Immaculate Conception Seminary in Darlington, NJ. He was ordained to the priesthood on April 23, 1971. He arrived in Florida four years after his Ordination, serving as parochial vicar at St. Mary Magdalen Parish in Altamonte Springs, the Basilica of St. Paul in Daytona Beach, Ascension Parish in Melbourne, and as pastor of St. Patrick Parish in Mount Dora and St. Brendan Parish in Ormond Beach. He would serve as pastor of St. Brendan's for 16 years, until his retirement on 2011. Highlights of his priestly ministry include serving as the dean of the Northern Deanery from 1989-1999, serving on the Retirement Committee for Priests, strengthening interfaith relationships with the local synagogue in Ormond Beach, hosting the relics of St. Faustina Kowalski for veneration and offering the opening prayer at the 108th Congress at the Capitol in 2000.
Celebrating 25 years of priesthood
Father Francis Amponsah
Growing up in Awaso, Ghana, Father Francis Amponsah watched missionary priests come into his town each week for Sunday services. As a five-year-old, he was particularly impressed by the Volkswagen car they drove and the fact that his mother always cooked them chicken and rice – a rare and favorite treat of Father Amponsah and his three siblings. He said, with a laugh, it was the beginning of his vocation. "It got me to thinking, if this is the lifestyle of a priest, then I will also be a priest," he explained.
That childhood desire was reawakened as a teenager. Since the missionary priests who served his town spoke English, a local catechist would interpret the homily for the congregation. One day Father Amponsah, who was learning English in school, realized that the translation was not correct.
"The people were not getting the right words from the priest's mouth," Father Amponsah remembered. "I thought, 'I will become a priest so that the people can understand better, in their own language.'"
Father Amponsah would continue to discern and pray until finally entering the Minor Seminary-St. Hubert-Kumasi at the end of middle school. He then attended St. Paul's Seminary in Accra (Ghana's capital) and received a diploma in Philosophy. Immediately following St. Paul's, he was accepted to and began formation at the St. Peter's Regional Seminary, in Cape Coast in 1992. He was ordained a priest four years later on July 20, 1996. And while Father Amponsah has not yet owned a Volkswagen, he says his Ordination gave him a far greater blessing.
"The best thing about being a priest is that I receive, by the the power of the Holy Spirit, the gift to consecrate bread to become the Body of Christ and consecrate wine to become the Blood of Christ," said Father Amponsah.
For 20 years, Father Amponsah was able to fulfill his other dream of priesthood – ministering to his people in their native language. He served at three parishes and as a hospital chaplain in the Diocese of Wiawso, Ghana before arriving in the Diocese of Orlando in 2017. Here he has served the communities of Holy Name of Jesus Parish in Indialantic and St. Anthony Parish in Lakeland.
"It has been quite a joy for me to serve the people of God. There have been some difficulties, but in the midst of it all God has delivered me and kept me safe," said Father Amponsah. "I'm celebrating 25 years of priesthood. It's a good achievement, I think! God has been so good and gracious to me. I am very happy."
Father Mariano Catura
Father Mariano Catura was born in the Philippines, the second of 10 children in a "wonderful, loving, and God-fearing family". Raised in a devout family that was very involved in ministry and parish life, it is no wonder that the Catura family has produced two vocations to the priesthood in Fathers Mariano and his youngest brother, Alfeo. They are already working on the next generation with two nephews currently attending Holy Rosary Seminary. Father Catura's own calling came to him at a young age, when he began altar serving in the third grade.
"I was an altar boy until I graduated from high school in 1987. Through those years, I served different pastors and they had their own share of molding my vocation. What struck me most was their joyful disposition. Joyful priests and how people respected and loved them paved the way for me, at a young age, to entertain the idea of entering the seminary," remembered Father Catura. "Thus, my family and the priests assigned in our parish were very instrumental in developing in me a vocation to the priesthood and in shaping the kind of priest I am today: a joyful and fulfilled priest."
Father Catura entered seminary as a young man and on his 27th birthday, November 9, 1996, he was ordained to the priesthood and celebrated his first Mass. For the next 17 years, he would serve at parishes in the Philippines and West Indies before arriving in the Diocese of Orlando in 2013 as a missionary with the Archdiocese of Caceres.
"I enjoy being a priest and will be forever joyful living it out with the people whom I serve. I believe the God who chose me will never abandon nor forsake me. He is there to assist, protect and inspire me through the wonderful people I serve in different assignments and capacities," said Father Catura.
Father Catura has been involved in the Ministry to Filipinos and has served the communities of Our Lady of the Lakes in Deltona, Holy Family in Orlando, Holy Redeemer in Kissimmee, St. Rose of Lima in Poinciana, and is currently parochial vicar of St. Joseph Parish in Lakeland. No matter where his assignments take him, Father Catura says celebrating the Holy Eucharist, hearing confessions, witnessing the faith of his parishioners and spending time with his brother priests are among the greatest blessings of his priesthood.
"I have no regrets at all about becoming a priest. It is always a joy to be a priest… I thank God for placing wonderful and great people in my life who supported my priesthood and who love the Catholic Church. To God be the Glory!"
Father Tim Daly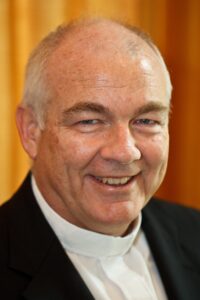 Father Tim Daly describes his calling from God as a pendulum, "swinging toward priesthood and then swinging away from priesthood." Raised in a Catholic home, the only child of Frank and Cathy Daly, he first felt an inkling of a vocation in middle school while volunteering as an altar server, sacristan, rectory receptionist, and as an active member of the youth group. And though he attended a high school for young men aspiring to the priesthood, upon graduation Father Daly ultimately decided to pursue a degree in elementary and early childhood education. Father Daly would explore and discern his life's calling repeatedly over the next several years, trying to reconcile what seemed to be competing desires; a career in education or a religious vocation.
"Sometime in my young adulthood, I developed my own special discernment prayer to help me with the many decisions in life, 'Lord, lead me where you need me!'" said Father Daly.
The Lord would answer Father Daly's prayer in surprising ways, leading him to spend two years with the Franciscans of the Holy Name Province, teach at an American school in Quito, Ecuador, earn a master's degree in counseling and a Ph.D. in counselor education from the University of Alabama, and to teach at the college level at the University of Montevallo in Alabama, James Madison University in Virginia and the University of Central Florida in Orlando. Through it all, the "pendulum" call to the priesthood would return again and again, until one day, May 25, 1990, the swinging would stop.
"After my first year at UCF, I attended the installation of Bishop Norbert Dorsey at the old Orlando Arena. It was a very moving liturgy and I experienced, the "Church in the modern world," remembers Father Daly. "Here in this very secular place, a very sacred event was occurring. I realized that the Church is truly the 'People of God' and that I was being called to serve them in the Orlando Diocese."
Father Daly was ordained to the priesthood at St. James Cathedral on June 1, 1996. He has served the communities of St. John Vianney in Orlando, Prince of Peace in Ormond Beach, and is currently the rector of the Basilica of St. Paul in Daytona Beach. He has also been the president of Father Lopez High School, the secretariat head for Christian Life and Education, the vicar forane of the Eastern Deanery and currently serves as the director of campus ministry at Embry-Riddle Aeronautical University (ERAU) and on the Priest Personnel Board and Presbyteral Council. Looking back after 25 years of priesthood, it is clear the aspirations Father Daly had as a young man were not in conflict with each other, and that his calling was not so much a pendulum, but a long journey of preparation.
"I have seen how God prepared me for all I am doing now. Running a parish is like running a business just like my parents did in my youth. My elementary and early childhood background has been invaluable for the Basilica School. In campus ministry at ERAU, I continue to work with college students. My time in Ecuador prepared me to minister to those in the Basilica's Hispanic community. As a priest, I do a lot of counseling and my training and skills from graduate school have prepared me to minister to the people of God, the Church," said Father Daly.
"I pray on the 25th anniversary of my priesthood that the Lord will continue to lead me where He needs me and that I will continue to meet God in life as I use my gifts and talents to bring hope and minister to the Church, the People of God, the Church in the modern world."
Father Nelson M. Javier TOR
As a child, Franciscan Father Nelson Javier participated in Mass each week with his parents, Dominador and Angeles, and his seven brothers and sisters in Dagupan City, Philippines. Each week he would notice a group of young men in the church from the seminary next door and he became fascinated and curious about what their life was like. However, it wouldn't be until personal tragedy struck in his college years that he would find out for himself.
"Experiencing the loss of our parents in the expanse of six months, my first year of college, I began to ponder the religious way of life, always drawn by the Franciscan Spirituality," recalled Father Javier. "Upon entering [the seminary] it was the constant nurturing of this desire 'seed' that became and bloomed to a calling to the priesthood."
Father Javier entered Mary, Help of Christian Seminary in the Philippines and then St. Tommaso Seminary in Messina, Italy. He was ordained as a friar of the Third Order Regular of St. Francis (TOR) on September 28, 1996 for the Province of Sts. Joachim and Ann in Sicily. After his Ordination, he served in parishes in Italy until 2012 when he was transferred to the Province of the Immaculate Conception in the United States. He began his ministry in the Diocese of Orlando in residence at St. Joseph Parish in Winter Haven and now as parochial vicar of St. Patrick Parish in Mount Dora where he has served since 2013. He has also served on the Presbyteral Council and is involved with Ministry to the Filipinos.
"Always simple in poverty, cheerful in chastity and obedient in brotherhood is what stands out during these 25 years. The blessing is to meet lots of people, be touched by God's grace, enriched by others and continue to serve God in His Church," reflected Father Javier. "I hope to always be that instrument of peace."
Father John Bosco Maison
Growing up in the small gold-mining town of Prestea, Ghana, home and church were the center of Father John Maison's life. They were the places where he felt the most love and joy. In a loving and caring home, he was educated with his siblings, always working together as a team and looking out for one another. At church each week he would worship with a huge extended family of grandparents, aunts, uncles, and cousins. For years he would watch the altar servers, longing to serve alongside them.
"When I was finally old enough to serve, I was enchanted with the mystery and holiness of being on the altar and I was filled with joy, slightly tinged with fear, when I was so near the sacred vessels, vestments, and the Holy Eucharist," said Father Maison. "My love and reverence for God and my Church grew as I served."
Soon, he began to be asked if he ever considered becoming a priest, even by non-Catholics! This was an affirmation of the desire already in his heart, to choose the vocation to the priesthood. Father Maison attributes his mother and pastor as being the greatest influences of his vocation.
"The two spiritual giants in my life were my mother who gave me the joy of her faith and her love for singing in church," said Father Maison. "The other person was the pastor of my church in Prestea. He was available, approachable, active, prayerful, and encouraging."
After his Ordination on July 20, 1996, Father Maison spent six years in Secondi-Takoradi Diocese, Ghana. In 2002, he began a six-year mission to the Diocese of Montego Bay, Jamaica. Following the mission, he visited friends in Florida who attend Ascension Parish in Melbourne. It was there he began to have an idea where his next mission might be.
"I had a feeling that the USA would become my country, the Diocese of Orlando would become my home and the people would become my fellow Christians, family, and friends," recalled Father Maison. "I realized that the question of where to live and what to do is insignificant compared to the question of how to keep the eyes of my heart focused on the Lord. It is not where you are, but who you are with that matters in life."
Since 2008, Father Maison has served at Epiphany Parish in Port Orange. He strives to live a balanced life of prayer, spiritual reading, study, work, exercise, good friendship, fun and socialization as well as making time for retreats and solitude. He says it is maintaining this balance that helps him to be an effective minister. He was recently assigned to be pastor of Ascension Catholic Church in Melbourne.
"As a priest, one of the greatest gifts I have experienced is celebrating the Holy Eucharist. It is at His table that I have come to know Him, to love Him, to serve Him and to serve others in His name," said Father Maison. "I am grateful for the opportunity to teach the young, inspire engaged couples, minister to the sick, comfort the dying, care for the elderly, champion the poor, and mentor vocations. I always pray to be a priest that people can turn to in their time of need."
Father Jose Muñoz

Everyone in Ventaquemada, the small Colombian town where Father Jose Munoz grew up, was Catholic, including his parents, Patrocinio and Florentina, and his three older sisters. Although he was raised Catholic, by the time he was a teenager, Father Munoz was not attending church regularly. One day, at the age of 17, he decided he would attend a novena Mass and that decision was so life-changing that he still remembers the exact date over 35 years later: Dec. 15, 1985.
"The homily at that Mass was so incredible. I became friends with the priest who presided and began accompanying him to visit the sick, to Masses he celebrated in rural areas and much more," recalled Father Munoz. "Something that impressed me was that he was really happy, and I wanted to be happy just the way he was, so six months later I told him that I wanted to be a priest."
Father Munoz entered the Major Seminary of Tunja in Tunja, Colombia, where he studied philosophy and theology. While in school, he was a soccer player with an amateur league. In 1992, he applied to the Diocese of Orlando and completed his schooling at St. Vincent de Paul Regional Seminary in Boynton Beach followed by St. John Vianney College Seminary in Miami. He was ordained June 1, 1996 at St. James Cathedral in Orlando.
"One of the first moments I will never forget is from my Ordination, when I was prostrated, I could feel the Holy Spirit dwelling within me," remembered Father Munoz. "And when I felt the bishop imposing his hands on me and anointing my hands with oil, that changed my entire life."
Father Munoz has served as parochial vicar of St. Mary Magdalen Parish in Altamonte Springs, the Basilica of St. Paul in Daytona Beach, St. John Vianney Parish in Orlando and since 2006 he has been pastor of St. Isaac Jogues Parish in Orlando. In all of these communities, he counts it as a great blessing to be able to help people encounter the Lord – including his own parents and one of his sisters, each of whom he was able to anoint before their passing and celebrate their funeral Masses.
"This to me was an honor regardless of the pain I was going through. I felt the joy that the Lord gave me through this ministry," recalled Father Munoz. "As a priest, I am able to walk with the people through the most transcendent moments in their lives… happy parents at Baptisms, people cleansed of their sins in the Sacrament of Reconciliation, and weddings where there is so much love. I enjoy walking with people in their faith."