APOPKA | Catholic Charities of Central Florida collaborated with the Seminole County Sheriff's Office Faith-based Community Team to provide medical supplies and family stability services to Ukrainians in need. The two agencies came together at St. Mary Protectress Ukrainian Church in Apopka, the central packaging center for Project Ukraine.
Catholic Charities staff and other volunteers were on hand to help package donations of tourniquets, bandages, trauma dressings, burn gel, and other items requested to support hospitals, doctors and frontline workers in Ukraine.
Quoting Matthew 25 of serving the least of our brothers and sisters, Gary Tester, president of Catholic Charities of Central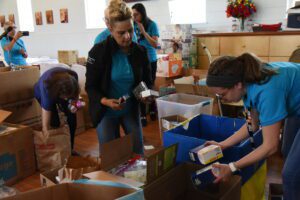 Florida, said, "It's our privilege to do all that we can to help those newly arriving in the United States to receive the services necessary to help them create a road to sustainability here." Emma Peña, director of Family Stability at Catholic Charities, said the efforts will "establish a bridge" between clients and Catholic Charities that emphasizes the "many services and resources we can provide."
The faith-based community team included parishioners from St. Stephen in Winter Springs and Most Precious Blood in Oviedo. The team also works in conjunction with the health department and local government officials.
Ivanna Polusmak, a St. Mary Protectress parishioner, helped coordinate packaging supplies. She said two new Ukrainian families have come through the parish so far, and more are expected with the recently passed Uniting for Ukraine government program which assists Americans willing to sponsor refugees. Once additional refugees arrive, Catholic Charities will help them with housing, acclimation to American life, finances, and more.
By Glenda Meekins of the Florida Catholic staff, May 4, 2022