Former inmate gets a fresh start
ORLANDO | A model citizen who worked for 19 years in customer service, Tabbatha Beedy fell on hard times. After being severely battered by a boyfriend, she set off on a dangerous course of drug abuse to deal with the trauma. She ended up on the streets and eventually in jail.
The day Beedy entered the Florida Women's Reception Center in Ocala, all she could think was, "How do I get out of this situation?"
"All I wanted to do was cry and get high all the time, but over time, I realized, wow, look at what my life has become," she said. "I had all I ever wanted, then went through something traumatic and ended up doing all the wrong things. I decided to go all in and mess up my whole life."
But then St. Vincent de Paul Society's St. Peter Claver Prison Ministry was there for her.
Having no idea what she would do after her three-year sentence, she decided to join St. Peter Claver's Passport to Success prison ministry. The program meets over 10 weeks and teaches values, goals, interviewing skills, forgiveness, budgeting, money management and more based on three pillars — responsibility, remorse and rehabilitation.
When asked why she should be accepted into the program, she said, "Determined and dedicated are two words to describe myself."
" I want a better life," she continued. "I want to be prepared to be a better mother for my children. I'm ready for a change and I'm willing to work hard to accomplish my goals."
Nicole Martino-Calixte , volunteer coordinator, recalled how Beedy was "closed off, not engaged," when they first met. But over time, she and the ministry team began building Beedy's trust.
"She was lost and had no direction of what her future was going to be like, where she was going to live. She was in her own little shell," Martino-Calixte said. "(We were) letting her know we really cared, continuing to plant the seed of hope and spirituality by sharing our faith with her – I think it just built upon that."
The Passport to Success class begins with prayer and Scripture followed by a lesson. Over the course of two hours, the team works to help the inmates believe there is hope for a happy life beyond their cell walls.
Although a Christian, Beedy acknowledged she was struggling with God at the time and often found it hard to listen to what the volunteers had to say, but she stayed the course, determined and dedicated as promised.
Then something changed. Beedy began to accept the idea of possibly being released and being able to do something with herself.
"In the beginning, I thought everything was over for me. I thought I wouldn't get to be somebody again because of my record," she said. She credited the "positivity and faith" of the team that helped "boost" her back up. "They all showed us things we could achieve, and I started believing that."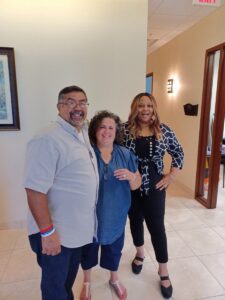 "She really exceeded our expectations," said Martino-Calixte, who became Beedy's mentor. "We were so concerned she was going to slip through the cracks, but then she became really excited and engaged. It was like a spark of light came on and we noticed it. Her entire aura and demeanor changed. It went from dark and gloomy to this light. Her whole face transformed and began to glow."
The volunteer attributes the transformation to stories of others' success, offering motivational insight and help in building faith.
Beedy has come a long way from those first weeks of the program. She followed up with six weeks of parenting classes, fulfilled her work release time, and got out early for good behavior.
"I just closed my eyes and took a deep breath of fresh air," she shared. "All these emotions and feelings were going through me. I didn't know what to expect. I just knew it was going to be different."
Scared and nervous, she thought, "I can do this. Only I can make my life better." She went to work release for another month and a half, then left on a bus for a town three hours away. She arrived at Operation New Hope and a transitional house in a different city – far from her hometown and old habits. She was starting over.
"It didn't feel real," she recalled. Overwhelmed, her mind flooded with questions of whether or not she was really free. "It took a while to absorb."
The Passports program commits to a volunteer being there for at least one year, but many develop relationships with the former inmates and sometimes stay in touch for a lifetime.
"There's a connection," noted Martino-Calixte. "They are really excited when we reach out to them to maintain a relationship. A lot of them don't even have family because of the things that happened in the past. So, they don't have people in their lives to continue to share and express love, patience, and concern with them."
"I consider (Nicole Martino- Calixte) a mentor, a friend," Beedy noted. "Because she really cares. They all care."
Proud of Beedy's progress, Martino- Calixte says, "(Beedy's) accomplished a lot within the time she's been out." She's just soared like an eagle. Within the first three months so many doors of opportunity opened for her and she's still going."
Beedy soon found a job as a gas station cashier. So impressed with her, the company promoted her three times in three months, currently making her an assistant manager. It's been almost one year since she left jail and the future looks bright. Reuniting with her children is her greatest joy.
"I didn't know I would succeed so much, but I did it," she said. "I see God in the way my whole life is turning out," she noted. "How else would my babies reconnect with me and they don't hate me. The love I have from them – that's got to come from somewhere, right? All these things that are happening for me have got to come from somewhere and where else would that be? It's got to come from God. None of us are alone out here."
Click here to learn more about the St. Peter Claver Prison Ministry program.
By Glenda Meekins of the Florida Catholic staff, May 25, 2023