ORLANDO | Her devotion to Mary did not start until her late teens. Even then, it was taking form in her emptiness, soon to fill a void she did not know existed.
Sister Maria Teresa Acosta, a Servant of the Pierced Hearts of Jesus and Mary, grew up in a Catholic home in Miami. She received the Sacraments of Initiation, but her parents were Christmas and Easter Catholics. They prayed and had religious figures in the house, but did not regularly participate in the celebration of Mass.
During her teenage years, she recalls searching for something, not knowing what exactly. She graduated high school wondering what was next. College was boring and nothing fulfilled her. "That's when I met her," she said.
She is speaking of Mother Adela Galindo, foundress of the order of the Servants of the Pierced Hearts of Jesus and Mary. Both worked at a local department store. Sister Acosta was 18 and Mother Galindo a year older. The two became fast friends. Immediately Sister Acosta noticed Mother Galindo was different. "She was a very practicing Catholic from Nicaragua, part of the charismatic renewal, and very active in church life. She was a leader. I was not there," she stated frankly.
Mother Galindo invited her to a prayer group where she led praise and worship with her guitar. She spoke of Our Lady and Jesus in the most tender of ways. And she was always praying. Soon Sister Acosta returned to the Church and the Sacraments, wondering what it was that made Mother Galindo so joyful. She recalls appreciating her piety while still being a "normal young person".
"It was her zealousness for God, for truth, for Our Lady that touched me," Sister Acosta noted. "When you are young and you see that, you want to try it out."
She agreed to attend a charismatic prayer group, but sat in the back with two friends. Toward the end, several people asked if they could pray over them. When they did, Sister Acosta found herself "resting in the Spirit."
"I felt a peace and I experienced God embracing me and Jesus coming to me, loving me … my whole life changed. I heard Him tell me, 'Come follow me.'"
That experience, coupled with the interior beauty emanating from her friend led her to an unimaginable relationship with Jesus through Mary.
Over the next few years, Sister Acosta would move in with Mother Galindo and two other discerners in meager surroundings while they awaited approval to establish a new order. In 1984, the small group went on a retreat to the Dominican Republic. In the small chapel of a shrine, Mother Galindo gave her "yes" to Mary and Jesus. The others joined in a Marian consecration. Sister Acosta knew then she wanted to give her life to God.
"Mother always said, nothing without Our Lady. Our Lady will take care of it. Our Lady will make it clear. Our Lady will help you understand. She is our mother… Our Lady was always there," recalled Sister Acosta. The Blessed Virgin heeded their call and in 1990, they received permission for the new order.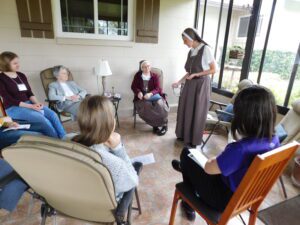 Marian in "essence", Sister Acosta explains this focus does not detract from Jesus. His mother takes everything to her Son. As a religious order, each is called to be another Mary. Much like a priest is "in persona Christi", the Pierced Hearts are to be Mary in the world. They do this through their lives, their actions, their profession. "We are called to be as virtuous as Christ, but with that feminine, Marian image. We are being like Christ through her, in her, with her, for her and for Him," Sister Acosta said.
To strengthen them for their role of evangelization through their Marian charism, they spend a holy hour of Eucharistic Adoration daily on their own and another in community. The sisters' habit includes a rosary draped from their belts. They are often seen letting the smooth beads roll through their fingers. It is not an idle act. Upon taking vows, each sister is given a mystery to meditate upon, to be a part of her life in a special way. "When we hold the rosary, we believe we are holding Mary's hand," she said.
Their charism – "to be a living image and presence of the heart of Mary in the heart of the Church and place our Marian charism at the service of the Apostolic – Petrine principle," is a new one. Despite many Marian orders, theirs is unique to the Church, manifested through their various God-given gifts.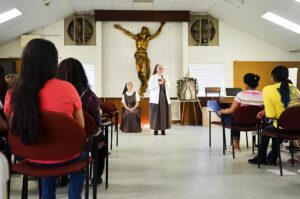 The order's religious are also called "to repair and console the hearts of Jesus and Mary." That is why we are called pierced, because of the sin. On their insignia, "The hands underneath the pierced heart are the hands of the servants, there to receive the blood and water so they do not fall in vain onto the ground," she explained. They are there to pick it up because redemption is His grace. "It is a charism of love to the extreme, no matter what it takes. Because that is what (Jesus and Mary) have offered—their lives for us."
By Glenda Meekins of the Florida Catholic staff, May 11, 2022