ORLANDO | During the pandemic, Jackie Lucas lost her job followed by a difficult recovery from COVID-19. She and her three children traveled nearly 80 miles round trip from Clermont to receive diapers and baby wipes at St. Joseph Parish in Orlando, Aug. 6.
"It's worth it," Lucas said. "It doesn't matter what the gas prices are. This is such a blessing. I'm grateful."
In partnership with Catholic Charities of Central Florida, St. Joseph hosted a drive-thru diaper distribution as part of the Walking with Moms in Need initiative started by the U.S. Conference of Catholic Bishops in 2020. St. Joseph parishioners collected nearly 31,000 diapers and close to 18,000 wipes for the event, helping 161 children and 91 families.
"As Pope Francis reminds us, our parishes need to be 'islands of mercy in the midst of a sea of indifference,'" said Leidy Rivas, director of the Culture of Life Office at Catholic Charities. "This type of event is just one example of the many ways we can offer Christ's presence and love to mothers. Not only must we provide them with information of the resources available in our communities, but also connect them with the parish community for their spiritual needs."
Catholic Charities began quarterly diaper distributions at its headquarters during the pandemic and has since begun outreach to parishes to assist in the supply dispersal. Once such event was held at Our Lady of Lourdes Parish in Melbourne in March of last year.
Two of the 30 volunteers during the day included parishioners Karely González and her teen daughter. This was the third time they have helped at a diaper distribution. "Volunteerism has to be part of your life," González said.
Not all needs are financial. Some are spiritual and emotional. Many families who received baby supplies at the event eagerly awaited rosaries and blessings from Father Benjamin Lehnertz and Deacon Gary Tester. Father Lehnertz, parochial administrator of St. Joseph, prayed with families who came to the event, some new to the area and other longtime residents.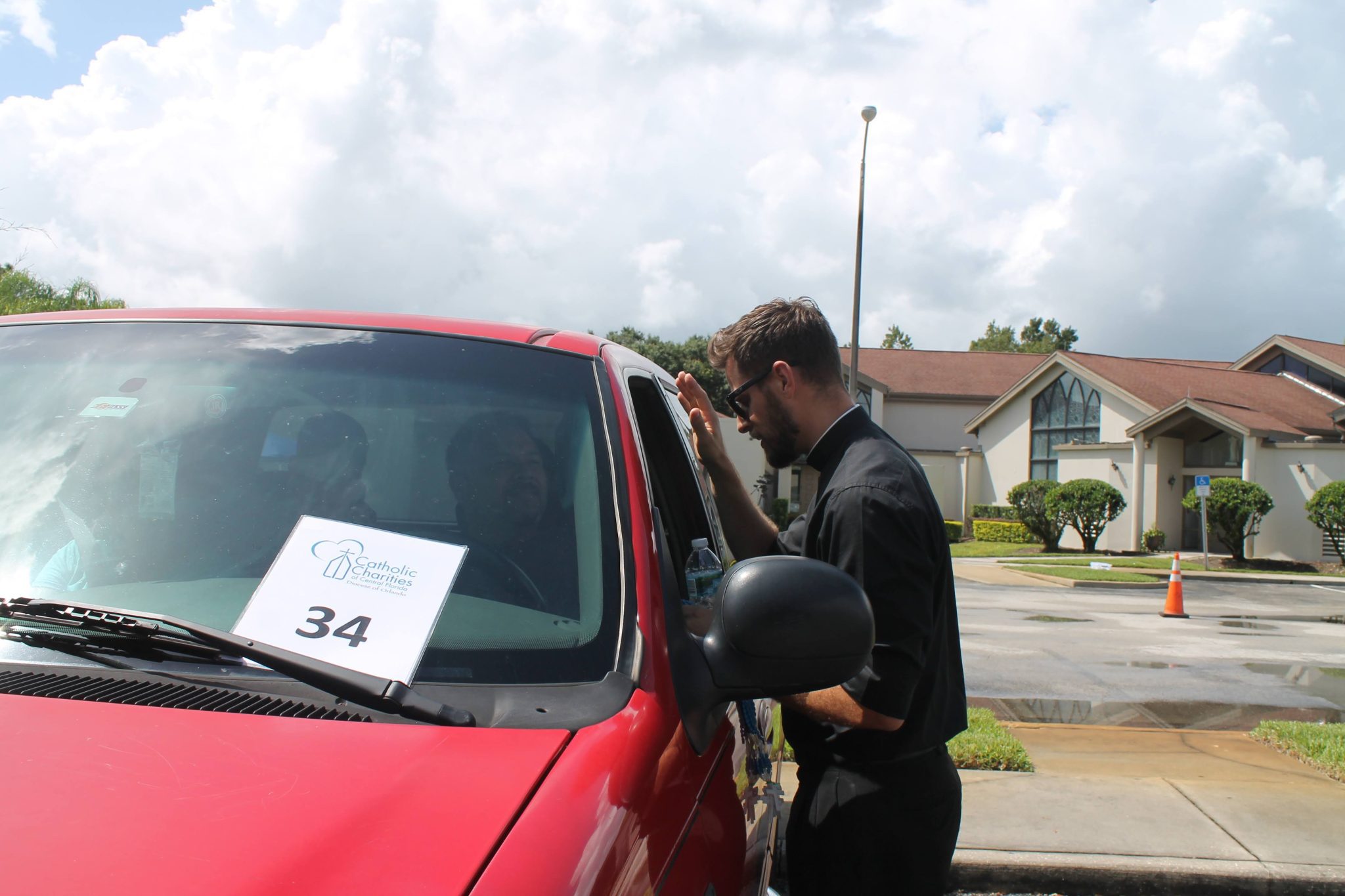 "As Catholics, we believe in the Lord, the giver of life, just as we say in the Creed," said Father Lehnertz. "It's important that we have events like this to put our beliefs in action."
Father Lehnertz said the event was particularly timely given the recent reversal of the Roe v Wade court decision. "We know one of the leading causes of abortion is finances. This is not a one-dimensional problem," he said.
Representatives from the JMJ Pregnancy Center, The Pregnancy Centers and Life Choices Medical Clinic were also available on site to provide free counseling, baby formula, and other resources and referrals.
"One-time events like these help us at these pregnancy centers to connect with families and walk with them through the first year of their babies' lives," said Bob Perron, executive director of JMJ. In addition to pregnancy tests, limited diagnostic ultrasounds, and community resource referrals, Perron said the center provides more than 100,000 items a year, like car seats and baby clothing, to pregnant and parenting moms.
Members of the community who would like to get involved in future diaper distributions can contact Catholic Charities of Central Florida Culture of Life office at 407-658-1818, ext. 1085 or email cultureoflife@cflcc.org.
By Dana Szigeti, Special to the Florida Catholic, August 10, 2022