ROCKLEDGE | A Eucharistic procession from St. Mary Parish in Rockledge led the way to the Indian River as Tropical Storm Nicole headed for central Florida.
Led by Father Juan Osorno, parochial administrator and Father Mark Librizzi, parochial vicar, parishioners joined in reverence and prayer Nov. 8.
Father Librizzi was inspired by Bishop David Toups of the Diocese of Beaumont, Texas – former rector of St. Vincent de Paul Regional Seminary in Boynton Beach – who recently led a Eucharistic procession for protection of storms. Father Librizzi suggested a similar liturgical event to pray for protection from storms and Father Osorno immediately offered his blessing.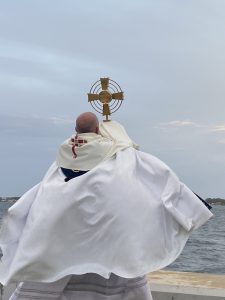 "Everything we do is promoting the faith and strengthening the Eucharist. It was a wonderful opportunity to witness to our neighbors. It is one way to give a testimony to the people outside our faith."
He noted, "We have God and all His power, but when storms come, we often don't use what He has given us—the power to bless and the power to ask for His blessing."
Recalling the praises of Shadrach, Meshach, and Abednego in Daniel 3, when they praised the Lord for His creation, after being thrown into a fiery furnace, Father Osorno likened it to the communal blessing of creation with the Blessed Sacrament. "We asked God to come down and offer His blessing over creation and His protection," he said.
By Glenda Meekins of the Florida Catholic staff, November 09, 2022