ALTAMONTE SPRINGS | Celebrating 20 years of Pathways to Care, the rehabilitation center for homeless men and women post-surgery or injury, Catholic Charities of Central Florida held its annual Soup Bowl Supper.
St. Mary Magdalen Parish Life Center in Altamonte Springs hosted the Sept. 30, 3023, event where 16 restaurants offered their best soups that was served to donors by clergy and community leaders. From Bishop John Noonan and Msgr. John Bluett, founder of Pathways, to Commissioner Bob Dallari and retired Northland Pastor Joel Hunter, the ecumenical gathering celebrated how much can be done for those in need when a community unites.
Aura Lynn-Rouse shared her story of healing after an accident that put her in jail. The experience led her to found and manage Angels of Mercy Ministry to help women with addiction, suffering from abuse, human trafficking and trauma.
Some of those she helps come from Pathways to Care, which illustrated the partnership that bears fruit in the Lord's vineyard.
"I had a past, and God restored me so I could help other women," she said.
Angel Linares, a Pathways resident, offered his powerful testimony of conversion, both physical and spiritual thanks to the love and support received from staff and volunteers at the center.
"When I began my journey at Pathways to Care, I was a broken human being," he said, likening his state to the broken toys in the movie Toy Story. "I had no home, no money and most importantly, no hope."
Although he possessed an engineering degree, he described himself as a "functioning alcoholic." Three hospital stays at Orlando Veteran's Hospital led him to be homeless and penniless, due to all of his doctor bills and reaching the end of his disability leave.
His last stay at the hospital came when he was severely depressed and considered suicide. Once again, he had pneumonia and needed an oxygen tank to breathe, and a walker. He was then sent to Pathways for his recovery.
Initially reclusive with no appetite, the kindness of staff and volunteers from the St. Vincent de Paul Society, St. Stephen Parish in Winter Springs, and Nativity Parish in Longwood, who welcomed and cared for him led him to open up. He gave up his walker, met his caseworker, who he described as his "biggest cheerleader," and began attending Alcoholics Anonymous meetings. He also participated in the weekly prayer service offered by Deacon Juan Cruz and spoke to Father David Scotchie, pastor of Nativity Parish, who offered spiritual guidance and the Sacrament of Reconciliation.
Now Linares is one of the leaders in that AA group thanks to help and encouragement from program director, Bill Bernardo.
"We have a routine when we see each other," Linares said with a smile. "He asks me how I'm doing, and I always give him an enthusiastic 'fantastic.'"
"I have learned that despite feeling like a broken toy, through the compassion of others, I am still able to provide and receive love," he told the audience. "With the right people in my life, I know I can become one of the toys that gets taken out of the toy giveaway box and put back on the top shelf."
In the past six months, Linares lost 35 pounds. and now has his diabetes are under control. He will soon move into his own apartment and on the day of Soup Bowl Supper, he shared his good news of being 200 days clean. He plans to return to Pathways to Care to pay it forward by volunteering.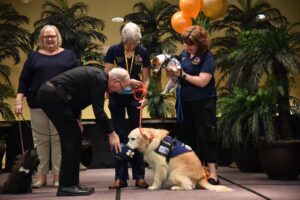 Along with listening to the speakers and eating delicious soups, adorable dogs from Pawfection were on hand. Paw Perfect offers weekly for pet therapy, and received the Make A Difference Award.
By Glenda Meekins of the Florida Catholic staff, October 5, 2023