ORLANDO | Project SEARCH "gave me job skills, job experience, confidence in interviewing," Alexa said. Alexa likes "talking to people, to staff" and doing a "good job for the supervisor". Before Project SEARCH training offered by Bishop Grady Villas, Alexa's mother, Melissa VanDine, admits her daughter spent most of her time sitting at home without much to do. She works in human resources and is impressed with the skills Alexa has acquired through the community program that helps students with disabilities land a job within a year.
VanDine beamed with pride while practicing for interviews with Alexa. "She knew way beyond my expectations. It almost made me cry. She knew how to look for a job," VanDine said. "I am really appreciative of the services, skills and support she gained from Project SEARCH." Since Alexa began working at a medical facility stocking the refrigerator, refilling water bottles in the lobby, and straightening areas in preparation of client visits, she has seen a great change in her daughter. "She has grown in confidence and responsibility. Now she really tries to follow instructions and stay focused." Alexa agreed adding proudly, "I am a hard worker there."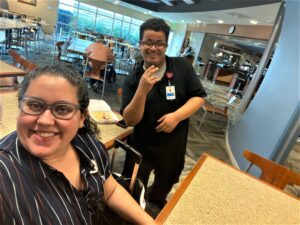 Project SEARCH began in 2017 with one job training site in Osceola County. Today it offers five locations across four counties. This fall it celebrates expansion from Osceola and Seminole Counties into Orange and Lake Counties. Partners include Gaylord Palms Resort and Convention Center in Kissimmee, Burlington Coat Factory in Orlando, Orlando Health Central in Ocoee, AdventHealth in Altamonte Springs, and Orlando Health South Lake in Clermont. Sessions run from August to May allowing students to learn real-life job skills and time to hone them. Roughly 90% of the 130 students who have gone through Project SEARCH training since 2017, found and retained placement.
Joey is an example of that success. Working as a Project SEARCH intern on the loading dock of AdventHealth one day, he encountered a gentleman looking for the maternity ward. "I just got up and took him to the baby floor," Joey recalled. It turned out he helped a schoolboard member who took notice of Joey's kindness and professionalism, so he helped showcase the importance of Project SEARCH. Joey was hired and recently went full-time. He also serves on the hospital board. "I'm glad I went to Project SEARCH," Joey noted. "It taught me leadership, how to help people out and how to communicate."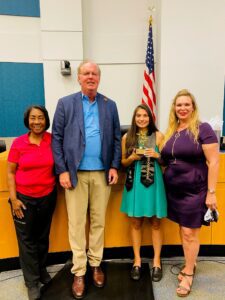 Executive Director of Bishop Grady Villas, Kevin Johnson believes the unique model and his team's commitment to Bishop Grady Villas' mission "to help people with disabilities share their God-given gifts with their communities" is what makes it such a success and has allowed for rapid expansion. "Project SEARCH, as a model for transition services for people with disabilities, has revolutionized employment preparation for developmental disabilities." He attributes its success to the "comprehensive nature of the internship experience, the integration of the various teams to support students with developmental disabilities, making it a much more robust experience." He explained, "The relationships built across the host business, school system (which recommends students for the program), vocational rehabilitation, and a community rehabilitation provider like Bishop Grady Villas create comprehensive circles of support that result in true employment outcomes." He adds that for many interns the first job placement is really the start of their career trajectory. "These are opportunities that many people with developmental disabilities just didn't have 5-10 years ago, where so many graduated into congregate sheltered work or to unemployment."
The Centers for Disease Control and Prevention (CDC) estimates 1 in 68 children in the U.S. have autism and developmental disabilities are on the rise since 2009, indicating the need for programs like Project SEARCH. Desiree Robles, Bishop Grady Villas director of employment and vocational programs, is hopeful her efforts to build business relationships in the community turn into future opportunities for new host sites. "I think it's smart business to continue to have these types of programs and to train people so they can have jobs to sustain themselves and give back to their communities," she said.
"I really believe everybody has a place in the community and should contribute," she noted. "Employment is a part of who we all are. I think for persons with disabilities to be unable to have that is a lot." She often sees "the sadness of someone who feels rejected and doesn't feel their worth when they can't contribute to employment." She is also a witness to change. "In the 15 years I have worked at Bishop Grady Villas, I've had the pleasure to see whole lives changed. And not just them, but the people they deal with every day, in their community, their families, financially and emotionally."
Robles' own son has a disability and she noticed how employment empowered him. "I see that he walks more proudly because he has a job. He communicates more efficiently. He's more motivated to share his gifts with people because he's confident, because he is earning, he feels valued." She added, "A job is not just earning a paycheck; it's so much more than that." It motivates her to encourage other people to see "how they can be part of the community and transform their businesses for the better."
Johnson hopes to continue to have the ability to expand to serve all the counties of the Diocese of Orlando. "I think everything we do as a community of faith is inspired from the gift of the Eucharist," he said. "The mystery of Christ's presence in our lives through His Body and Blood is what informs all the work of the Church to share the Good News and proclaim that all people are worthy of God's love. For some ministries like Project SEARCH and our residential programs that's providing the opportunity for people who have been marginalized, like those with disabilities, to allow God's image to shine through them to their communities."
By Glenda Meekins of the Florida Catholic, August 25, 2021