ORLANDO  |  When Olivia's best friend died in 2009, she couldn't believe it. She and those who were close to Cassie thought, surely there was foul play. Cassie was spontaneous, fun and the first to cheer someone up if they were down.
But Cassie left a note. She had taken her own life and simply asked everyone "to love each other."
The tragic event led to Olivia's involvement with the American Foundation for Suicide Prevention. On Feb. 5, she invited the St. James Cathedral School Choir to sing the National Anthem at the 15th annual Out of the Darkness Walk in Baldwin Park, Orlando.
When Cassie died, Olivia felt lost. She was 29, and suicide had never touched her life before.
"I didn't know how to handle it," she recalled. "I didn't know who to go to for resources. I didn't know how to get help."
She researched the internet to read anything she could that might explain suicide, its ideology and why someone would consider it. When she discovered an Out of the Darkness Walk in Tampa Bay, she immediately became a part of its planning, even joining the foundation's board. She debated if she would walk herself or just help set up and go home. In the end, she stayed.
"It was a blessing that I did because I got to see so many other people there that were going through the same things I was going through and were feeling the same emotions," she said. "It was such an eye-opener. Lots of happy tears, sad tears, laughing, just being around people that knew your pain. It was a very big deal for me," she said. "It made her death meaningful."
She continues to volunteer to raise awareness about suicide to prevent it. Her son, Zander, is a student at St. James and part of the choir, which includes children from the third to eighth grades. Zander and some fellow students volunteered at the walk.
"I've always believed that suicide does not discriminate against age, race, gender, and even religion,"  Olivia said. "It can affect everybody, no matter who you are."
When Jamie Gutweniger, the choir's director, learned more about the walk she shared the idea of the choir participating to principal, Jayme Hartmann. She saw it as an opportunity that would let choir members "shine and embrace our faith."
"Our school culture is not just about academics, but also recognizing the importance of the social and emotional development of children," Hartmann said. "We as Catholics respect life at all stages and want to use our Catholic Social Teachings as a foundation to teach our students about the dignity of the entire person and how important it is to care for the community as a whole."
Gutweniger, who is also a religion teacher, said adding awareness of suicide reminds everyone life is a gift.
"Our children need to be aware that God made us and that He gets to make the call when it's our time to go and it is not our decision," she said, adding she hoped students would "take away a new appreciation for every person and their life" and that they might realize that God "is the light inside of all us and we are supposed to be walking with that light" and sharing it with others.
Peiling Roerig has three daughters in the choir, the youngest in third grade. Although they live near the event, they had no idea it existed. But the event prompted her to ask her children what they thought about suicide.
"[It was] the beginnings of a good talk, one that my parents never had with me. But times are different, so we need to be different in how we parent our kids now and make sure they are OK," she said. "This is something that definitely needs awareness and needs our attention and our love."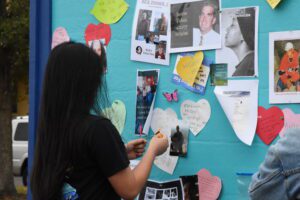 According to the National Institute of Mental Health, suicide is the 10th leading cause of death in the United States and the second leading cause of death among individuals between the ages of 10 and 34. It is the fourth-leading cause of death for adolescents ages 15-19 globally.
Catherine Galda, director of Behavioral Health Services for Catholic Charities of Central Florida, hopes St. James students' presence promotes further conversation about mental health issues.
"We are actually starting a sub task force focusing on teen suicide because of the increase in suicidal ideation and suicide attempts are going up," she said. "Certainly, it is a point of serious concern for parents in Florida and for our Diocese as we care for the formation of our young people."
If you are in crisis, call the toll-free National Suicide Prevention Lifeline at 1-800-273-TALK (8255), available 24 hours a day, 7 days a week.  All calls are confidential. http://www.suicidepreventionlifeline.org 
By Glenda Meekins of the Florida Catholic Staff, February 10, 2022
Editors note: The last names of some participants were withheld for the protection of minors.