LAKELAND | The new state-of-the- art AstroTurf™ on Santa Fe High School's football/soccer field may not smell like grass, but school president Matt Franzino says the field and new track, "will be a great blessing to Santa Fe Catholic for many, many years" as it offers the "opportunity to meet with family and friends and exercise." Some have touted the new sports grounds as "the nicest facility in Polk County".
On Oct. 10, 2023, Bishop John Noonan blessed the field and track alongside vicar of the Western Deanery – Father Tim LaBo, Father Zackary Gray – parochial vicar of St. Joseph Parish in Lakeland, and Deacon George Ferraioli. Father LaBo prayed: "God has given us our physical powers in order that we may serve Him joyously, help one another and make our bodies fit for every good work." Bishop Noonan followed asking that the facility contribute "to the renewal of mind, strength and body."
President Franzino noted the new field turf was laid just in time for football season and the track construction finished within the last two weeks. Welcomed by a rousing roar from the students, senior Daniel Welling inaugurated the track with a special lap.
Franzino said the new track will allow the school to host district, state and regional meets as it is now in regulation to do so.
In his 22 years at the school, this is the largest project Santa Fe has undergone as it included new field lights, security upgrades and new fencing. "Now that the school is more secure, we are adding state-of-the-art facilities to give the school a boost," he said.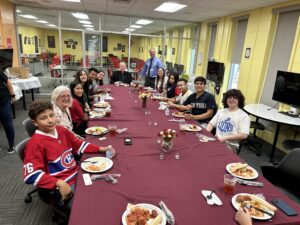 After the blessing, student representatives from various grades including peer ministers, student government officers, and Extraordinary Ministers of Holy Communion joined Bishop Noonan for lunch. The Bishop enjoyed answering their many questions about his life prior to the priesthood, Vatican II, the Eucharistic Revival, the history of the diocese, and his everyday activities from grocery shopping to where priests live.
He shared stories about his life in Ireland, his schooling at Fordham University in New York during the Vietnam War and his major in microbiology with an interest in equine research. He noted his surprise at arriving at Fordham and finding large protests as he had come from a very strict high school in Ireland that prohibited such demonstrations. "It was like a whole different world to me," he said. Yet he noted this was a time in which his faith grew due to the Jesuit priests who managed the university at the time.
When he went to visit his mother in Florida, he found the weather especially attractive. He was working on equine infectious anemia in horses there and frequently helped on retreats. Eventually he was asked if he considered priesthood. "They kept bugging me and bugging me," he said. Afraid he would be too old to enter the seminary, Cardinal John Henry Newman urged him, so he decided to discern and stayed.
He shared his favorite sports – American football, soccer and rugby with favorite football teams the Pittsburgh Steelers and the Dolphins and former Coach Don Shula's advice to him: "Father, you never have to tell anybody what they did wrong. You have to tell them what they did right."
By Glenda Meekins of the Florida Catholic staff, October 13, 2023