ORLANDO | The summer before Amanda Davis went to the University of Central Florida, she attended a Steubenville Conference. Leaders posed this question to the high school graduates: "Did you pick your college based on the campus ministry?" She admitted it never crossed her mind. Thankfully, a week later she met a missionary from UCF who introduced her to Catholic Campus Ministry (CCM).
"The Lord knows you from the moment you're conceived in your mother's womb and He has a plan for you," Davis said. "He's creative and wants us to be brought to the fullness of who we were created to be. If He wanted me to be His, He was going to make sure I knew how and where." It would take four years to realize He wanted her with the Servants of the Pierced Hearts of Jesus and Mary.
Davis grew up in a Catholic home, playing soccer. Her parents were "not actively involved in the church" in Tampa, but she and her siblings attended formation classes and received the Sacraments. By the end of seventh grade, she wanted more. She joined her parish youth group, "mostly seeking community and not understanding much about the Catholic faith," she reflected. In her sophomore year, she began taking trips with different churches and that's how she ended up in Steubenville.
Knowing only two students when she arrived at UCF in fall of 2015, a school of more than 60,000 students, her connection to CCM gave her confidence. "I knew this was where I was going to find community," she thought to herself. Within the first week she felt, "This is home." Reviewing an old journal from college, she noted, "There is so much joy here." She loved Eucharistic Adoration every Tuesday and quickly joined music ministry, while serving on the outreach committee. "It was like, go big or go home," she said.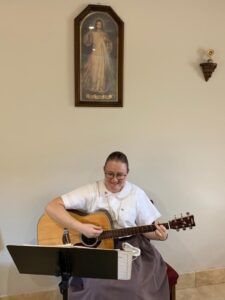 Sister of St. Joseph Kathleen Power was the assistant vocations director at the time. Immediately she loved this young, vibrant student. "She's one of those generous, organized, bundles of energy," Sister Power said. She marveled at Davis' natural leadership skills and recruited her to help with annual retreats. "She was my right hand. She is graced with a very deep faith."
For the first retreat, they invited the Servants of the Pierced Hearts of Jesus and Mary. Davis recalled, "Immediately they started serving – helping and working alongside us. It was beautiful." She had never "interacted with a habited religious up to that point." She remembered going home and asking herself for the first time, "Lord, what is my vocation?"
The following year, on retreat again, she hoped they would be there. They were. There were nearly 60 women in attendance and "(The sisters) just wanted to serve," Davis recalled. "There was a moment during Vigil Mass when I was standing between two of the sisters singing… To be able to praise during the Mass between them was such a joy to my heart." Having grown up in choir, Davis appreciated this particular charism of the order.
Her junior year the sisters could not attend. "I was just sad. I didn't realize how much I had looked forward to interacting and being with them," Davis said.
That year, Sister Power was recalled to her Motherhouse in St. Augustine. Her replacement was Sister Gianna Grace Perino, of the Servants of the Pierced Hearts of Jesus and Mary, and the vocations office moved into the Catholic center at UCF. This enabled deeper relationships and facilitated walking "with anyone who is truly seeking the Lord's perfect plan for their lives," Sister Perino said.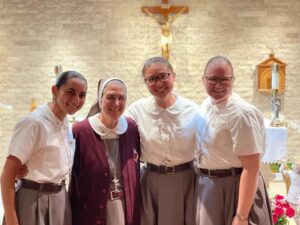 After much prayer, Davis applied to become a Saint Paul's Outreach (SPO) missionary, but did not get the job. She sees now it was "the Lord's will." With no back-up plan, she asked the Lord what He wanted. His reply, "All I want you to do is love my people."
Reluctantly she agreed to stay in Orlando and work for a year to be sure she was "falling deeply in love" with Jesus. She helped Sister Perino plan the next retreat where a postulant and a novice from the order were invited. With just nine girls participating, Davis had more time to get to know the sisters and learn about religious life. "My heart was really seeking at this point," she said. She remembered going home and knocking on her friend's door telling her, "There really is something here that I can't ignore."
Her discernment began in earnest and she asked a sister to be a spiritual guide. When her mentor asked, "What's important to you in your personal faith life?" Davis unknowingly named all the pillars of the community – the rosary, Eucharistic Adoration, praise and worship. Davis acknowledged, "She helped me recognize my heart was created to love the Lord in a very specific, unique, and spousal way."
She entered postulancy on Nov. 27, 2020, in Miami near the order's motherhouse, on the Feast of Our Lady of the Miraculous Medal. "The world is a different place right now, but the Lord is still good and we can still praise Him," shared Davis. "To be able to praise the Lord with my sisters is another beautiful aspect – whether at Mass or guitar class – truly is a gift." Davis will profess perpetual vows in approximately 10 years.
(If you are interested in religious life please contact the Office of Vocations: 407-246-4875)
By Glenda Meekins of the Florida Catholic, March 4, 2021