NEW SMYRNA BEACH | Patrick Corrigan fell in love with the Catholic faith as a young boy in Ireland. He entered seminary in his teens, but would take a long break to discern God's will in his life. Eventually the desire to bring all of the Sacraments to God's people pushed him to become a priest in his 50s.
Corrigan arrived in Orlando a decade ago to learn more about becoming a hospital chaplain at Advent Health. He loved it so much, he stayed. And when he mingled with the Franciscan community at San Pedro Spiritual Development Center in Winter Park, that desire to be closer to God was set ablaze once more. He was deeply impacted by their simple way of life, "Living in community and fraternity with the mission of continuing St. Francis' life – spreading the Gospel by witnessing to Jesus Christ."
He professed first vows in 2015 and began teaching religion classes at St. John Vianney Catholic School in Orlando while he continued ministering to patients, families, and staff at the hospital.
Yet, there was a persistent calling "to be a compassionate presence where there was crisis in people's lives," Corrigan noted. Something was missing. There was a "deficit".
As a lay chaplain, he was unable to offer Anointing of the Sick or the Sacrament of Reconciliation to those he encountered, both which bring spiritual and pastoral healing. "Once again, God was calling me deeper into a call to serve and a call to priesthood," he said.
On November 5, Bishop John Noonan ordained Father Patrick Corrigan. A journey that began many years ago overseas, finally ended in the beachside community of Our Lady Star of the Sea Parish. Corrigan entered the church as a Franciscan brother and left a Franciscan Third Order Regular priest. Father Corrigan will continue to serve the New Smyrna Beach parish with fellow Franciscan and pastor Father Patrick Quinn, TOR, while serving as a chaplain at a local hospital.
Bishop Noonan offered a homily focusing on Father Corrigan's mission to bring hope to the world. "We need to be protagonists of hope," he said. "Start noticing how many humble, genuinely good people there are in every direction – holding ourselves and even our world together."
Noting the task ahead is not easy, he added, "You need to dig. You need to work for it… The world is in desperate need of hope." Equipped with God's Word, he said Father Corrigan will be an instrument of God's love. "Christ has entrusted you with the message of hope. So you and we, all become ambassadors for Christ in our world today."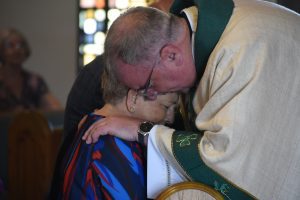 Father Corrigan's family and even a neighbor packed the front rows, travelling from Ireland for the momentous occasion. His youngest sister, Louise, said their recently deceased father always knew Patrick would become a priest.
"He took his time, but only because he's so hard on himself," Louise shared. "But we knew and he's wonderful. He has so much to give."
Reflecting on his life with gratitude, Father Corrigan said, "I see how God's hand was always leading me into situations of ministry, to be Christ's presence to the vulnerable and broken hearted. I am reminded, that God never gives up on us. As a new priest I pray that in my daily ministry, I can reflect the incarnational God… to help people see and know Him."
CHALICE – Chalice brings St. Patrick to life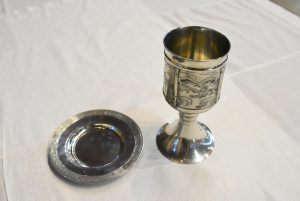 Third Order Regular, Franciscan Father Patrick Corrigan's chalice shares the story of St. Patrick and the passing on of the Christian faith to the Irish people. It is a gift from the friars of St. Bernardine's Monastery in Hollidaysburg, near Altoona, Pennsylvania. Father Corrigan was taken to the sacristy and offered his selection of any chalice.
When he saw it illustrates the story of St. Patrick, his namesake, he said, "This is the one." Unsure of the chalice's age, he only knows that it is decades old.
"I am so joyful to have that continuity of faith. Not only that it has the story of St. Patrick, but that other friars have used it to serve the Eucharist. It is with great joy and humility that I now take up the chalice and can celebrate the Eucharist for other people."
By Glenda Meekins of the Florida Catholic staff, November 09, 2022