WINTER PARK  |  More than 30 secular Franciscans gathered at San Pedro Spiritual Development Center to commemorate St. Francis of Assisi's Transitus, or journey from "sister death" to eternal life. It was the first time in two years they gathered in person. The commemoration was held Oct. 3, the vigil of the feast of St. Francis, a tradition begun after the saint's canonization in 1228.
Michael Ruf, minister of the Franciscan Lady Poverty Fraternity at San Pedro, explained St. Francis has been called an "alter Christus," another Christ. Just as Christ, in His death, modeled that transition, breaking bread with His disciples, and going to the cross willingly, so too Francis guided his fellow Franciscans through his own Transitus.
"He took upon himself a very impoverished life, following the footsteps of Jesus in the Gospel," Ruf said. "He was so much like Christ in his poverty and humility that we celebrate his crossover."
Referring to death as "sister death," St. Francis understood death in the context of God's divine plan of creation and embraced it as a necessary step to be fully in union with God. He approached the end of his earthly life with joy, uniting his suffering with that of Christ, sharing in the anticipation of eternity through prayer and song. He was a model for the Franciscans of his time and those who were to come.
Ruf said it is this joy with which Francis approached daily living, a gift Ruf feels Francis has given him.
"(T)here is penance and humility to live this kind of life," Ruf said. "What touches my heart is the humbleness, the humility. I'm certainly not as strictly in poverty as Francis was, but it let me know that we really don't need as much as we think we need."
Sara Castro, a lay Franciscan from St. Joseph Parish in Orlando, said sharing in the commemoration of St. Francis' passage to eternal life helps her realize "what is death."
"When you go through the supper (of the Liturgy), you receive the bread in commemoration, receiving the body of Christ. Then comes the washing of the hands because we are servants; we are disciples and need to serve others," she explained. "Then finally, accepting the death as something that brings us joy in our life. It is the transition from our life, dying, and going to a better life."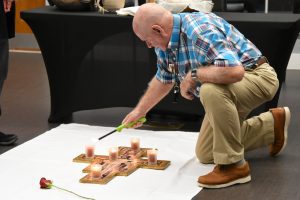 She said the evening was particularly powerful for her and seeing the crucifix on the floor and the five candles reminded those present of St. Francis' stigmata.
"Francis received the stigmata because he needed to go through that process. He embedded Jesus in his body," she said. " We need to remember; with these wounds we are all wounded people. We are in pain. We are in suffering. But there is something else we need to look for: heaven."
By Glenda Meekins of the Florida Catholic staff, October 06, 2022