ORLANDO | Morning Star Catholic School students once again showed their support for Imprint Hope, an organization that fights to end abuse and abandonment from children with disabilities by educating communities on how to embrace these children of God, while also providing medical and rehabilitative services to the children in need.
Founded by Clare Byrne, an eager Catholic occupational therapist who desired change, Byrne partnered with Morning Star as she did in 2019.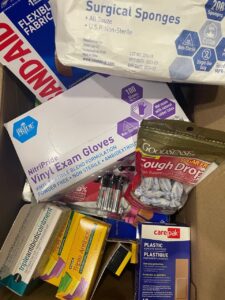 Students raised funds through dress down days and by collecting needed medical items — bandages, cough drops, antibiotic ointment and more — for children with disabilities across the world.
Jessica Hubbard, Morning Star's director of advancement and marketing, said students collected about $800 in addition to the health-related items.
"I feel proud and grateful about helping others," said high schooler Gabriel N.
To continue raising awareness and be actively engaged in supporting overlooked communities, Morning Star has extended the collection items.
By Lana Kaczmarek, Special to the Florida Catholic, February 10, 2022