ORLANDO | "The whole process around our rituals regarding loss – being able to have a memorial, being able to have a funeral, being able to spend time with family and friends in a face-to-face connected kind of way—the interruption of that natural part of the grieving process of our rituals is protracting, pulling out the losses farther," explains Catherine Galda, director of Catholic Charities of Central Florida's Behavioral Health Services. "People are in earlier stages, that profound sadness, for longer." She believes much is due to living in pandemic times, making this upcoming holiday season harder for those suffering losses.
COVID-19 is changing the grieving process for many. As the holidays approach, this prolonged sorrow and the constraints surrounding family gatherings can make the absence of a loved one even more grievous. Galda said she has noticed a "certain increase in intensity" of grief since the pandemic began and a rise in calls for grief work with about half of their calls for referral being grief related.
"Grieving is not just a single moment or a short series of moments," Galda noted. "Everybody grieves differently, in their own timeline. It is not a linear experience. Acceptance can come right on the heels of anger, then you suddenly stop accepting and are profoundly sad again. To support one another through grieving is really about patience, companioning and listening."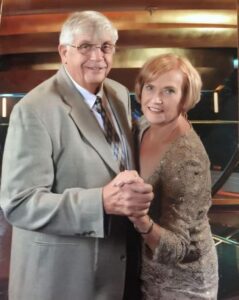 Deacon Dan Pallo agrees. He lost his wife, Eleanor, on Oct. 1, 2020. At the time he served St. Vincent de Paul Parish in Wildwood. Although he was able to have a funeral service, many people could not attend. The funeral was livestreamed and he sent CDs to elderly family members unable to make the trip. Hoping things would get better, he planned a Celebration of Life with his and Eleanor's nine children. The pandemic has caused him to reschedule three times. He has high hopes it will come to fruition in early January – planned intentionally to celebrate Eleanor's birthday.
As a spiritual director, Deacon Pallo acknowledged his faith continues to help him each day, but admits one month after Eleanor's death, when visitors were few, the grief hit him. "That lonely time was hard to deal with," he said. "I struggled tremendously with it."
St. Vincent de Paul's Grief Support program was on hold due to COVID, so he turned to hospice who guided him to a counselor. She recommended GriefShare, a national program recommended by Catholic Charities of Central Florida. He went through the 13-week program twice.
"Grief is not like a pain that keeps getting better slowly. You can get up in the morning, have a wonderful day, and something happens that makes you sad and lonely. Maybe it's a TV program or a song on the radio, then you fall back. GriefShare helped me focus on the positive things," Deacon Pallo explained. "Just the love of our Lord and the love of other people trying to help each other made a difference." Recently he began a GriefShare program at St. Theresa Parish in Belleview.
In October, St. Vincent de Paul Parish's Grief Support program returned. One of its founders, Don Valentine, brought the program to life with a team of dedicated volunteers, all who have lost a loved one. One year after his wife, Nancy, died, he was asked to help in the Ministry of Consolation. The ministry leader felt their outreach was incomplete without a grief support option. He took it to prayer. On a flight back from Illinois, he sat next to a woman who was weepy. She had recently lost her husband. For the next two hours he listened and consoled her. He felt maybe this was his calling and in 2015, after some training, began Grief Support.
"Grief counseling is beneficial because everyone there has loss in common. While many friends may not understand, here everyone does. Many have lost spouses, but others have lost mothers, children, friends." Grief Support is a 6-week program concluding with a candlelight ceremony where everyone brings a photo of their loved one and introduces them to the group. The moving experience helps provide some closure and peace, but also joy in honoring those who have died.
Rosy Wright helps facilitate Grief Support. She participated after losing her husband, Bob, in 2018. She said, the firsts without your loved one are the hardest. Even as a nurse who studied and wrote about the stages of grief, she said, "When it happens to you, there are times you can't stop crying and you don't know why." Traditionally a joyful person with a bubbly personality, she found herself angry. Unused to handling the bills and other domestic details, it felt overwhelming. She recalled, "People used to say 'Bob-and-Rosy'. It was one word… It was so hard after." She found healing in the accompaniment and paying it forward.
Missionary of Mercy, Father Anthony Aarons, offers these words of Eucharistic hope to those in pain, "Jesus says whoever eats my flesh and drinks my blood has eternal life and I will raise him up on the last day. In the truth of these words, we take comfort knowing that Jesus has our loved ones covered." The Catechism of the Catholic Church, no.1681, also reminds us, "The Christian meaning of death is revealed in the light of the Paschal Mystery of the Death and Resurrection of Christ in whom resides our only hope. The Christian who dies in Christ Jesus is 'away from the body and at home with the Lord' (2 Cor 5:8)."
As we look forward to the Commemoration of All the Faithful Departed Bishop Noonan asks the faithful to pray for the dead and each other as the body of Christ. "The community of faith is imbued with holiness as we offer the arms of the Lord to each other – the beloved – in the gift of consolation through Christ," he said.
The ministries provided by Catholic Charities Behavioral Health Services are funded in part by generous donations to Our Catholic Appeal. Galda will be presenting "Mourning Loss During the Holiday Season", Saturday, Nov. 6, 10 a.m.-12 p.m. at St. Faustina Parish, 1714 U.S. Hwy. 27, Clermont (Glenbrook Commons). Grief packets are also available by calling Catholic Charities of Central Florida at 407-658-1818. Ask for Behavioral Health Services.
Catholic Charities of Central Florida Behavioral Health Services team now offers telehealth counseling. For more information contact Care Coordinator Kyle Osborn: kosborn@cflcc.org 
By Glenda Meekins of the Florida Catholic Staff, October 27, 2021