ORLANDO | There are as many reasons to seek U.S. citizenship as there are people. Every story is different. The common denominators – they all want a better life, freedom, and the chance to realize their dreams. Catholic Charities of Central Florida's Immigration and Refugee Legal Services helps them.
Maria came to the U.S. from Brazil because she married an American. In Florida with no family, she had no one to turn to when the domestic violence began. She finally gathered the courage to get away and lived in a shelter for 11 months. "Many times in the shelter I cried. Many times in my car I cried… Truly, it was very difficult for me, but I always put God first," she recalled. The shelter referred her to Catholic Charities of Central Florida Immigration Legal Services. There she found a legal team who helped her apply for her permanent resident card (green card), and a work permit while she awaited full resident status.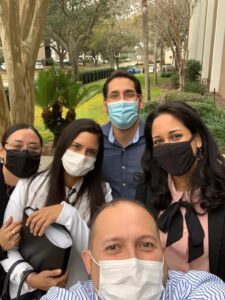 "At some points, I didn't have anybody to talk to or comfort me, so I would turn to God, and I would call Catholic Charities," she said. They gave her a sense of security and helped her stay safe. "Today I have to say, thank you, God! Thank you, everyone! I have been working. I have been paying my taxes. All I want is to continue to work and fulfill my obligations." She hopes someday soon her son and grandson will be able to join her. She said, without CCCF, "I would be nothing." The devout Catholic added, "God is everything. He sees everything. God writes straight through crooked lines."
Catholic Charities is helping others narrow their path to citizenship as well. Because of the high demand anticipated by President Joe Biden's lifting of the Migrant Protection Protocols (Remain in Mexico) Feb. 19, Vanessa McCarthy, director for CCCF Legal Services is adding administrative staff, three legal assistants and another interpreter/translator to her team through grants and fellowships. In September 2021, she will add another fellowship attorney from Immigrant Justice Corps (IJC) to help meet expected needs.
The topic hits close to McCarthy's heart. "When I arrived in the Unites States 21 years ago, I experienced many of the same challenges our clients experience," she explained. "When the opportunity to work at Catholic Charities arose, I saw it as a call from God to welcome the stranger I once was."
According to Transactional Records Access Clearinghouse (TRAC) at Syracuse University, more than 8,300 individuals entered the U.S. in April after MPP was lifted. Those waiting for their court appearance for asylum are moving to U.S. cities and seeking legal representation to improve their chances. McCarthy said, "The legal portion of refugee services has seen an increase in people coming from the border."
With added eligibility for residents from Venezuela, Burma (Myanmar), and Haiti to receive Temporary Protected Status (TPS), a program that offers immigrants from certain countries permission to live and work in the U.S. for a limited time, she expects many more, mostly from Venezuela and Haiti.
Hecmil and Edison García are Venezuelans who arrived in Orlando in 2017. She, her husband, Edison, and young son first lived with her cousin. They left Venezuela after political dissent brought death threats to her family's doorstep and that of other relatives. They arrived with little money and scraped cash together to buy a used car for $700. Hecmil fed her family with the help of the Mission Market organized through Catholic Charities.
The Garcías applied for asylum and waited three months for a work permit. After her preliminary interview was not approved, she sought out lawyers at Catholic Charities to help her navigate the path to residency and citizenship. First Lizmary Lopez assisted, but it was Veronica Jattan who closed the case, representing her in immigration court and winning her case. "Veronica was like an angel that oriented us so well. I am so grateful with her and the IJC fellow, Brenda Garcia. I cried for like a week when I thought of the words she said in court – even the little I understood."
She said Catholic Charities is "always willing to help and treat us so kindly. It's a blessing because through Catholic Charities I am also studying English (through Orange Technical College) for five years. We were also able to receive the vaccinations required for residency."
Although she never had to wait at the border, now that TPS is granted to Venezuelans, Hecmil says, "I hope many other Venezuelans will be able to come and live here in peace as we do."
By Glenda Meekins of the Florida Catholic, June 15, 2021