WINTER PARK | During the final weekend of Advent, young parishioners of St. Margaret Mary Parish invited patrons of posh Park Avenue to light a candle and pray.
The group hoped to share the love of Christ with passersby on December 18th. The candles burned at the foot of the altar as a sign of God listening to His people. Worship music echoed throughout the church as the Holy Eucharist beamed in the monstrance on the altar. The faithful of Winter Park decided to host this event, Nightfever, after huge success in downtown Orlando at St. James Cathedral.
"It was beautiful for me to watch people as they entered the church and as they walked away," said Father Adam Marchese, parochial vicar. "There was one family, in particular, that I have in mind. They entered with hesitation. There was debate as to whether everyone would go in, or if just one person should enter to light the candle. With a little encouragement, they decided to walk in together. About 10 minutes later, they left the church. Not one of them had a dry eye. They didn't come to Park Ave specifically for this event, but they clearly needed it."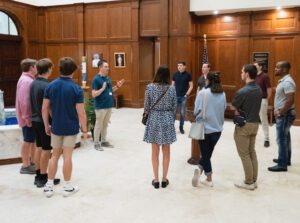 Nightfever also encourages young people to actively participate in evangelizing to the larger community. High school volunteers competed against one another to invite more people inside.
"They'd be like, 'You get some candles out and see if you can get anybody in.' Then they'd be like, 'Hey I got three people…well I got four people'" said Hunter Spyckaboer, youth ministry leader. "It was fun watching them get into it and trying to get people to say a prayer."
A steady stream of people flowed in and out of the church for two hours. Strangers experienced the glory of God through a gentle invitation.
"It's a lot less threatening because you're actually being friendly," said Lucy Woodman, young adult volunteer. "You are seeing them as a person and making that connection rather than being shouted at."
The Holy Spirit also reignited the faith of one family who had been away from the Church for some time. After speaking with them, Woodman shared Mass times and invited them home – perhaps leaving with even more trust in God's goodness herself.
"[This event] gives me hope because you don't think many people on the street are going to respond well or even come inside the church," she reflected. "But I was proven quite wrong."
By Lana Kaczmarek, Special to the Florida Catholic, December 20, 2021