ORLANDO | Amy Roza is a former engineer turned mental health counselor. She is not married. She is not a nun. Her vocation is one that just a few women share, consecrated virginity.
Roza will become the second consecrated virgin in the Diocese of Orlando. The Consecration of a Virgin is one of the church's oldest sacramental and was restored after Vatican II. According to the United States Association of Consecrated Virgins (USACV), "Through this sacramental, the virgin renews her resolve to live in perpetual virginity for God and is set aside as sacred, espoused to Christ and belonging only to Him alone."
Roza admits it is a unique vocation because there are a little more than 250 consecrated virgins in the United States. Like most people, the road that led her to this vocation is a crooked one, made straight by God.
Roza was baptized in the Episcopal Church, but her parents did not practice the faith. While attending Georgia Tech for her engineering degree, she reinvigorated her Christianity through non-denominational campus ministry and became Presbyterian at age 21.
Over the next few years, some of her friends converted to Catholicism. Curious and finding answers that made sense to her, she prayed and studied Catholicism for two years. Visiting a Catholic church in Clearwater, she sat in a pew as several people shared their conversion story. "I found myself in every one of them and I ended up in tears," she recalled. As she pondered the implications, she became concerned. She could potentially lose her Protestant community and she didn't know any Catholics in Clearwater.
The engineer in her literally asked God for "a flow chart to prove this" was the road He wanted her to take. "God clearly said, 'This is not about proving me; this is about following me," Roza said. That was the moment she decided to become Catholic.
With friends in the Orlando area, she attended the Rite of Catholic Initiation of Adults (RCIA) at St. Margaret Mary Parish in Winter Park and entered the Church in November 2004. More than a decade had transpired since she chose to be a Christian. Her friends knew then Father Stephen Parkes, now Bishop of Savannah, GA. She began attending Most Precious Blood Parish in Oviedo, where he was parochial administrator and she is currently a parishioner.
Knowing nothing about "discerning a call", she completed her engineering degree a decade prior. However, her experience in counseling while in college revealed a heart to help others. The desire remained dormant until ministering to women on a retreat. The theme was freedom and she felt God's message loud and clear. Despite dealing with million-dollar software, she uncharacteristically quit her job, returned to school and became a licensed mental health practitioner. She explains simply, "Engineering is something I can do. Counseling is more who I am."
Roza also assisted University of Central Florida's Catholic Campus Ministry, speaking to the young women about her faith journey. Still single, everyone kept asking if she was discerning religious life. "I would actually get offended," she said smiling somewhat embarrassed. "Just because I'm single doesn't mean I'm going to be a nun." She recalled talk of going on nun-runs and couldn't help but think, "What is it with these people?" She was encouraged to discern her vocation. It about two days she decided it was not for her.
Roza continued counseling and found herself alongside seminarians, religious and priests at the John Paul II Healing Center in Tallahassee. She would eventually accept a job at a treatment center in Phoenix. "God is calling me to the real desert," she told Father Benjamin Lehnertz, her spiritual director. He told her, "God calls people to the desert to call them to Himself."
Roza knew no one. "All I had was Jesus and Jesus was all I had," she said. But a quote from Saint Francis of Assisi kept repeating in her head. "Hold back nothing of yourselves for yourself, so that He who gives Himself totally to you may receive you totally." She said, "I remember hearing this, writing it. I'm thinking, this is talking to me. I was freaked out." Maybe God was asking her to be a sister after all. In a "radical leap of faith", she sold everything and moved back to Florida to discern religious orders and their charisms. But the Lord "kept closing doors."
Then in 2018, while having coffee, a friend asked if she had ever discerned consecrated virginity. Already very familiar with how God communicates, she realized she needed to pay attention.
While at Father Matthew Hawkins' first Mass, she paid close attention to priests from around the diocese who had been spiritual fathers. She sunk into her seat, sobbing. "I very clearly felt Jesus calling me to Himself to pray for the priests. I had such love for the spiritual brothers and this love for Jesus." Father Lehnertz referred her to Jennifer Settle, a friend and consecrated virgin who recently moved to Orlando.
The more Roza understood about consecrated virginity, she realized, "I was living this chaste, celibate, beautiful life; living a oneness with Jesus; living a spiritual motherhood and praying to intercede for the bishop and the Church. It was an outflow of what I was already living my life," she said.
Guided by Settle and Servant of the Pierced Hearts of Jesus and Mary, Sister Maria Teresa Acosta, Roza petitioned Bishop John Noonan who agreed to her formation and consecration. Settle emphasized the importance of having a Consecrated Virgin "to journey with her, to answer her questions and to be a witness of how to live this unique vocation in the world and in the Church."
Roza looks forward to her consecration Feb. 11 at Annunciation Parish in Altamonte Springs. She said, living her outward vocation requires intentionality, not just going to church and commitment to daily prayers. "It is making myself a service to the church at large and locally; making myself accessible to the community." She currently assists the diocesan vocations with retreats.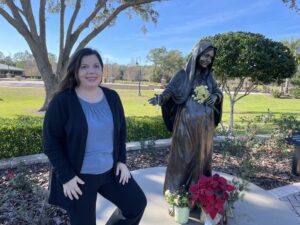 Roza's vocation is Marian in nature, following the Virgin Mary's example of consecrated virginity in the service of the Church. Like Mary she is an icon of "the bridal relationship with Christ in heaven", but (she) is living it out here "like a window pointing to heaven" she explains. She is "a bride of Christ visible in the flesh. It points to this unity and relationship that we are all called to in eternity—that I live out now in a mystical way," she explains.
By Glenda Meekins of the Florida Catholic Staff, January 26, 2022