ORLANDO | Father Glenn Lopez knew when he arrived in Central Florida in 2016, he wanted to belong to the Diocese of Orlando. It was carnival season for St. Joseph Parish in Lakeland.
Welcomed by Bishop John Noonan, local Filipino priests and a warm community, Father Lopez's dream has finally become reality. Bishop Noonan incardinated Father Lopez, parochial vicar of Most Precious Blood Catholic Parish in Oviedo, April 8.
The third of eight children, he grew up in Loon, Bohol province, Philippines. Father Lopez lived across the street from the parish where he received his Sacraments of Initiation, Nuestra Señora de la Luz Church (Our Lady of Light). He was an altar server since the age of 7, waking up every day at 4:30 a.m. to serve Mass. Many of his friends and classmates also served. "
Our pastor was a role model for us and I wanted to be like him," he said. "I have wonderful memories of my childhood."
All the Lopez children were raised in the faith and his eldest brother, César, was a role model. Although he joined the seminary, he departed to help take care of his parents and siblings. When he left seminary, he requested his brother, Glenn, continue to become a priest. He gladly agreed.
Father Lopez enjoyed seminary life and hoped to become a diocesan priest, but eventually joined the Society of the Divine Word Missionaries in 1989. He was disappointed in his first assignment as he hoped to served abroad. Instead, he served as formator in the seminary, then as college campus minister and social apostolate (a justice and peace apostolate assisting people in need throughout the province-whether due to natural disasters or in their local communities).
By 2004, he asked his superiors if he could travel to the United States to visit his sisters. He worked as a chaplain at Our Lady of Lourdes Hospital in Washington run by the Sisters of St. Joseph Carondelet until 2009, when he moved to California to serve as a hospital chaplain another seven years.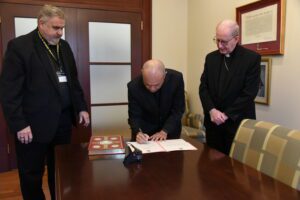 Chaplaincy reminded him of his youth when he tagged along with his father, a physician who travelled the rural province. Father Lopez held his bag. In healthcare, you see "how people suffer," he said. "I could see in people's faces how they struggled." He said he did not realize until later that his father was offering physical healing, but there was also a spiritual dimension. "I could see and feel the emotions of people, crying and having a very difficult time."
In time, the schedule as chaplain became exhausting, receiving calls at all hours of the night. And the Archdiocese of Los Angeles, at the time, had more than 600 priests. He felt overwhelmed.
In speaking to his friend, Father Ramón Bolatete, a fellow Society of Divine Word Missionary, he asked whether the Diocese of Orlando was welcoming priests for incardination. Father Bolatete spoke to Bishop John Noonan right away. Father Lopez jumped in the car, drove more than 2,000 miles to Orlando one week later, where he first served at St. Joseph Parish in Lakeland.
"I loved every moment of it," he noted. "It was really the Holy Spirit who led me here."
Waiting five years to be incardinated, he said becoming a diocesan priest was his "first love" after all. "I wanted to serve the people in my community and to be involved in the life of the people. That is really what my heart was beating for. When I got here, I thought, 'This is it!'"
He now loves serving at Most Precious Blood in Oviedo and with college students from the University of Central Florida. "Working with people is shepherding," he said. "You are a priest; you shepherd people."
He loves assisting in the parishes as he was "longing to be with the people. The work of a diocesan priest is really for me," he said. "I still can't believe that I finally found my home as a priest. Here I can really do the work of a priest… taking care of the pastoring and hearing confessions," while still supporting the ill spiritually and emotionally.
By Glenda Meekins of the Florida Catholic Staff, April 14, 2022