ORLANDO  |  It was a double header for Father Carlos Cabán, becoming a newly incardinated priest to the Diocese of Orlando followed by his installation as pastor of St. John Vianney Parish in Orlando. The successive events occurred Sept. 10, surrounded by fellow priests, his beloved parishioners, family and friends.
The Puerto Rican-born pastor was ordained a Salesian of Don Bosco in 2005, and came to serve the Diocese of Orlando in St. John Vianney Parish in 2016.
"I came and stayed. Or should I say, I came and they left me here, because the bishop wanted it," Father Cabán joked.
He said incardination into the Diocese of Orlando and being installed as pastor were two significant moments in his life. He is grateful Bishop Noonan allowed him to "live the diocesan experience" for seven years.
Although he acknowledged it is different than his service as a Salesian priest, he believes the charisms of understanding the Holy Spirit, specifically to educate and evangelize the youth, is something that transcends the Order.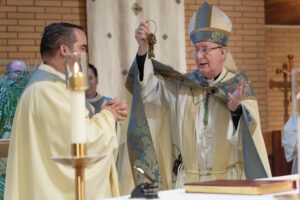 "This incardination, followed by installation as pastor of the parish that welcomed me and helped me grow as a diocesan priest these last seven years, is beautiful," he said. "It is a chance to renew my commitment to my community, one that is very diverse. It is a communion of cultures united in the love of God as our mission states."
Father Cabán explained St. John Vianney Parish served as part of the Next Generation Parish program, one that is to be a model for others and increase the love of the Eucharist. He said this is one of the reasons why the parish is "trying to create a catechesis around this, encouraging formation on the Eucharist from all the cultures which make up the parish." The effort is in keeping with the Eucharistic Revival's Year of the Parish.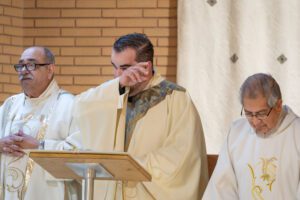 Although little will change in going from parochial administrator to pastor, Father Cabán's Salesian characteristics of friendliness, availability, joy, and a commitment to their work will continue. He added, "These are things which can also be experienced as a diocesan priest."
By Glenda Meekins of the Florida Catholic staff, September 14, 2023