ORLANDO | With arms outstretched, palms raised, and eyes gazed upon Him, thousands of teens knelt before the Lord as the monstrance passed before them during Eucharistic Adoration at the Steubenville Youth Conference.
High school students from 16 parishes throughout the Diocese of Orlando, and surrounding states, gathered July 8-10, 2022, to praise and worship the Lord as they brought their fears before the Heavenly Father.
Conference presentations challenged teens to recognize they are the "now of the Church", responsible for taking this fire of faith and freedom from fears to their communities to proclaim the Gospel as His disciples. Adoration is the pinnacle of the conference, offering a night of hope as teens are transformed by Christ's presence through praise and worship.
The environment surrounding the conference encouraged a "letting go of fears," allowing teens to surrender themselves to Christ. Auxiliary Bishop Joseph Espaillat of New York challenged those present to not let their age discourage them from proclaiming their faith.
His words inspired Gabriel, a high school student from Holy Cross Parish in Orlando. He said he found courage to lay down his fears and focus on what Jesus wants for him.
"Being in the presence of the Eucharist makes me more of the man I want to be, which is like Jesus," Gabriel said. "It makes me more of myself."
Many also found encouragement and strength to dive deeper into their faith as they listened to talks by Matt Regitz, Kyle Heimann, Kelly Colangelo, and singer Andrew Laubacher. Society of Our Lady of the Most Holy Trinity Sister Miriam James Heidland, set the tone of the weekend as she emceed with joy, grace, and authenticity in her heart.
"It was nice to see what Jesus does when He transforms," said Mya Garrity, youth minister of Annunciation Parish in Altamonte Springs. She recalled one of the girls turning to her during Eucharistic Adoration saying, "Jesus just walked right by." Garrity noted, "That excitement and recognition that He was really present was really unique."
During the conference, teens were reminded Jesus is present during the Liturgy of the Eucharist, and participation at Mass is a beautiful experience. This acknowledgment emphasized the importance of Eucharistic Renewal in the Church.
Connor, a parishioner from St. Margaret Mary Parish in Winter Park, often refers to himself as a "Catholic geek". He said his favorite part of the conference is the atmosphere. Often feeling uncomfortable outwardly worshipping, he said "(Steubenville)  is the only place where it's not weird whatsoever."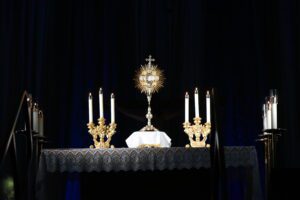 This year's theme, Fearless, resonated with Joelle, from Holy Family Parish in Orlando, because she said she has struggles with her own fears. She said the conference offered her a place of healing and comfort, and it reinforced her belief knowing Jesus will always be enough for her.
Servant of the Pierced Hearts of Jesus and Mary, Sister Gianna Grace Perino shared that the conference "enlightens the minds and touches the heart – it is a faith forward, Eucharist-centered youth conference that encourages young Catholics to be excited about their faith…to learn more deeply who we are as Catholics and more about Him who has 'called us out of darkness into His marvelous light' (1 Peter 2:9)."
"It was such a joy to see them recognize their dignity as sons and daughters of God, embrace the intense love the Lord and Our Lady have for them, and make an act of faith as a result of this discovery," Sister Perino added.
Megan, of St. Peter's Parish in DeLand said retreats like Steubenville encourage teens to be active disciples for the Lord. "Being here and seeing a bunch of other kids have this devotion and reverence for the Eucharist at such a young age is really inspiring and will help me grow in my reverence even more."
By Lana Kaczmarek, Special to the Florida Catholic, July 15, 2022