ORLANDO  |  Yuliya Popovych teaches English for Speakers of Other Languages (ESOL) for Catholic Charities Comprehensive Refugee Services. The Ukrainian immigrant taught English to college students in her homeland and now teaches four days per week in two central Florida counties. She has 20 students in her eight-week class at Orlovista Park in Orlando. Half the student body are Haitian, and the other half are Cuban.
"It's interesting. I never taught Cubans or Haitians," she said. "I enjoy teaching. I understand everybody because I am in the same position. I go through the same processes as they do since I came only in December (2022). I can totally understand what they go through. At the same time, I also understand if they learn English now, it will save them so much trouble later."
Her classes might include students as old as 80 and others as young as 18. It is often difficult to keep them all on pace.
Popovych's students are a handful of the estimated 320 applicants arriving at the refugees services office every month.
Their English ranges from non-existent to fluent. Most need to learn English to find jobs and integrate themselves into the American culture. The classes are the foundation to building a new life in the United States.
On Sept. 21, 2023, Popovych proudly gave her Orlovista location students their certificate — a ticket into Orange Technical College where they can continue their English studies, then pursue a degree, provided they have a work permit and Florida identification.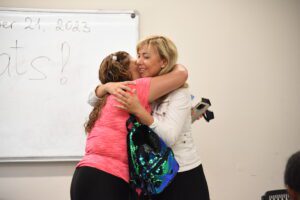 For Odaymis Silva, a Cuban immigrant, the certificate is one step closer to regaining her medical degree. The terrible economic situation in Cuba brought her to Orlando where she reunited with the rest of her family. She was the last of her relatives remaining on the island, so she made the long trip to the United States via Nicaragua, alone.
"Since I began, the English class has gone very well. I've learned so much – not just English but about the cultures of other students," she said.
Roodline Pierre fled Haiti six years ago via Chile, then Brazil, before arriving in Orlando six months ago with her father and sister. Ever the avid learner she described the class as "very instructive." She plans to continue to the next level.
"I'm not stopping for anything," she said. Her zeal reflects that of most immigrants learning English. Pierre hopes to study information systems. "I learned a lot that will be useful for the future."
Nickson Util is a 32-year-old who also retreated from Haiti seeking a safe sanctuary from the volatile social and economic situation in his country. Sharing his joy at the end of class, he high fived and hugged friends he made along the path to learning a new language. Together they have formed a community, a new generation of immigrants working toward the American dream.
"I am very happy today because I get my certificate and continue for a better future," Util said.
If you are interested in signing up for an ESOL course, contact Katherine Diaz at 407-658-1818 Ext. 2074 or 2065 to register. If you would like to teach an ESOL course, go to https://cflcc.org/volunteer/ and select "Volunteer Opportunities" or scroll down for "Employment Opportunities".
By Glenda Meekins of the Florida Catholic staff, September 29, 2023