PORT ORANGE | Father Karl Bergin, pastor of Epiphany Parish in Port Orange, challenged his parish to take Lent more seriously through a visual representation of writing their Lenten promises on wooden planks.
Father Bergin said the idea came to him while praying for one of his homilies. He noted the Sunday before Ash Wednesday, Jesus told a parable that asked us why we "notice the splinter in [our] brother's eye, but do not perceive the wooden beam in [our] own? Remove the wooden beam from [our] eyes first; then [we] will see clearly to remove the splinter in our brother's eye." (Lk 6:41-42). The story encouraged him to reflect on how he could guide his flock closer to the Lord this Lenten season.
"Lent is an invitation to look inward in what I want to see more clearly and how can we use these 40 days to make that a reality?" he said.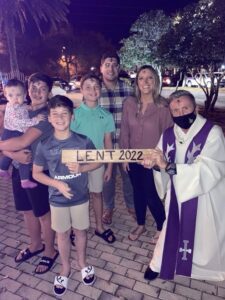 Rather than have parishioners give up something this season, Father Bergin asked they offer it to the Lord in the hopes of growing closer to Him this liturgical season. He instructed them to write "Lent 2022" on their plank and anything they wanted to "remove from their lives so that they [could acknowledge] their suffering hearts and [transform] them into good hearts by Easter Sunday."
The planks are set in an open area in the house, so parishioners have more accountability to uphold their Lenten promise daily.
Being a visual person, he thought "this could be something we do as a community." So, parishioners share photos of their planks throughout the 40 days on social media to journey through Lent together.
"People have embraced this idea to come together in prayer and I would like to do this [as an annual thing]," Father Bergin said.
By Lana Kaczmarek, Special to the Florida Catholic, March 08, 2022