Water brings new life to Sister Diocese
LOS JENGIBRES, DOMINICAN REPUBLIC | "El agua, el agua" screamed a crowd of joyful children as they ran toward a newly installed spicket now bursting with water.
Splashing themselves and each other, they ducked their heads under the spicket that spilled a swift flow of water over their hair and dripped down their faces. As they enjoyed the water, they didn't fully realize its impact on the health of their communities. The new aqueduct connects more than 200 families of Los Jengibres and Los Montacitos with running water.
Until Sept. 18, 2023, these villagers of the mountainous communities of our Sister Diocese of San Juan de la Maguana, walked more than an hour and a half to get to a water source. Although it was used for drinking, cooking and watering their animals, the source could be contaminated. The idea of access to clean water was a dream most locals thought was impossible.
"I have been waiting for this my entire life," said Jengibres resident Miriam. "People used to think that I was crazy for dreaming that this would happen someday, and now the day is here thanks to all the volunteers and donors of the Diocese of Orlando. May God give everyone a long life, full of health."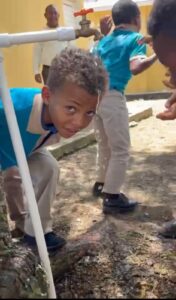 The new aqueduct traverses more than 20 miles and was dug by hand with picks and shovels by local residents and volunteers from throughout the Diocese of Orlando.
The first phase began during the COVID pandemic under the supervision of retired mission director, Ursuline Sister Bernadette Mackay. Beginning March 1, 2023, working their way from a reservoir, trenches were excavated through the tough, rocky terrain and pipes were laid and connected to homes. The project took six months to complete under the supervision of local engineer Luis José Aybar de los Santos, who is a graduate of Bishop Moore High School in Orlando and the University of Central Florida.
"This is exactly the purpose of what we're doing with the international students," explained mission director Raquel Céspedes referring to the model for giving young adults the opportunity to study in the United States, and go to university, then at the University of Central Florida and now in the island's capitol, Santo Domingo.
After graduating college, Aybar de los Santos led the construction of almost 40 homes in the remote town of La Cueva in the Dominican Republic.
"It was great to see him have another accomplishment," Céspedes said. "Luis José was excited, inspiring the community to take care of the system and continue working together."
While there, other community members asked him to come and see if a water system for their communities is viable.
"To have running water in the villages of the mountains is a blessing," Aybar de los Santos said. "After many years of working alongside the communities of Jengibres and Montacitos, we finally made their dream come true. I am more than happy and privileged to be part of such a great accomplishment. After completing the amazing project, my heart and mind are at peace because I personally knew all the struggles the people of these two communities had to go through to have a bucket of water in their homes. I am beyond grateful for the support of the Mission Office and the donors who made this dream come true."
The young engineer grew up in the small town of La Cucarita, the headquarters of the Diocese of Orlando Mission in the Las Lomas region. When the mission arrived more than 30 years ago, his town of dirt roads and makeshift homes had no running water. Although they had wood homes, they rebuilt them as concrete homes, and the mission taught them to raise animals for food. Yet there is still no running water and their cisterns are unreliable, so he understands what this means for his neighbors in Jengibres and Montacitos.
Father Pedro Rondón, a local priest, was there to bless the first bowl of water that came from the aqueduct in Jengibres. He later scattered it onto the crowd of cheering residents.
"There was a lot of singing to sounds of tamboras (drums) and guiros mixed with joy and tears," Céspedes recalled. "Everybody brought something to share, crackers, juice, coffee. It was a very simple celebration, but a very happy one."
She said residents did not forget Sister Bernie Mackay, and were eager to honor her work and that of former construction supervisor Emmett Sapp.
"We are aware that we're not done. There are more water systems coming," Céspedes said.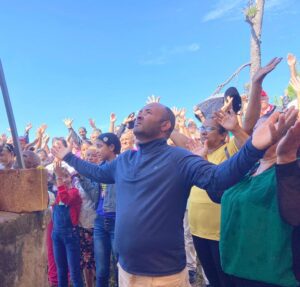 Deacon Manuel Diaz, known as Yadir, summed up the sentiment of many, especially that of the elders. "I may now die in peace, knowing hundreds of families from these two communities have running water in their homes. Years of hard work and sacrifice have come to an end."
By Glenda Meekins of the Florida Catholic staff, October 5, 2023