ORLANDO | Living no longer for themselves, but wholly devoted to Christ, Zackary Gray and Joseph Tran became priests through the Rite of Ordination, May 28. As the Litany of Saints rung throughout St. James Cathedral, the congregation asking intercession for their future priests, the two men lay prostrate in prayer, a symbol of their humility, unworthiness, and dependence on God and the prayers of the community.
God's love led them to this moment, said Bishop John Noonan. "(God) tells us, 'It is not you who have chosen Me, but I who have chosen you'" (John 15:16). Calling priesthood, a mission to bring Christ to others, Bishop Noonan noted, "It is always an extraordinary experience of love."
Both men have been surrounded, not only by the love of God, but the love of their families, present for the momentous event. Traveling from Vietnam, Father Tran's parents looked on with gratitude. His mother, Tien Nguyen, who only speaks Vietnamese, shared her happiness saying she was overwhelmed. "We prayed about it, but let God's Will be done. We support (Father Tran) in whatever he does to serve the Church," she said.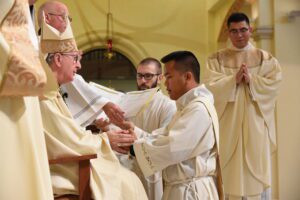 Sitting alongside Father Joseph Tran's parents, Joseph's uncle, Father Thaddeus B. K. Tran beamed, considering it a grace to celebrate his own 30th anniversary of Ordination on the same day as his nephew's Ordination. His uncle, who served Ascension Parish in Melbourne for five years, found this "coming home" to be "an exceptional gift from God." Watching his nephew playing soccer, video games, and practicing piano, he admitted he did not anticipate his becoming a priest when he was a child. But he proudly added, "Now, he is 10 times better than me. He is a better version of myself."
Father Gray's father, Daniel, was surprised when his son came to him, sharing his vocation, but he quickly put his son at ease, as Zackary feared his father would not welcome the news. Acknowledging Zackary's difficulties with schooling when he was young, his father had seen an amazing change in him once enrolled at Blessed Trinity Catholic High School in Ocala. Recognizing his ability to work hard, Daniel fully supported him. "God has called him… I'm just so proud of him," he said.
His mother, Patricia, echoed her admiration. "I can't go to Mass without crying. It just connects very deeply to me," she said. Referring to all the seminarians as 'boys', she explained, as a mom, "once you get into the seminary, it does feel like everybody belongs to you." When asked what she and Daniel did for their son to become a priest, she gives all the glory to God. "If you need to know whether or not God can find somebody where they are, look at our family. I don't know how He reached (Zackary) either. It's very chaotic. It's very loud. We have a lot of kids, a lot of sports going on. There's just a lot of noise. So to even know that somebody can hear Him in that noise is impressive." Laughing she joked how Zackary's siblings keep him accountable. "There's nothing like your family to keep it real," she said.
She hopes, "When people are praying for the people of God to hear Him and answer that call, they're praying for all of us and we need that so much."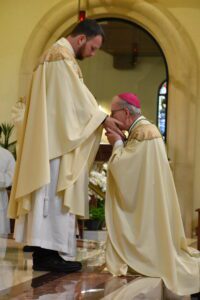 On the eve of Ordination, as the community of St. James Cathedral prepared, they began a new tradition—spending time in Eucharistic Adoration, praying for both ordinands and their lives of service to God. The inspired worship harkened to Father Gray's time before the Blessed Sacrament while participating in a Steubenville Youth Conference. He recalled his experience as, "The most pivotal point of my life."
May 28th was another pivotal moment, as he and Father Tran surrendered themselves, body and soul to God. Named priests in the line of Melchizedek, Bishop Noonan told both men, "God calls you to fill the earth with holiness." Beginning to fulfill that call, after Ordination Father Tran said, "I hope to go out and proclaim the Gospel to bring souls to God." He celebrated three Masses his first weekend, among them one in Vietnamese.
"So many years of study; so many years of preparation. It was all worth it!" said Father Gray smiling. "It's such an honor to be here; to be prepared to serve God's people, and to be ordained with one of my closest friends."
By Glenda Meekins of the Florida Catholic, June 01, 2022