Julio A. Basabe Mendoza
St. Rose of Lima, Kissimmee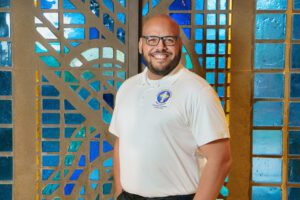 Julio and Annalinda Basabe were married in the Catholic Church in their home country of Puerto Rico, even though he was not Catholic or had any interest in ever becoming one. Five years of witnessing his wife's steadfast faith and devotion inspired him to take a closer look at the Catholic Church.
In October of 2002, the couple moved to Florida, first to Hollywood, and then Kissimmee. It was there that he began to really live out his newfound faith, participating in and leading several ministries. He joined the Rite of Christian Initiation for Adults (RCIA) and received his Sacraments of Initiation during the Easter Vigil of 2005.
"I became active at church once we moved to Kissimmee and started attending Holy Redeemer Parish," he recalled.
In 2010, the family moved to St. Catherine of Siena Parish where he has served his community as coordinator of the Ministry of the Word and coordinator of the altar server ministry. He and his wife were catechists for three years, served as Extraordinary Ministers of Holy Communion, and as couple facilitators for Fully Engaged. He served in these ministries while also working as a professional chef, and more recently as a sixth-grade teacher of World Geography at a local charter school. The couple has been married for 22 years, and though they struggled with infertility, they have been blessed with two children. Their daughter is a junior in college and their son begins high school next year.
Joseph Samuel Bellissimo
Basilica of St. Paul, Daytona Beach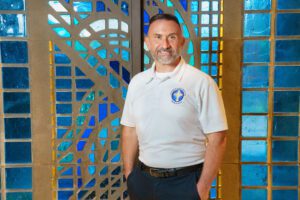 Joseph Bellissimo and his family strive to put their faith into action every day, loving and serving God by loving and serving others. A lifelong Catholic, he married Edythe in his childhood parish, Holy Redeemer in Ellwood City, Pennsylvania in 1994. After several years of prolonged stays in New Smyrna Beach, the couple and their five children finally made it their permanent home in 2013. They attend the Basilica of Saint Paul in Daytona Beach and are active in many ministries.
It is not only within the parish that Bellissimo ministers. As an attorney and business owner, he uses his experience and expertise to serve those in need through the Community Outreach Program created by the late Redemptorist priest, Father Tom Burke. The organization provides administrative, logistical, and spiritual counsel through services including: insurance, immigration, housing, elder care, hospital and hospice assistance, and faith development and propagation. The program is a means of evangelization beyond traditional pathways, bringing the Gospel to life.
"I am a product of God and the faith-filled family with whom I am blessed," said Bellissimo. "Formation has enabled me, Edythe, and our children to say 'yes' to God's call and live out St. Paul's declaration, 'It is no longer I who live, but Christ who lives in me,' (Galatians 2:20) as we lovingly labor, through service and spirit to bridge the two banks of God and world with our lives."
Kelvin Berberena
St. Augustine Parish, Casselberry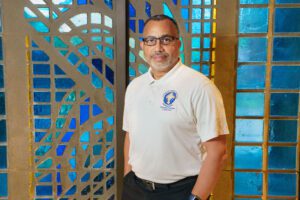 Kelvin Berberena, 54, was born in Brooklyn, New York and raised in the Catholic faith. He lived in Puerto Rico for most of his adult life, but is now an IT professional and small business owner in Central Florida. Married for 30 years to his wife, Maribel, they are blessed with three daughters and recently welcomed their first grandchild.
With an extraordinary testimony about surrendering to God's will, praying more, and worrying less, Berberena supported his wife as she fought and survived cancer in 2022. That reliance and faith in God stems from a personal encounter he had with Christ in 2010. At that moment, he resolved to give his life to Christ and live a life of service to others.
He was invited to join the faith community at St. Augustine Parish in Casselberry, where the priest and deacons encouraged him to submit his application for the diaconate program.
Over the last 10 years, Berberena has become a leader in different ministries inside and outside St. Augustine Parish's walls. Within the parish he is a part of the Hispanic ministry, Extraordinary Minister of Holy Communion, coordinator of ministers to the sick, and liturgy assistant. Out in the community, he has been involved in couples' ministry, a food pantry for the homebound, and chaplaincy as well as volunteering with Catholic Charities of Central Florida. This desire to serve was strengthened during the diaconate formation course, "Theology and Spirituality of Ministry" which he said, gave him, "a deeper understanding of how to better serve the Church, community, and the people of God."
Michael Robert Bradica
Most Precious Blood, Oviedo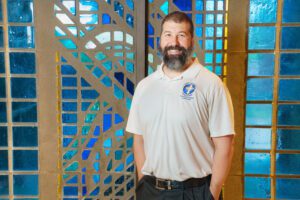 Mike Bradica, his wife, Nicole, and their five children, are parishioners at Most Precious Blood Parish in Oviedo, Florida, where he has attended since its very first celebration of Mass in 2005. A native Floridian, Bradica grew up in Venice, Florida and attended Epiphany Cathedral and School with his sister. He says he will be forever grateful for the example of faith and service his parents and grandparents passed on to him.
Bradica attended the University of Central Florida where his personal relationship with Jesus was nurtured, tested and strengthened.  He would go on to lead the men's group at Catholic Campus Ministry at UCF for ten years, from 2005-2015. During that time, he  also received his master's degree in theological studies from Ave Maria University.
Bradica is passionate about discipleship and bringing all those he meets into a deeper relationship with Jesus. He currently enjoys serving at H.O.P.E. Helps in Oviedo, an organization that aims to prevent and reduce homelessness in Central Florida. He has a deep love for sports, the outdoors, and God's creation. As the owner of a custom software consulting business and a custom drone business, he loves solving difficult and complex problems with creative solutions. He is constantly learning and implementing new skills. In 2015, his then-pastor, Father David Scotchie, invited him to use all these qualities to serve the Church in a new way, by exploring a calling to the permanent diaconate.
"The past six years of formation have been a blessing on my marriage, family, and my interior life," said Bradica.
Jason Bruce Bulman
St. Joseph Parish, Lakeland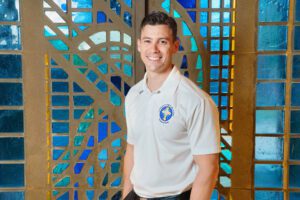 Married almost 14 years, Jason Bulman and his wife, Rachel, have seven children ages one to 11, including one year-old twins. A native of Lakeland, Florida, Bulman has received all of his Sacraments at St. Joseph Parish and he looks forward to giving back to the community as a deacon.
"I am excited to continue to grow with this community and serve my brothers and sisters in Christ," he said.
In addition to his work as a physician assistant in orthopedic surgery at the Watson Clinic in Lakeland, Bulman also provides healthcare to his local community; serves on the board of Catholic Charities of Central Florida; occasionally serves at Talbot House Ministries, a local shelter for the homeless; and evangelizes through multimedia sources.
"I also spend a great deal of time loving my wife and family, raising our children in the Church and encouraging holiness by example," said Bulman.
Gerardo De Jesús López
St. Anthony Parish, Lakeland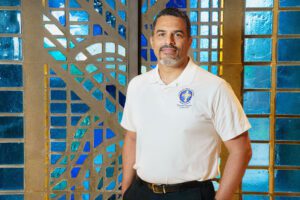 Gerardo De Jesús and his wife, Ivelisse Baez, were baptized at the same small parish in Puerto Rico, a fact they only discovered when gathering paperwork for their sacramental marriage. Now, 26 years later, the couple lives in Lakeland, Florida and has two grown children. De Jesús works as an independent marketing executive for a wellness company, but it is his work in the community that he finds most fulfilling.
As a member of St. Anthony Parish, he volunteers at Talbot House Ministries, providing care and services to homeless men and women in Polk County. "My experience, as I listen to most of their stories, has been one of spiritual enrichment because of their openness to God and faith," he said.
He is also involved with the pro-life advocacy movement and 40 Days for Life. He can frequently be found praying, meeting, and sharing the Gospel with those who visit abortion clinics.
When he began diaconate formation, De Jesús struggled with reading and understanding the course books as everything was done in English, his second language. But even the challenges he faced helped to deepen his prayer life.
"These past six years have been very rewarding for my spiritual life. Knowing my weaknesses and strengths has better prepared me to serve others. Because of the many challenges faced during formation, I discovered how essential and beneficial it is to have a more vitalized prayer life," reflected De Jesús. "It is by God's grace, that at times, when I felt discouraged and tempted to quit, the Holy Spirit found ways for me to complete my tasks. The support of family, priests, and the parish community has also made a significant difference during the years."
As for the future, he notes, "I envision being active in the needs of the community, my pastor, and the bishop. As a deacon, I surrender myself to God's will, knowing and trusting Him in every moment of my life."
Richard David Ferris
Blessed Sacrament, Clermont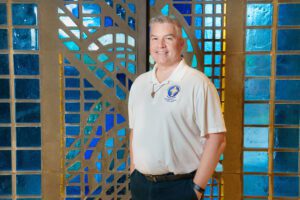 Richard Ferris and his high school sweetheart, Lisa, attended Oriskany High School near Central New York and have been together ever since. Today, nearly three decades later, the couple has three grown daughters and live in Clermont to be near his mother.
In 2012, Ferris joined the Catholic Church and found a spiritual home at Blessed Sacrament Parish. The rest of the family joined him four years later, being confirmed in 2016, just two weeks before he was to begin discernment for the permanent diaconate.  His wife jokes, "I never had a chance to just be Catholic but have been in formation for my entire Catholic journey!"
As a real estate appraiser for residential properties, Ferris enjoys the flexibility to help take care of his family, while working, and serving in ministry. He serves the community at South Lake Hospital, Cornerstone Hospice, and Catholic Charities of Central Florida. This year he plans to support a local ministry in Clermont, Find-Feed-Restore, which helps homeless families with children.
José Ignacio Galarza
St. Catherine of Sienna, Kissimmee
It was Walt Disney World that brought Jose Galarza and his family to Central Florida from Puerto Rico. The former bartender arrived in 1998 with his wife, Lourdes, and two daughters to work for Disney in the hospitality industry. That move would introduce him to the Circle of Prayer ministry at Good Shepherd Parish in Orlando
"That was the beginning of my journey and look where the Lord has taken me," said Galarza.
A few years later, the family would move to Kissimmee and join St. Catherine of Siena Parish, where his faith continued to grow.
"It was throughout the years of serving the Church, especially in family and marriage ministry (Renovación Conyugal) that my call to the diaconate started," he recalled. "Invitations from priests, deacons, laity and the parishioners were numerous."
When he expressed interest to his then-pastor, Father José Bautista, Galarza immediately received full support.
In addition to diaconate formation, Galarza currently works for the Osceola School District Maintenance Department and spends much of his time serving at the Coalition for the Homeless in Orlando. He has also worked joyfully in prison ministry since 2004 with Pescadores de Hombres Ministry (Fisher of Men). He says the formation process has been a true blessing.
"I can say I am a new man with a new heart. My heart is full of joy," said Galarza. "I know that it is a tremendous responsibility, but I also know that the Lord will guide me to serve His people with love and compassion."
Gregory Gerard Kapral
St. Luke, Barefoot Bay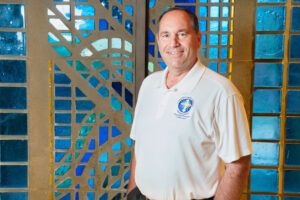 West Point graduate, Gregory Kapral, is originally from East Lyme, Connecticut. He served 21 years as a commissioned officer in the U.S. Army. When he met his future wife on CatholicMatch.com, he moved to Florida to be closer to her. He and Missy, a registered nurse, were married one year later.
Following retirement from the Army, Kapral held a variety of positions in the corporate world before accepting employment at St. Joseph Parish in Palm Bay, where he serves as director of operations for finance and human resources. For the past six years of formation, he has served with the St. Vincent de Paul Society, the bereavement ministry and ministry to the sick. His experiences caring for his own family has given him a special love and compassion for the elderly.
"My focus on this specific area stems from the fact that, in the eight years of our marriage, we've cared for Missy's mom, my parents, and my elderly aunt in our home, with my dad and aunt being wheelchair bound and requiring total care," said Kapral, who together with his wife has since buried three parents, a brother, and an aunt. "I have witnessed the importance of bringing the love of God to the elderly, especially those at end of life. Despite the challenges we have faced in the short time we've been married, our faith in God and love for each other have carried us through."
He noted the relationships developed during the six years of formation "have been an incredible blessing and source of strength for us." As Ordination approaches, "I step out in faith and like the servant at the wedding feast in Cana, I listen for the voice of our Blessed Mother to 'do whatever He tells (me).'"
Frank Joseph Nicsinger
Resurrection Parish, Lakeland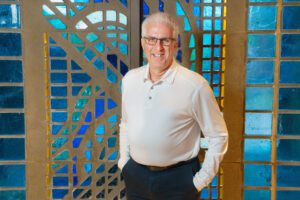 Frank Nicsinger is a long-time resident of Winter Haven, having relocated to the area more than 25 years ago with his family for work. He and his wife, Sheila, celebrated 40 years of marriage this year in February. Their two daughters reside in Winter Haven with their husbands and families. Nicsinger is happily known as "grandpa" to three grandchildren and two great-granddaughters.
The couple works together closely at a Central Florida accounting firm specializing in tax preparation services. The two met at work more than 45 years ago and plan to continue working together until their upcoming retirement.
As part of the Resurrection Parish community, Nicsinger was drawn to the Polk Ecumenical Action Council for Empowerment (P.E.A.C.E.) ministry which has promoted youth arrest diversion programs, affordable housing, and healthcare for residents of Polk County. As a member of P.E.A.C.E., he is called to share the mission of this important advocacy group.
He brings his love of Christmas and the celebration of Jesus' birth to other ministries such as, Operation Christmas Child, and Resurrection's annual Christmas Giving Tree. Operation Christmas Child sends needed items all around the world and the Christmas Giving Tree connects children in need with gifts so they may share in the joy of Christmas during that wonderful time of year. He is also a member of the St. Vincent de Paul Society.
Nicsinger felt a calling to the permanent diaconate most of his adult life. He said this set him on a path to look internally and pray for God's divine guidance. Through formation, he noted his spirituality and desire "to truly be a servant of God to others has grown and blossomed." He is looking forward to continuing his journey of growing more in his faith as he serves his community.
James Daniel Oates
Our Lady of Lourdes Parish, Melbourne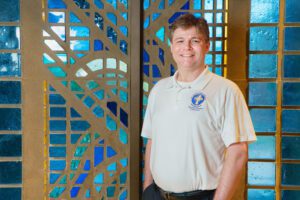 James Oates was born in Fort Lauderdale, Florida and moved to Brevard County in 1989, where he still lives with his wife of 22 years, Gynelle. The couple attends Our Lady of Lourdes Parish and volunteers with Daily Bread, a food pantry located in downtown Melbourne. When not volunteering or participating in diaconate formation, Oates works at Data Flow Systems, Inc.
"Our formation journey has been an adventure with many challenges and blessings," he noted. "The encouragement, prayers, and love we have received have strengthened and sustained us throughout diaconate formation.  Gynelle and I have grown in love for God and each other as we navigate this path in response to God's call for our family."
Striving as a family to do "God's will in all things", they prayerfully continue "this beautiful diaconal journey together — a journey of love, grace and service, with the help of the Most Holy Trinity and under the mantle of Our Blessed Mother."
Joseph Anton Pecko
Our Saviour Parish, Cocoa Beach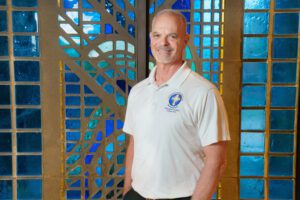 Service to God and country runs in the Pecko family. Joseph Pecko, one of nine children, lived in South Carolina where his father retired from the Air Force and served as a deacon in the Diocese of Charleston. Pecko joined the Army in 1986. Of his three children with his wife, Christine, two have also joined the military while the other is a law enforcement officer with Florida Fish and Wildlife. Pecko retired from the Army as a social worker with the rank of colonel and continues to serve as a civilian, with a cumulative 36 years of federal service.
He and his family moved to Cocoa Beach in 2008 after their military service and have been faithful members of Our Saviour Parish ever since. The couple is involved with community improvement projects and created a non-profit organization to assist the poor of their community and those around the world. They also serve in teen ministry, faith formation, Rite of Christian Initiation of Adults (RCIA), and ministry to the sick and homebound.
Beyond Our Saviour, Pecko supports a group for individuals living with HIV under Project Response in Melbourne. He also used his clinical mental health background to provide couples with counseling and serves on the Healthcare Services Board for Catholic Charities of Central Florida.
He noted his diaconal formation experience "has been a blessing for my personal and spiritual growth as a Catholic man." Moreover, he feels as a couple, the experience deepened his and Christine's relationship with God. His vision for the future as a deacon is to serve God, the bishop, and the Diocese of Orlando by joining the clergy at Our Saviour where he will serve the parishioners and all who live in and visit the Space Coast community.
Jairo Rosario Juarbe
St. Ann Catholic Church, Haines City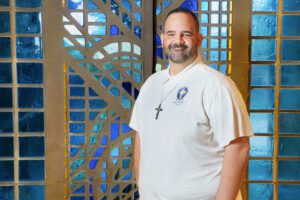 Jairo Rosario has always had a desire to help people and felt that God was calling him to a life of service, he just wasn't sure exactly what he was meant to do. He and his wife, Lydia Danela De Jesús, served in their parish's youth ministry in their home country of Puerto Rico for several years, but he still felt he needed to do more. Occasionally people would suggest that he become a deacon, but he dismissed the idea because he thought he was too young and unqualified.
In 2013, the couple moved to Florida, seeking a better quality of life. Rosario began working at Westgate Resorts and the couple found a new community of faith at St. Ann Parish in Haines City. Once again, he felt God calling him to serve, but this time is path was made much clearer.
"I put everything in prayer and in God's hands, and through mysterious ways, God answered my prayer through my pastor, Father Alfonso Cely," he remembered. "After the Sacrament of Reconciliation, he invited me to consider the permanent diaconate. It was a call that I welcomed with courage and joy into my heart."
With his wife's encouragement to, "Give the Lord the best of your years," he joined the diaconate formation program. During formation he volunteered with St. Vincent de Paul Society and he looks forward to continuing to help God's people.
"During all my formation years, I feel that I grew so much as a person and spiritually I feel like a different person, a better husband and a better member of my family and my community," he reflected. "I ask God daily to help me become a better person to better serve and help those around me; family, friends, co-workers and all the people of God, so that together we can walk the path to holiness."
Javier Emilio Sacco Pérez
Holy Cross Parish, Orlando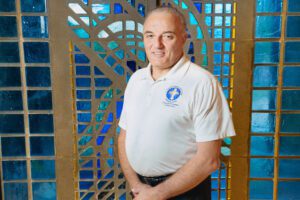 Javier Sacco says his journey in the Church began when he met his wife, Monica. For the last 29 years they have been growing together and prayerfully following God's plan for their lives, even when that plan meant moving with their family to an entirely new continent.
Sacco was born in Montevideo, Uruguay, but in 1999 the family moved to Wichita, Kansas. They would stay in Wichita for 10 years, raising their six children, when they again felt God calling them to a new home, this time in Orlando, Florida.
Since arriving in Orlando, the family has attended Holy Cross Parish and Sacco has been involved in several ministries, including bible studies, faith formation, and baptismal and marriage preparation. He has a great love for St. Francis of Assisi, and one of his greatest wishes is to bring young people back to the Church.
Out in the community he serves food to the homeless and supports migrants who are newly arrived in the United States. As the owner of a remodeling company, Sacco is always trying to do the work of the Gospel.
"I try to use [my work] to evangelize clients and employees," he said.
He is an avid soccer fan and enjoys barbequing for his family and friends. No matter what he is doing, he recognizes God's blessings all around him.
"Every second that I breathe is a gift from God and I don't have enough time in the day to thank Him for everything He gives us," he said.
Jesús Roberto Suárez Hernández
St. Joseph Parish, Orlando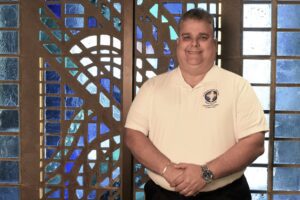 Jesús Suárez has been married to Gracebell Diez de Andino for almost 29 years and together they have raised three sons. For the last 32 years, he has been an airline pilot, and more recently, has worked as a full-time instructor and line pilot with JetBlue. In 2001, the couple left their home country of Puerto Rico to resettle in Orlando, Florida. They began attending St. Isaac Jogues Parish and later joined St. Maximilian Kolbe Parish (now St. Joseph Parish), where then-pastor Father Tom Walden suggested Suárez consider becoming a deacon.
"I have been blessed and challenged, through formation, in the development and discovery of the different dimensions of the life of a deacon," he said. Suárez has served in the community during his formation years by visiting the elderly and volunteering with prison ministry through the St. Vincent de Paul Society. He added, "Formation has developed our human, spiritual, intellectual, and pastoral dimensions and reaffirmed our original call to the diaconate."
The diaconate classes offered through St. Leo University and the Diocese of Orlando prepared him both practically and spiritually for the life of a deacon, deepening his faith through theological studies and helping him obtain a bachelor's degree in religion. He looks forward to putting his formation into practice in his new life of service.
"My vision for my family is to continue developing the diaconal dimensions we have acquired, humbly serving God's people while being configured to Christ the Servant, sharing as a family God's Word and love," he said.
Gary Quentin Tester
St. Joseph Parish, Orlando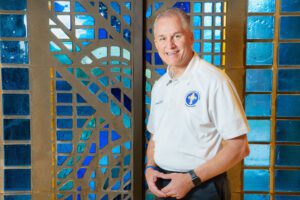 As a child, Gary Tester desired to follow in his father's footsteps, to serve God by being a minister. He would ultimately find his spiritual home in the Catholic Church, but that early desire to serve God, inspired by his father, never wavered. Tester, his wife Lynn, and their six children, lived in southeast Michigan. They were active in their parish and their community, working with vulnerable families through children and youth parish ministries as well as with outreach to prisoners, adoption/foster care services and crisis pregnancy housing. An encounter with two men in diaconate formation at a retreat would inspire him to explore a new way God might be calling him to service.
"It was during this time that I felt the Holy Spirit beckoning, inquired about the diaconate program of the Archdiocese of Detroit and began prerequisite classes at Sacred Heart Major Seminary," he said.
In 2015, however, those plans were put on hold when he accepted the position as executive director of Catholic Charities of Central Florida and moved his family to Orlando, Florida.
"It is one of the greatest blessings of my life as I am truly blessed to work with, for and among God's people all day, every day, responding to Jesus' call to feed and provide care, to help and to love, to house and protect," he said.
The Tester family joined St. Joseph Parish in Orlando, where he continued to discern a call to the diaconate and officially entered the diaconate formation program with the support and prayers of family, friends, fellow parishioners, and co-workers.
"My heart will always have a desire to serve the people of God, particularly the homeless, the poor and the underserved," he said. "I pray that, through loving service to God and my brothers and sisters, my life will show others that Christ truly is the center of our hope, and it is our privilege to love and serve one another in His name."
Ralph Gaffud Turingan
Ascension Parish, Melbourne
Ralph Turingan's call to the diaconate stems from his childhood as one of 13 siblings, raised in a small fishing village in the Philippines. Those early experiences shaped the person he would become. He is now a professor of Biological Sciences at Florida Institute of Technology and with a family of his own in Melbourne, Florida.
"My diaconal ministry is rooted in a farming-village life in the Philippines, full of love, humility, and simplicity," he reflected. "The biblical roots of the diaconate often reference the deacons as servants of the poor, sick, widows, oppressed, hungry and everyone who needed help."
"It is inspired by the first deacons including St. Francis of Assisi, believed to be 'most Christ-like,' a 'man in love with God and with all God's creation, '" Turnigan said.
Turingan came to the United States to attend graduate school. He and his wife of 36 years, Josephine (Joy) Escobar, have two grown daughters and two grandsons. The couple has attended Ascension Parish since 1996. It was his late pastor, Father Eamon Tobin, who first verbalized God's calling to the diaconate to him and continued to be supportive of his journey until his death in 2021.
"My diaconal ministry is fueled by those who have been with me throughout my continuing formation," he said. He expressed gratitude to his wife, his children, the permanent deacons of the diocese, his theology professors, and his brothers in formation, who each played a pivotal role in his vocation journey.
During these years of formation, Turingan has served with the Catholic Campus Ministry at Florida Institute of Technology and has as been involved with the fishing communities in Puerto Rico and the Philippines. He looks forward to serving his community as a permanent deacon.
"After Ordination, I commence working with our Pastor, Father John Bosco Maison, as his envoy and servant to the Ascension Pastoral Council as it formulates and performs its function to engage and empower the lay community in the major ministries of our parish: liturgy, evangelization, and outreach."
Thomas Phillip Warwick
Ascension Parish, Melbourne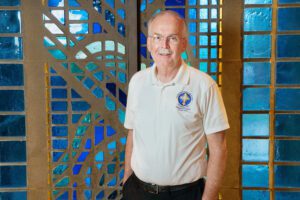 When Thomas Phillip Warwick (Phil) met his future wife, Barbara, at Purdue University, he was a recent convert to Catholicism and in the midst of discerning the priesthood. Warwick was attending the university's Catholic Campus Ministry, and with her encouragement he continued to prayerfully consider the priesthood. Ultimately, he realized that was not his calling, and reuniting with Barbara after graduation, the couple was married in 1984. Today they have three daughters and four grandchildren and live in Melbourne, Florida where they attend Ascension Parish.
Throughout their married life, the couple has volunteered in various Church and charitable ministries. Together they founded a charity and worked with the people of Haiti and Jamaica for fifteen years. Today, Warwick is employed as a hospital chaplain for Health First Hospitals in Brevard County and his wife volunteers with the hospitals as a minister to the sick. Like many people around the world, their lives were profoundly changed by the COVID-19 pandemic, but in the midst of the hardships, the couple has seen the hand of God.
"The six-year diaconate formation has challenged us and blessed us. Throughout this time, we faced many exhausting challenges, including the deaths of five family members, several close friends, and those I have witnessed in the hospital due to the pandemic. Yet the losses also brought great blessings in the support we received from our family, pastor, deacon mentor couple, friends, and coworkers," he said. "Our losses, spiritual challenges, and blessings that followed shape how my wife and I see our future. We pray we can be effective ministers by relying on our wounds, grief, imperfections, and grace to help others with compassion and empathy in our parish, local hospitals, and the community."
Staff Report, June 01, 2022
Watch the Ordination of these deacons on livestream via our Facebook or YouTube.