DOMINICAN REPUBLIC | Expressing joy and gratitude for a dream come true, 36 homeowners and their families proudly gave tours of their new residences to Ursuline Sister Bernadette Mackay, Bishop John Noonan of Orlando and Bishop Tomás Alejo Concepción of San Juan de La Maguana — the sister diocese of Orlando.
Hugs and tears flowed for many, overwhelmed by the bishops' blessings of their homes in La Cueva, the furthest mountain town in the Las Lomas region of the Dominican Republic. A new church, Capilla San José, was also blessed during a Mass
in celebration of the auspicious occasion. The homes are fruits of the hard labor of their neighbors, and mission volunteers from throughout the Diocese of Orlando.
The fact these homes progressed through the pandemic is a credit to former Bishop Moore Catholic High School and University of Central Florida engineering graduate Luís José Aybar de los Santos, who oversaw the project. Aybar is the quintessential example of what the mission of the Diocese of Orlando has accomplished in the care of the humble people in this region over
the past 30 years.
When missioners arrived in La Cucarita, the town prior to reaching La Cueva, children were malnourished, uneducated and lived in huts exposed to the elements. They had no birth certificates, making them ineligible to vote or be counted as citizens in need of power, paved streets and running water.
Now, the towns are flourishing. Those infants have grown to be teachers, doctors and engineers, ready to lead their communities into the next phase of growth. La Cueva is on its way to the same success.
"This was not just a housing project, but it was a multi-year plan for a community — not only to gain access to the world and its economics, but to give them a place at God's table with all the dignity and respect they deserved," said Henry Fortier,
superintendent of Catholic schools who also oversees the mission office. He credited Father Fred Ruse for "teaching them how to dream and understand their dignity as a child(ren) of God."
As Bishop Noonan marveled at what has been accomplished, he too lauded Father Ruse's belief in a people once marginalized. Father Ruse's weekly visits early on, walking through a mule path or riding a donkey, encouraged the families of this forgotten village. He celebrated Mass regularly and taught them the love of God. He saw what others didn't.
Although Father Ruse could not attend the recent festivities, he followed from afar. A photo that stood out was that of a couple, Santiago and Bella, and their children standing before their new home with Bishop John Noonan, Bishop Emeritus José Grullón Estrella, and mission founder Sister Mackay. Father Ruse has known Bella since she was 17. Her first pregnancy was
"problematic," he said. He recalled driving her down to San Juan in the middle of the night. After "a terrifying three-hour drive in the dark of night… she gave birth in the backseat of my car." That first-born, not expected to survive, stands proudly next to Bella in the photo. She named him Samuel.
Samuel was the first Cuevan to go to school in nearby La Cucarita, an hour's walk each way. He was the first in the town to ever go to school.
"The photo is a narrative of a time of accompaniment, not unlike what we recently heard about Jesus and Zacchaeus," Father Ruse said. "We have lived with them as Jesus went to live with Zacchaeus. That has made all the difference.
"We are family with them and they with us; in this and all that has been involved in living that way, is a window onto the depth of the Kingdom. Such cooperation with the Spirit makes of us as a diocese in this relationship – a parable to the world of what is in God's heart, and His desire for all of humanity and creation." He noted, "It is the work of many hands, of many souls."
Raquel Céspedes understands accompaniment. This is her 18th trip to La Cueva. A longing she didn't know she had was fulfilled in ministering to this poor community — and the community, the land, the town, welcomed her, generously sharing both inner and outer beauty.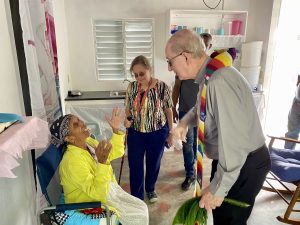 Céspedes first went to the mission territory in 2019 to help build an aqueduct to La Cueva. "I think God had a plan for that trip because it was so magical with the water system. We had planned to work five days. The first four days I was working, working, working. I didn't see everything there was to see." She felt gratitude for construction supervisor, Emmett Sapp, who told
her, "You need to stop working and realize why we are here."
She recalled exploring the town as a little girl led her to the place where residents drew water. "This is why we are here — so people don't have to hike 40 minutes down and 40 minutes up the hill to get their water, with their kid on their hip, bucket on their head, and laundry in the other hand," she said.
She returned two months later when the water was ready to flow. "People hugging each other; some more crying, laughing, singing. It was music and water. It was beautiful."
The Holy Spirit set her heart ablaze. Three years later, she accepted the position, following in Sister Mackay's footsteps, carrying her legacy into a new era. A new mission board made up of those integrally involved with the region's growth is guiding those next steps. Board members include Father Ruse, Thad Seymour, Marianne Rhodes, and Good Shepherd principal Gloria del Orbe. Among the board's tasks is to explore new places to spread the Word of God.
"These people have been around for a very, very long time," Céspedes said. "It's always good when you have people with so much experience. Then you have a support group that can guide you in the right direction."
By Glenda Meekins of the Florida Catholic staff, November 3, 2022