ORLANDO  |  Catholics across central Florida are happy to welcome four new students from the sister diocese in the Dominican Republic. They will study at Bishop Moore High School in Orlando and Father Lopez High School in Daytona Beach. Their goal is to apply what they learn here to make their home a better place.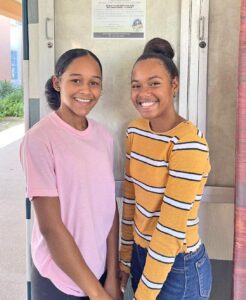 Yaribel arrived with three friends in early August, excited to begin freshman year. She and best friend, Willianny, are staying with long-time host parents, Monica and Rod. The couple is busy brushing up on Spanish, while the students earnestly practice English.
Monica shares her family hosted students from other countries as well, yet notes the Dominican students are different. "What separates the Dominican students is they're here for their education, to improve their lives and their community. These kids come knowing they have to work hard."
A little nervous at first, Yaribel is mastering English faster than she expected. "I've realized every day we advance a little further. So, it's not as hard as I thought it would be," she shared. Coming to the United States in the hopes of receiving a good education, she said it also gives her the "opportunity to grow as a person, meet friends and experience a new culture." She hopes to study obstetrics and gynecology when she returns to the Dominican Republic.
Friendships with former students who are already back in the mountains continue to inspire her journey including one young man, Luis José, who is building new homes and a young woman, Yamilka, who is in medical school and plans to open a clinic for the villagers.
Yaribel does not believe her presence here is a coincidence. In fact, she's sure it's not. "I see God's hand in everything," she said. "Each step I'm going to take, each thing I will do I put into His hands since He is the one who afforded me this experience."
Jennifer, a high school senior who arrived from the mountains in 2020 feels blessed despite early learning during the COVID pandemic. She and her friends started classes virtually. Unable to experience full immersion, English came slowly. Homesickness set in, but wanting to make her family proud, Jennifer focused on English. And just after sophomore year, things clicked much more quickly.
"It was all I expected and much more," she said. She loves living in Orlando and is close to her host family. "I feel extremely fortunate to have them in my life. They've demonstrated you don't have to have the same blood as someone to make them a part of your family and give them the love they deserve," she said.
She too sees the hand of God in bringing her to Bishop Moore. Former mission director, Ursuline Sister Bernadette Mackay made it possible. Jennifer recalled, "I was going through a bad time, and she rescued me by bringing me here. She felt I earned it. I had excellent grades. I was going through a hard time and upon arriving here, my whole life changed for the good. God reflected Himself in a person so she could help me in the exact moment I needed it."
The senior plans to study business administration and tourism while at the same time assisting in community projects with the mission. "I would like to implement into my community what I have learned here," she said. While she realizes there are no opportunities to use her degree in her village, once she settles into her career she plans to donate to the community's needs.
One year ago, Sister Mackay retired and long-time missioner Raquel Cespedes took the lead. Cespedes' priority is to ensure students who study in Florida return home and enroll in the university in Santo Domingo. "The goal is to give back to their communities," she said.
Part of the education piece for the mission is supporting students with a residence and scholarship to attend a Catholic school in Azua, a town more than an hour from Los Frios. Cespedes relies on the Holy Spirit and selects qualified students from Azua to attend Catholic schools in Orlando.
She said discerning this year's selection was her hardest decision yet. "I had to pray a lot because I didn't want to choose the four. I wanted God to choose. I knew that He had them already," Cespedes said.
"When they come here, it really changes their lives — not only theirs, but their families', so I wanted to make sure it wasn't a decision I was making on my own. All in God's will. That's my priority."
Students like Yaribel and Jennifer know that and feel privileged to be here. It motivates them to give their all with the promise they will go home and make life better for those around them.