ORLANDO  |  Two landmark teachers and principals retire to continue serving their communities. Deborah Schwope, principal of Resurrection Catholic School in Lakeland and Sandy Basinger, principal of St. Mary Catholic School in Rockledge bid a final farewell to their students and faculty June 30th. Both women are models to follow as educators and leaders, promoting faith and learning to future generations.
DEBORAH SCHWOPE
"I'm the servant," Schwope said. "I am not as important as my kids or my faculty. I am a servant for them and that's what I think is really important — what educators should be."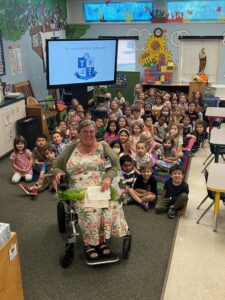 Education has been Schwope's life work since she started teaching in 1986. She arrived in the Diocese of Orlando 12 years later, and served as assistant principal at Resurrection and later became principal of St. Joseph Catholic School in Winter Haven. By December 2012, Resurrection coaxed her return as principal where she remained for the duration of her career. In that time, the self-ascribed "school whisperer" more than doubled the student enrollment at both St. Joseph and Resurrection.
"Mrs. Schwope has dedicated her life to Catholic education. She has lived a life of service for her students and families within Polk County," said Superintendent Henry Fortier. He noted being particularly grateful for her "stepping in at Resurrection during a difficult time and transforming the school to being a leader in Catholic education within the Lakeland area."
Schwope explained she has a "God-given talent to be able to intuit what people need and answer their questions and walk with them, so they have a comfort level in the school they have chosen."
That ability has served her well, but listening is also a critical part of her service.
"I am big on the Holy Spirit and He is part of my world. I rely on Him to have me at the right place, at the right time, or have me do things I need to do," she said. "Sometimes God whispers in my ear, and I have to listen."
For instance, the day before schools closed due to the COVID pandemic, she felt God telling her to send the children home with all their books, because they would need them. Indeed, it was the last day of in-person classes for some time.
Her favorite part of the day is greeting students who are eager to share their stories or wiggle a loose tooth for her. She said they have taught her resilience and trust.
Schwope is most proud of the school's STREAM certification, received two years ago. STREAM facilitated her teachers' and students' transition to remote learning because they were already familiar with the necessary technology.
Schwope hands over the reins to Lisa Schaal, assistant principal. She advised her colleague to trust herself and trust God to show her the way. "Don't rush to judgement," she said, adding advice given her by the late Father Val Sheedy. "You have to take everything to prayer. Prayer will lead you to what you need to do."
Her next adventure: to see the tulips in Amsterdam and volunteer serving immigrants by teaching them English.
SANDY BASINGER
Basinger wanted to be a teacher from the early age of 5. She recalled sitting her little brother down and trying to teach him phonics. "It's always been in my blood," she said.
When she pulled into St. Mary's parking lot in 1997, she knew it was where the Holy Spirit wanted her. "My heart belongs here," she said searching for the right words to explain herself. She accepted the job and enrolled her three children, who all graduated from St. Mary's.
Basinger's entire career, 25 years in education, has been in the halls of St. Mary, with the last 11 as principal. Many of St. Mary's teachers have been there almost as long as Basinger.
"We have built a community here. We're kind of like a family," she said proudly. "The teachers know I care about who they are, and they care about me."
"She has dedicated her life to forming our children in the faith," Fortier said. "She is a shining example of faith in action. … (H)er gentle nurturing presence allows those she meets to tangibly experience the love of Christ."
Basinger joined the Catholic faith when she was 23. After reading the lives of the saints and studying, she felt "a depth there that she was looking for."
"I believe in what I say. Religion is important to me," she said. "When I helped teach eighth-grade religion, I would try to meet the kids where they were and try to help them see where they needed to go, because that's how I found the faith."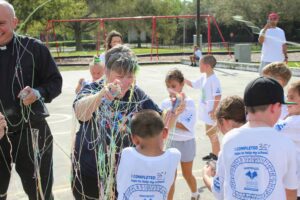 That has made all the difference because Basinger said a strong prayer life is indispensable. She said she has faced her share of tragedies in life, but her faith, her prayer life and her trust in God gets her through. She shares her commitment to prayer and soliciting the intercession of the Blessed Mother with the faculty and the students.
Basinger has high praise for her staff as they navigated the pandemic.
"My teachers are rockstars. They will rise to whatever challenge is given to them," she said. "Especially during COVID, we really worked hard together to make sure the kids got the education they needed to get through those difficult times."
Continuing in the footsteps of Sister of Mercy Joan Cahill, the school's foundress, Basinger has improved the campus, adding sidewalks, breezeways, a new roof, and two new playgrounds. She too has received much, noting the students at St. Mary's have taught her "that love can be unconditional."
"They're children and very open to the Holy Spirit and to God," she said. "They show me love at times they didn't even know I needed it. It's like God coming through them in an unconditional way. … They are wonderful, caring human beings."
Basinger passes the mantle to Stephanie Swartz, a teacher at Our Lady of Lourdes in Melbourne who recently received her master's degree in educational leadership. She offers her words of wisdom: "Make sure to build some quiet time into your day so you can pray. Prayer always centers me. And stay open and watch to see what works and what could change for the better. Trust your instincts and be true to your word. If you make a mistake, own up to it and move forward."
Basinger hopes to work with the Helping Hands Ministry and assist in teaching English to those needing to improve language skills at her parish.
By Glenda Meekins of the Florida Catholic Staff, May 26, 2022