ORLANDO | Norma Lewis has participated in the annual celebration of Blue Mass since her son, Deputy First Class Norman Lewis, died in an 2017 manhunt for Markeith Loyd. Loyd was on the run after killing his pregnant ex-girlfriend and Orlando police Master Sgt. Debra Clayton. As he responded to a search for Loyd, a van fatally struck Deputy Lewis while he was on his motorcycle.
This year, on Sept. 29 at St. James Cathedral, Norma and Orange County Sheriff John Mina will bring up the gifts of bread and wine during the annual Blue Mass.
"It is an honor to stand with Norma Lewis as we remember her son, Deputy First Class Norman Lewis, and other first responders tragically killed in the line of duty," Mina said. "Each year, the Blue Mass is an important opportunity to recognize the sacrifices of both our fallen heroes and those who continue to serve our community every day."
Each year, in a fanfare of fire trucks, the Orlando Police Mounted Patrol, and a massive American flag, the Mass opens with a procession of the Orlando Firefighters Pipes and Drums. Bishop John Noonan recognizes those who died in the line of duty and blesses all first responders, from paramedics and police to emergency medical professionals, firefighters and more. He commits them to the care of Archangels Michael, Gabriel, and Raphael — known as spiritual warriors in the battle of good versus evil.
Although not Catholic, Norma said it is with great humility that she will bring forward the gifts that are to become Eucharist.
"It is truly a blessing because I know with my heart what I live for— and I don't live for worldly things," she said. "I live for Godly things and the Sacraments and the gifts are very important."
In answer to those who ask why Holy Communion matters, she responds with Scripture — Phil 4:13, "I can do all things through Christ who strengthens me," noting Christ is the source of all strength and the nourishment He offers sustains us.
"Get your heart right," she added. "Get your soul right because you're going before the Lord."
Norma frequently attends Catholic Mass with her friends and prays the rosary, noting its Scriptural basis. She and her husband ministered in Catholic parishes by serving the hungry and homeless before moving to Florida. Agreeing with St. Paul she said, "'There are many members, but one Body of Christ."
Steeped in love for the Lord, Norma is constantly praising Him despite losing all three of her children and her husband. Hospitalized 11 times after the death of her son, she thanks God every day for her life and takes nothing for granted, a trait her son inherited.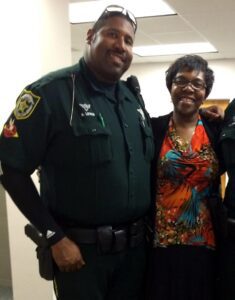 Helping others was one of his fundamental characteristics. The former University of Central Florida football player stood at 6-feet, 4-inches and weighed 325 pounds, and was described by friends as a "gentle giant."
He followed the model set by his parents, caring for others beyond his daily police work. Deputy Lewis often volunteered for youth retreats and his heart broke wide open after hearing from a young man who hadn't eaten in two days. He immediately recognized the need for a food pantry at school and approached the boy's principal for approval. He eventually established 14 pantries. Shortly after he died, his mother moved to Orlando to take over the pantries and to honor the oath her son took to serve and protect the community.
She prays the St. Francis of Assisi Serenity Prayer and praises God for helping her survive illness and grief. For her, Blue Mass is a reminder of who God is and how He watches over all of His children.
"You can't live without God," she said.
Blue Mass will be celebrated at St. James Cathedral. 215 N. Orange Avenue Orlando, FL 32801
Friday, Sept. 29, at 12:10 p.m. Parking is available at the northwest corner of Orange Avenue and
Robinson Street in the MAA Robinson Garage. Or watch via livestream on the Diocese of Orlando Facebook page and YouTube channel.
By Glenda Meekins of the Florida Catholic staff, September 22, 2023