ORLANDO | When the faithful around the diocese entered their parishes on the first Sunday of Advent, they walked in to see beautiful Advent wreaths, with the four candles reminding them of the four remaining weeks until Christmas. In many households, Advent wreaths and calendars are beloved traditions as families prepare their hearts and homes for the birth of Jesus, eagerly counting down the days and weeks to December 25th. In addition to these well-known devotions, the Diocese of Orlando is home to many other Advent celebrations from around the world that invite faith communities to enter more deeply into the Advent season and anticipate the joyous celebration of Christmas.
Simbang Gabi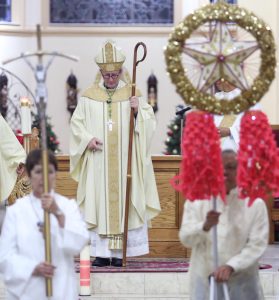 Father Kenny Aquino, pastor of Divine Mercy Parish in Merritt Island, remembers ringing the church bells at three o'clock in the morning to call the villagers to Simbang Gabi, a nine-day Christmas novena Mass. In the Philippines, Father Kenny's home country, the Simbang Gabi Mass begins at 4 a.m. each morning beginning on December 16.
"It's a sacrifice to get up so early, to rearrange your schedule to be there, but there is an overwhelming sense of joy to be at Mass, and that joy is contagious," said Father Kenny. "The entire town will wake up very early and everyone looks forward to it. They are anticipating the coming of Christmas."
While here in the United States, Simbang Gabi is usually celebrated in the evening, the feeling of joy and anticipation remains. There is even a special privilege granted during Simbang Gabi Masses that allows the congregation to sing the Gloria and the priest to wear white vestments instead of purple. In the Diocese of Orlando, there is added element of pilgrimage, as Simbang Gabi Masses are held at different parishes for each of the nine days, culminating with a Mass celebrated by Bishop Noonan on the final night.
"It's a very beautiful tradition, very festive," said Father Kenny. "It's a wonderful way to prepare our soul to have a place for Jesus to come in."
Misa de Aguinaldo
Similar to Simbang Gabi, Misa de Aguinaldo, is a Christmas novena that originates in Puerto Rico and is celebrated each morning for nine days before Christmas. At St. Isaac Jogues Parish in Orlando, the community will gather for Mass at 6:00 a.m., the wait for the rising sun reminding them in a very concrete way of the wait for the Son of God.
"These Masses begin with the celebration of the Expectation of the Birth of the Virgin Mary," said Jose Colon, music coordinator at St. Isaac Jogues. "These celebrations fall within the second part of Advent which prepares us to celebrate the historic birth of our Savior."
"It is an effort for nine days to praise God in music and prayer. There are a lot of cultural overtones, in the music, especially," explained Father Jose Bautista, pastor.
And the music doesn't stop with the end of Mass. "After Mass, in many places, breakfast is prepared for the attendees without stopping singing Christmas carols," said Colon.
Las Posadas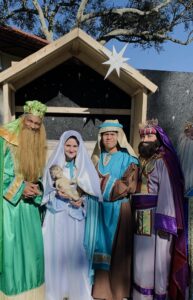 At St. Ann's Parish in Haines City, the Mexican tradition of Las Posadas takes the Advent celebration to the streets. For nine evenings before Christmas, the community will process through local neighborhoods, praying the rosary and singing carols until they arrive at the home of a parishioner. A traditional carol is sung where the people ask for room for Mary and Joseph while the host initially sings back that there is no room before finally welcoming them all in. The procession includes children dressed as Mary and Joseph, a large manger that is set up in the home, and even a donkey. Once inside, there is a feast of Mexican food, traditional music, and a pinata that represents destroying sin and enjoying God's graces as the candy spills out.
"It's a beautiful experience of our faith," said Father Alfonso, pastor. "It's a physical preparation of getting the home ready, but it comes with spiritual preparation. It's nice to clean and decorate and prepare food but you must remember you are welcoming Jesus. You must also clean and decorate your souls to be ready for the Lord's coming."
Bambellini Sunday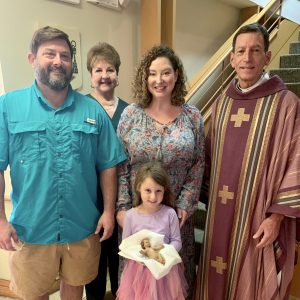 Bambellini Sunday is a recent tradition begun my Saint John Paul II. He asked children attending the Sunday Angelus in the third week of Advent to bring the baby Jesus figure from their home nativity set to receive a special blessing. This tradition has been carried on by Pope Benedict XVI and Pope Francis and has spread to parishes around the globe.
"We celebrate it on Gaudete Sunday because of the theme of joy," said Father Charlie Mitchell, pastor of St. Mary Magdalen Parish in Altamonte Springs. "It's a great tradition for children to participate in, and they really love it! At one point during the Mass, we will ask everyone to hold their baby Jesus up to receive a blessing. The main thing is to make the connection between what we do at church and what they do at home, that they would be mindful of getting their nativity set ready and make that a focal point of their celebrations."
Jesse Tree
In a tradition dating back over 1,000 years, the Jesse Tree is a visual representation of the genealogy of Jesus, tracing salvation history from Adam and Eve to the Incarnation. Its origins come from the Old Testament book of Isaiah, "…a shoot shall sprout from the stump of Jesse, and from his roots a bud shall blossom" (Is 11:1).
Symbols such as the sun, the ark of Noah, the star of David, and many others represent the ancestors of Jesus. Many parishes have these symbols incorporated into church architecture or displayed on ornaments on a tree, a reminder each day of Advent of the long-awaited Messiah.
By Elizabeth Wilson, Florida Catholic correspondent, December 15, 2022