WINTER PARK | As the newly sworn-in Chief of Police for the Winter Park Police Department, Timothy Volkerson always strives to live his faith with his family, coworkers and the Winter Park community. Volkerson was publicly sworn-in April 29, 2022.
Growing up, Volkerson's parents, Paul and Patricia, raised their family key Catholic values — to participate in the celebration of Mass and understand how to be generous with their time, talent and treasure. Their parents' example illustrated the path for him and his brothers to follow as they walked  their own faith journeys.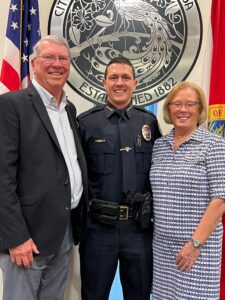 Volkerson's father is an ordained deacon and now serves at St. Charles Borromeo Parish, and formerly served as a deputy for the Orange County Sheriff's Office. His father's commitment to his faith and to protect and serve his community reminds Volkerson to always walk with God whether in Church or on the job. He describes his vocation as "extremely rewarding."
"As a police officer, faith has played a tremendous part in how I deal with people," Volkerson said. "It has influenced how I treat people on the street and coworkers. It influences the decisions that I make and how I came about reaching those decisions."
Volkerson relies on his faith to guide him through challenging moments such as supporting grieving families or dealing with difficult cases. Many times, he sees the face of God as he works with his coworkers who offer him "tremendous support," adding he wouldn't know how to get through some days without them.
Another source of support and happiness is his marriage. He said his wife is a "huge part" of his own spiritual development. The couple teaches Theology of the Body at their parish, St. Margaret Mary in Winter Park. Volkerson said the experience has strengthened their relationship with each other and God.
"These days, something that often gets overlooked is the importance of shared faith with your spouse (by) being able to keep each other on a path of spiritual growth and development," he said.
The couple's two children attend St. Margaret Mary Catholic School, and thanks to the positive example offered by their parents, they are involved in altar serving, singing in the children's choir, and helping with children's Liturgy.
By Lana Kaczmarek, Special to the Florida Catholic, May 4, 2022