BOCA RATON | In a significant step on their path to the priesthood, three Diocese of Orlando seminarians were ordained to the transitional diaconate Saturday, April 2 at St. Joan of Arc Parish in Boca Raton.
Ángel García-Chávez of Holy Redeemer Parish in Kissimmee, Zachary Parker of Epiphany Parish in Port Orange, and Edgar Serrano of St. Mary Parish in Rockledge, were overjoyed to be one step closer to serving the Diocese as priests. While both Deacons García-Chávez and Parker study at St. Vincent de Paul Regional Seminary in Boynton Beach, Deacon Serrano studies at Pope St. John XXIII National Seminary in Weston, Massachusetts.
The men are now transitional deacons because they will serve the diaconate for only one year, prior to being ordained priests. Bishop John Noonan noted, "We have three young, newly ordained deacons, which is beautiful for the Church. It's a hopeful sign and message for the people."
As transitional deacons, they will be assigned to parishes where they will exercise their ministry in preparation for the priesthood. They will preach, confer the Sacrament of Baptism, witness marriages, and preside over wakes and funerals.
"It feels amazing being ordained to the diaconate because I see how the Lord has confirmed the calling that I felt years ago," Deacon García-Chávez said. "(God) has remained faithful to His promise, and I look forward to being able to preach His Word and serve His people in a new way, closer to the Sacramental life."
Deacon Parker described Ordination as "an incredible gift." He expressed his gratitude for Bishop Noonan and the Diocese "for blessing me and entrusting me to serve the Church as a deacon. My heart is filled with gratitude that Jesus has called me to become a deacon and, hopefully next year, a priest. I never imagined I would be blessed by Christ and the Church in such a beautiful way."
Deacon Serrano said this new step is wonderful. He accepts the awesome task offered through the Sacrament, which he wants to carry out with joy.
"Although I was apparently preparing for this 'ontological change,' I was not, since everything around me … by the Will of God, is no longer the same," he said. "I am living in the unusual. I am understanding this is the beginning of a great responsibility. God draws me close to Him, but with this closeness He brings His beloved souls. … God begins to deposit in my hands His greatest treasure, the souls that He wants me to take care of, and in love return back to Him."
Bishop David Toups of Beaumont, Texas, presided at the Mass, which was especially significant, as he prior served as rector of St. Vincent de Paul Regional Seminary. Since its foundation in 1963, the seminary has formed more than 650 priests who have gone on to serve in parishes across Florida, the Southeast, and parts of the Caribbean.
In his homily, Bishop Toups called to mind St. Pope John Paul II, who died 17 years ago, April 2. "He knew the suffering of his family, of his country, in a world in which it was a challenge to even openly speak of faith. But he pressed on because he knew the voice of the Good Shepherd who was leading him.
"John Paul loved and served the Good Shepherd because he knew he was first known and loved by God. We must shepherd from a place of being loved and known by God," Bishop Toups said.
"Like never before, we must go to the peripheries, as Pope Francis constantly reminds us. People no longer flock to the Church. We must go out to them and invite them, lead them into the flock of the Good Shepherd. You are called to shepherd and feed because our world is starving," he concluded.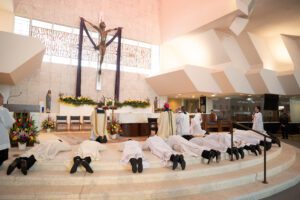 As the men lay prostrate near the altar, the faithful sang the Litany of Saints, harkening their aid and accompaniment for the journey of their future clergy. Upon Ordination, the new deacons donned the stole and dalmatic, vestments symbolizing diaconal ministry.
As the men received their Bibles as a sign of their mission, they took to heart the words of the Rite, "Believe what you read, teach what you believe, and practice what you teach."
By Glenda Meekins of the Florida Catholic Staff, April 06, 2022