SAVANNAH, GA | Ordained the same day in the same place, 25 years ago, Bishop Stephen Parkes and Father Miguel González hoped to celebrate their silver anniversaries together.
On May 23, 2023, that wish came true at the Cathedral Basilica of St. John the Baptist in Savannah, Georgia.
Asking Father González to deliver the homily at Bishop Parkes' Mass of Thanksgiving, the two joyfully celebrated the priesthood, recalling the day they laid on the marble floor before the altar at St. James Cathedral in Orlando, where Father González now serves as rector.
Father González recalled their time at St. Vincent de Paul Regional Seminary in Boynton Beach. He spoke of the priesthood of Christ as "a priesthood of service," noting four things to remember: to serve the people of God; to teach what they have learned; to provide opportunities to draw people to the heart of Jesus, and not to "shrink" before obstacles, but to "give of (themselves) wholeheartedly."
Bishop Parkes was appointed bishop of the Diocese of Savannah in 2020. Prior to that, he served Annunciation Parish and Most Precious Blood Parish in the Diocese of Orlando. He also served in Catholic Campus Ministry and as chaplain to the Catholic Foundation of Central Florida.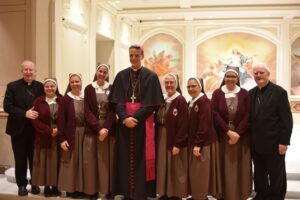 Participating in the celebration of Mass were numerous guests from Orlando including Bishop John Noonan, Sisters of the Servants of the Pierced Hearts of Jesus and Mary, family, friends, fellow priests, deacons, and parishioners.
Bishop Parkes shared a quote with the crowd that he came across during his discernment. "If not now, then when," he said. "If not here, then where? If not you, then who? If not for the Kingdom, then why?" He noted he often asks himself these questions to better serve the Church.
Remembering Bishop Norbert Dorsey, who ordained both him and Father González, he recalled his words – "of the promises that we make, we are called to be faithful servants." Both men recommitted to that promise and requested prayers for vocations.
Click here to watch the livestream of the Mass of Thanksgiving.
By Glenda Meekins of the Florida Catholic staff, May 25, 2023