BELLEVIEW | The idea to spend one year celebrating St. Thérèse of Lisieux's upcoming 150th birthday came to Father Tom Connery, pastor of St. Theresa's in Belleview, as his parish continued to struggle through the pandemic. Constantly seeking to learn more about his parish's patroness, he began to do the math and realized her 25th anniversary as a Doctor of the Church is this year, 2022. In January 2023, St. Thérèse of Lisieux, known as the Little Flower or Therese of the Child Jesus, will be 150 years old. In two more years, the 100th anniversary of her canonization will be celebrated. This was an opportunity to honor St. Theresa while deepening the faith of his parishioners. "It's the golden year of St. Theresa," he said.
"I have a strong devotion to her. I tell people that every church has a name they are identified with, but having St. Theresa is something more. It is the spirit of who she is. She's a patroness of priests and I feel under her protection. So, I have promised devotion to her," he explained. Since becoming the parish's pastor in 2018, his devotion has only increased.
In preparation for the year's event, he created a 31-day devotional for his parishioners that began on her feast day, Oct. 1. The booklet's short bursts of information were in keeping with the Little Flower's "Little Way". She was known for saying, "Do small things with great love."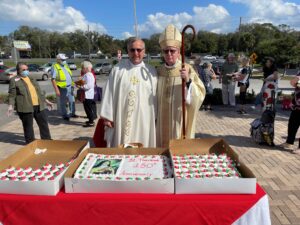 Bishop John Noonan helped kick-off the momentous year by presiding at Mass on Jan. 2.
Thérèse was the youngest of nine children born to a mother who wanted to be a saint and a father who desired to be a monk. God had other plans. Eventually, four of their daughters joined the Carmelite Order and one became a Sister of Poor Clare.
At age 14, Thérèse requested to join the Carmelites, but the superior refused. She went to the bishop and when he said no, she appealed to the pope. Soon after she was admitted to the convent.
Although St. Thérèse only lived to age 24, the maturity of her faith led Pope John Paul II to make her a Doctor of the Church in 1997.
Daisy Kalarithara is the director of the St. Thérèse Lay Carmelite community encompassing members from Belleview, Ocala and The Villages. Since moving her community's meetings to St. Theresa Parish last year, the community has grown. She attributes this to the Carmelite saint.
Kalarithara, who became a lay Carmelite more than a decade ago says Carmelites believe, "in order to be a Carmelite, you do not have to do great things. You can do small, simple things with great love." This is perhaps the most recognized of St. Thérèse's ideas. It's called her "Little Way". She believed through small sacrifices, she would become a saint – her greatest desire. The simplicity of St. Thérèse's method is what attracts Kalarithara and so many others.
"This church is dedicated to her and everywhere I look I am seeing the Carmelite mission," she noted. "That is a huge thing for us. Without saying anything, people are drawn to her."
Indeed, upon arriving on campus, everywhere one looks there seems to be an image, statue or quote from the saint. Even the trash cans have roses painted on them because of her words: "I will send down a shower of roses from heaven." Father Connery had those words painted over the entrance of the church. Noting Thérèse said she wants to spend heaven doing good on earth, Father Connery's response is, "I am willing; I am here; my hands are open."
The parish is putting her "Little Way" into action each month of 2022, from hosting picnics to volunteering with Blessing Belleview- a bevy of small projects and activities that show love of neighbor. The Lay Carmelite community is planning a special celebration on the Feast of Our Lady of Mount Carmel, July 16.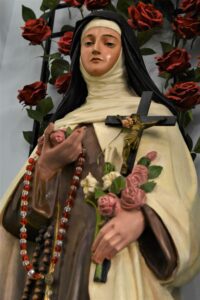 Father Connery hopes the year will help parishioners go deeper in their faith and encourage them to be Christ in the world.
By Glenda Meekins of the Florida Catholic Staff, January 5, 2022