DELTONA | Parishioners at St. Clare Parish believe it is through the intercession of their patroness that the parish renovations glorify God. Parochial administrator, Father Héctor Vázquez Saad says he is only following the lead of previous pastor, Father Carlos Bedoya, reaping seeds planted.
To describe the joy parishioners are experiencing, Father Vázquez Saad exclaimed the words of Buzz Lightyear: "'to infinity and beyond.' They are thrilled about this."
Encouraging the faithful to "take ownership" of their parish, funds raised focused on a facelift for the sanctuary and other updates to the property. Construction modifications began the Monday of Holy week. Celebrating daily Mass in a classroom, the Triduum celebrations remained in the sanctuary, pardoning the beginning stages of renovation. Father Vázquez Saad said  three sisters welcomed into the Church on Easter Vigil say they are now, not only daughters of God, but "truly original founding renovation members."
Renovations make the sanctuary more beautiful and eco-friendly with LED lighting, eight new air conditioners, a new altar, ambo, and credence table, paint (inside and out), new tinted windows, tile, carpet and a rustic stone backdrop to the altar space, crowned with a new statue of Mary and Joseph. The San Damiano Cross, made by one of St. Clare's founding members, along with the original altar chairs and kneelers were refurbished. Father Vázquez Saad it brought back "the beauty of these articles," and added that the altar area "is the most important for us because there is where the 'action' happens."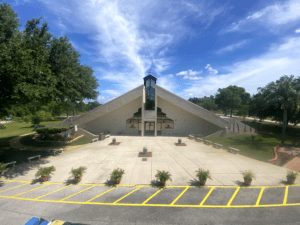 Basic outdoor maintenance and improvements to the grounds enhanced the property, making it more inviting. An enthusiastic parishioner worked on a small garden for St. Clare, paving a walkway, providing seating space to contemplate the outdoors and ask the saint for her intercession.
"The people come to church and see something different. Some have tears in their eyes because it looks so beautiful, others said that it's inspiring and inviting to prayer and reverence," Father Vázquez Saad said, calling the project "a ray of hope" after the years of pandemic. "(Parishioners) come to this friendly and holy place to escape things in this world that leave us almost hopeless. They come to St. Clare and recharge through the Eucharist, Reconciliation and prayer… then return to this world to share the Good News."
By Glenda Meekins of the Florida Catholic staff, July 15, 2022