CASSELBERRY | It has been little more than one year since Charles Pillsbury had his left leg amputated above the knee. An active man, even at age 83, the retired Army sergeant once signed out jeeps for generals. Now he had limited mobility. Considered "high risk" by a landlord, he also had nowhere to recover.
His amputation came about due to clots in his leg. "People overlook their legs and their feet, but they're very important," he said. After five months in the Orlando VA Medical Center in Lake Nona, he found himself with a Pathways to Care brochure in hand. It was a no-brainer.
Pathways to Care did "basically everything", he said. "You have your bed, clothes, sneakers, shoes, whatever you need – two meals a day and it's good food." He laughs and admits he's gaining weight.
Pillsbury is one of approximately 200 annual residents at Pathways, an assisted living facility that provides a safe place for the homeless to heal from surgery or significant injury. Through partnerships with the Veterans Administration and other organizations, Pathways helps residents regain independence. That is Pillsbury's plan.
Case manager Maureen Simmons says Pillsbury is on the fast track, already living in Step 2 transitional housing as she works with him to find a new place to live. "He's a saver," she said noting his determination. Simmons loves her work and is drawn to veterans because her father served in World War II and lived to be 100. "I promised my dad I was going to do as much as I can to tap into the resources for everyone. A lot of people, especially the Army guys, don't really know the resources available to them," she said.
Pillsbury is quickly making friends with the other veterans in Step 2 housing, but mostly enjoys spending time outside, soaking in the fresh air and sun.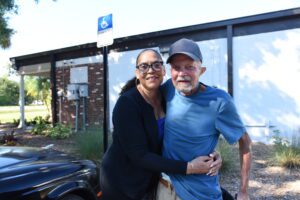 The third of seven children, five boys and two girls raised in a devout Catholic family, he remembers going to Church every Sunday with his mother. Then, he lived in what was once the small town of Pepperell, MA. "In the Springtime, on Easter, we all got new clothes," he said with a big smile. Although his practice of the faith waned when he left the Army, he still finds God acting in his life.
For instance, when he had to leave his home, he lost most of his belongings. Someone told him, "Don't worry. God will take care of it. Be patient." "And it is working out," he said. "Some of the stuff I lost I don't need now anyway, even if I had it. But at the time it made me angry. Time heals all wounds," he said. That goes for emotional and physical ones. After seven months at Pathways to Care, Pillsbury can walk with a cane and get around on his own.
Pillsbury comes from a long legacy of veterans. His grandfather, father, and brothers all served, either in the Navy or the Army. At 19, Pillsbury joined the Army and found he didn't really like it, but over time it grew on him. He did everything from becoming a sharpshooter, to working in carpentry and being in charge of the assignment and return of military vehicles.
Eventually he made friends. "You have to count on your friends—they have to count on you," he said. "You do your job and you do it right."
He takes pride in doing his best in all tasks. After the Army, he worked odd jobs, mostly working as a carpenter. He also raced horses, trotters and pacers. He owned and trained them and drove the chariots, until he retired on a friend's land, who was in the same trade. His leg amputation coincided with a new landlord unwilling to take a chance on him.
Pillsbury loves his new temporary home full of people who genuinely care about his recovery.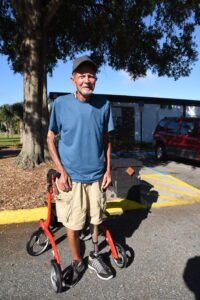 Among them is William Bernardo, director of Pathways to Care. "Working with men and women who have become disenfranchised and witnessing them find value and direction in their lives is very uplifting," he said. Veterans are also close to his heart as his own son, Luke, is just finishing up a
9-year tour in the Navy.
Bernardo's Catholic faith also helps him maintain hope for those Pathways' staff serves. "It's important to have faith that God has a plan," he said. "It can be difficult to see the trauma and damage suffered by those who have served our country.  Knowing that God has a plan and seeing how the Holy Spirit helps those in need heal physically and spiritually is encouraging."
He said, "There is a comradery among the veterans that brings to mind Romans 12:10 – 'Be devoted to one another in brotherly love; give preference to one another in honor.'" It's a blessing to be able to serve veterans," he said. "These are men and women deserving of our thanks for their service and they express a great deal of appreciation for the services they receive."
By Glenda Meekins of the Florida Catholic staff, November 8, 2023