ORLANDO | It is 10 a.m. and Ann Polasek already made a day trade and worked out to Zumba. Our interview cut into her daily pool laps. The consummate entertainer, she is ready with refreshments and cookies, eager to share the highs and lows of a life well-lived. Polasek, a veteran philanthropist and part of the Morning Star Catholic School Women's Auxiliary celebrates her 100th birthday, June 29. Sixty of those years were spent in the Diocese of Orlando, contributing time and treasure to growing the community and church around her.
The secret to her longevity and cheerfulness—God. "There is no real happiness without God. I don't care how much money you have," she said thoughtfully. "I don't care how beautiful you are. Without God as your guidance there is no real peace, … and truly there is no real happiness." Her demeanor exudes this truth.
Polasek grew up as an only child, the hope of a new life in America after her parents left Armenia during the Turkish invasion in 1920. The war cost her family her three older siblings, just children at the time. Her mother barely escaped, left for dead in the desert and rescued by a good Samaritan. Yet the family's devout faith as Apostolic Christians gave them strength to start again. They helped found an Armenian Church in Wisconsin. "My parents were beautiful Christians," she recalled smiling. As she grew, Polasek became a catechist and began a Sunday school which still operates.
Living in Milwaukee, she met her husband John, a devout Catholic, ultimately leading to her own conversion to Catholicism. After the birth of their two children, Mary Beth and John Jr., they moved to Florida, buying 40 acres of orange groves in Kissimmee at the advice of her father. Fears of losing all to winter frost soon melted away with the announcement Disney World was coming to town. They sold the land to Disney. The theme park's entrance stands one mile from their original property.
She laughs remembering those days. Her husband came to work for Martin Co. (now Lockheed Martin). "When we came to Orlando there was nothing," she said. Colonial Drive did not exist and there were few large stores.
The years to come would be filled with sorrows, the loss of her infant son, Paul, to crib death, and many joys – the birth of her sons, Andrew and Peter, and helping grow what was then the Diocese of St. Augustine. She and John helped in the building of St. John Vianney Parish, Blessed Trinity Parish in Orlando, the rebuilding of St. Charles Borromeo when it was the cathedral for the Diocese of Orlando, and finally St. James Cathedral. It could be said her greatest joy has come from fundraising and advocacy for Morning Star Catholic School.
She first came to know of the school for children with disabilities when she was invited to a fashion show and was taken with the children. Sister of Saint Joseph Elizabeth Marie Stoup invited her to tour the school. As she sat in the lobby, she overheard a speech teacher working with a student in the room next door. His struggle was heartbreaking. "I just fell apart," remembers Polasek. "But there was more to see. Sister Marie took me into the garage. There were some desks and more beautiful children, all with learning disabilities…. Since then I fell in love with Morning Star." She joined the Women's Auxiliary and worked hard to raise funds and help turn the school into what it is today.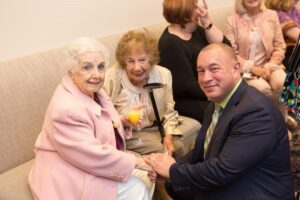 Principal Alicia Abbey acknowledged Polasek's support and said, "Her kindness and joy radiates wherever she goes and it's infectious. You can't help but get excited and passionate about the things she is passionate about because of her amazing spirit and generosity."
It seems everyone is taken in by this matriarch. "It has been a blessing to know Ann," Henry Fortier, superintendent of Catholic schools said. "She has been an example to generosity and love for all of us. As Morning Star School has evolved and grown over the years, Ann has always been there as a source of support. I think of Ann as one of Morning Star's greatest cheerleaders at 100 years young."
And it isn't only Morning Star that Polasek applauds, but all Catholic schools. A strong proponent, all four of her children attended Bishop Moore Catholic High School. "The children were being spiritually fed there," she said.
Among the many things she is passionate about is golf. Polasek, a golfer who could have gone pro, was frequently the only woman forming part of the annual charity golf tournament. She was comfortable there and knew how to raise money. Although she credits herself with few talents, she admits, "That is something I am good at… If you've got, give," she says firmly. "Ninety percent of us have more than what we need."
Her determination served her well. Even when Jordan Marsh department store was about to go bankrupt, Polasek sat in the executive director's office for hours, refusing to leave until he agreed to provide the dresses for that year's Runway for Giving Morning Star Fashion Show. The fashion show is now in its 58th year.
"I have known Ann for many years," President of Morning Star, Thomas Doyle, said. "I have grown to absolutely adore her. Her quick wit and smile are very contagious. Her passion for our Morning Star friends is a true inspiration and a true example of how to follow in the footsteps of Jesus."
Her pastor, Father Ralph DuWell of St. Charles Borromeo Parish could not agree more. "Jesus says two things: love God and love neighbor… Ann is the 'go to' on how to live that kind of a life," he said.
Having lived 100 years, she has much wisdom to share. Being part of the original formation of the Diocese of Orlando in 1968, Polasek met all five bishops. She also weighed in on Pope Francis noting he is the first pope to ever visit Armenia. "I don't think there are words good enough to describe him (Pope Francis). I think he is a true servant of God."
Her sage advice to young and old: "If you have children (or family) you're not talking to, call them up…. You will be so relieved of the very heavy burden you carry when you're angry. Anger does not bring you happiness," she said. "Start the morning with prayer… love each other and be happy, grateful." She cautioned, "Each day is God-given. You don't want to waste it."
She admits she is "kind of frightened of what's ahead in the next life." But she says without God, "all the things are empty… some people have more, some have less, but there is no satisfaction in earthly things." So she encourages deniers of the faith. "Just imagine creating the world. Look at our human bodies…. The miracles all over… yet we deny Him. Well," she says emphatically, "I don't deny Him… And the best is yet to come."
By Glenda Meekins of the Florida Catholic, May 12, 2021