ORLANDO | Approaching the end of Respect Life Month, St. James Cathedral filled for the second annual Mass for Life, Jan 21, celebrated by Bishop John Noonan. This year, in particular, the bishop called for prayer and fasting in the hope that Dobbs vs. Jackson Women's Health Organization (Mississippi) will inaugurate sweeping change to abortion laws in the United States.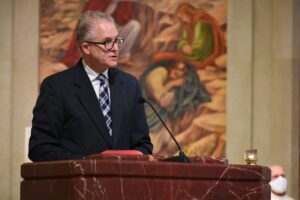 President of Catholic Charities of Central Florida, Gary Tester, noted the Church has always celebrated Masses for Life and supported March for Life in St. Augustine and Washington D.C. He said, "Last year because of the pandemic, and in an effort to make sure that we were helping people understand how important life is, the bishop was determined he would do an annual Mass for Life here for those folks who can't go to Washington or Saint Augustine."
Respect Life minsters and volunteers and students from Bishop Moore Catholic High School participated in the communal prayer.
Recalling the looming 49th anniversary of Roe v. Wade on Jan. 22, Bishop Noonan said, "Throughout these 49 years, we have witnessed the declination of respect of all humankind. This lack of respect is alive in every area of our relationships and we have all suffered because of it from exploitation of the human body, to the lifelong consequences of an abortion for both women and men, such as depression, substance abuse, suicidal thoughts to the many other ways in which we fail to respect each other."
He reminded those gathered that Jan. 22 was declared Day of Prayer for the Legal Protection of Unborn Children designated by the General Instruction of the Roman Missal (GIRM), no. 373. The day is set aside "as a particular day of prayer for the full restoration of the legal guarantee of the right to life and of penance for violations to the dignity of the human person committed through acts of abortion." He asked the body of Christ in the Diocese of Orlando to observe the day with prayer, fasting and acts of charity.
Leidy Rivas, director of Catholic Charities Culture of Life office noted, "Prayer is key to everything. The Lord is really out there, listening to our prayers every day. Miracles are happening, we just might not see all of them. To be able to partake in this is vital to the cause." She was particularly grateful that youth participated in the liturgy "because they are the ones who will continue to learn and understand why it is important to value life, which is a gift from God."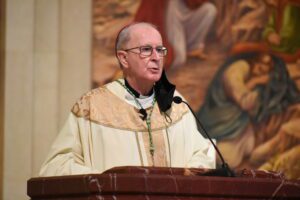 Bishop Noonan asked the faithful, "Reflect upon your own understanding of the sanctity of life and how you help flourish this beautiful gift or perhaps, how you have failed to do so," hoping to motivate everyone to action.
Rivas affirmed, "There are so many who've been fighting for this for so long. This is the year for all of us to unite and do this together."
By Glenda Meekins of the Florida Catholic Staff, January 26, 2022