HAINES CITY | The Diocese of Orlando has its first statue of Blessed Michael McGivney at St. Ann Parish in Polk County. McGivney was the son of Irish immigrants and a Catholic priest who grew up in working class neighborhoods of Waterbury, Connecticut. He also founded the Knights of Columbus, the largest Catholic fraternal society in the world.
The statue of McGivney sits in the refurbished prayer tower blessed by pastor, Father Alfonso Cely, on December 19th. Thanks to the donations of several Knight Councils, the tower now has a new crucifix, tilework and sitting area.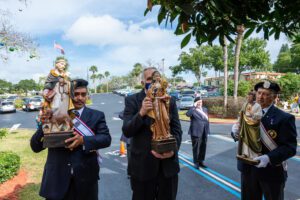 Father McGivney spent just 13 years as a priest and was known for courtesy and compassion. He died at the young age of 38 in 1890 and was beatified in October of 2020. His statue at St. Ann's is a symbol of the Knights commitment to work at the parish level, a deepening of faith and the ongoing promotion of the ideas of fraternity, charity, unity, and patriotism.
Also new to the prayer tower are statues of St. Claire of Assisi, the first female author of monastic guidelines; St. Dominic, founder of the Order of Preachers known as the Dominicans; and St. Jude, one of the 12 apostles and patron of lost causes.
By Glenda Meekins of the Florida Catholic Staff, January 5, 2022