ORLANDO | Family and friends have mourned the loss of veterans on Memorial Day since 1868. In honor of this day, we remember two faithful Catholics – St. Stephen parishioner Chief Master Sergeant Edward Boyd who died at age 98 after serving in every branch of the Armed Forces and Staff Sergeant Robert Miller, who gave his life at age 24 to save the lives of 22 coalition force members during a firefight in Afghanistan.
CMSgt. Edward Boyd was married to his wife, Thelma, for 72 years. They had five children and lived abroad and in the U.S. during his various service commissions. Boyd first joined the Naval Reserves and got out just before World War II. When the war broke out, he joined the Army Corp of Engineers and served in Burma alongside Chinese soldiers, building the Burma Road – a dangerous strip linking Burma (now Myanmar) with China, used to bring supplies to the Chinese fighting against Japan.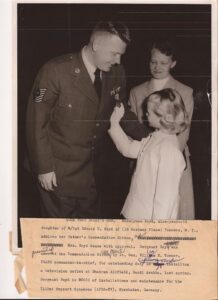 Using his G.I. Bill, he went to school after the war to learn radio and television electronics. He joined the U.S. Army and began working in logistics. Always a lector for the chaplains, he confessed to his priest that he was deeply unhappy and preferred to work in electronics. Proving himself by repairing the chaplain's radio, the priest helped secure a position for him working in radar with the Army Air Corps (which became the U.S. Air Force). "This launched his career in the military, where he decided to stay in," his son, Edward Boyd Jr., said. "His faith drew him to his career in the military."
Boyd's faith was steadfast. "He was not very conversational about his faith," shared his son. "It was a private matter for him. He said the rosary at least once a week and while he could still see he was always reading the bible." He noted his father's legacy was "not in what he said, but in what he said and did."
St. Stephen Parish, Winter Springs Pastor Monsignor John Bluett never failed to recognize the bright-eyed, vigorous veteran who always had a kind word. He said of Boyd, "He was an amazing gentleman… When I would recognize him, he would put his two hands over his head with his fists up in the air." Monsignor Bluett anointed him earlier this month, the day before he died. It was the first hospital the priest entered in more than one year because of COVID-19. He recalled how Boyd clasped his hand "as though he was going to crush it… He looked me in the eyes the entire time. It was certainly a God moment for me."
Army Staff Sgt. Robert Miller was a Green Beret who served two tours in Afghanistan. The Special Forces soldier helped train Afghans to defend their country. During his first deployment he earned two Army Commendation Medals for Valor. He then returned as a member of the Combined Joint Special Operations Task Force-Afghanistan.
On Jan. 25, 2008, his detachment ran into insurgents attacking Afghan forces and villagers near the Pakistani border. After some reconnaissance and instructions, they proceeded. Sgt. Miller led the way as roughly 150 rebel fighters attacked. He yelled to fellow troops to pull back while he charged the enemy, giving soldiers time to seek cover. He continued to call out enemy positions even after he was shot, drawing more attention to himself. He died so 22 other men could escape.
Sgt. Miller's mother, Maureen, a parishioner at Most Precious Blood Parish in Oviedo, said, "He honored his faith through service to his country. He saw there was something bigger than him in his own personal ideas and comfort level. He liked the military, but there was a lot of hardship involved. He had a good understanding of history and his place in the world… It was just part of who he was, trying to serve a greater cause."
She recalled how happy he was when he shared that a Catholic priest would celebrate Mass with their small group, too small for a permanent chaplain. She cherishes the Afghan rug given to the family by Afghan soldiers to honor her son – a tradition. It hangs in the Miller's living room.
Sgt. Miller was one of eight children. Maureen added, "Knowing how he died— willingly laid down his life for his fellow soldiers, helped our family a lot in dealing with his loss."
Former President Barack Obama presented Sgt. Miller's parents, Philip and Maureen Miller, the Gold Star Medal of Honor, the nation's highest medal for valor, at the White House in 2010.
By Glenda Meekins of the Florida Catholic, May 25, 2021