ORLANDO | Students, teachers and parents from Morning Star Catholic School strutted down the catwalk at the Loews Sapphire Falls Resort at Universal to raise funds for the first time since COVID closures. The audience cheered as models smiled wide and struck fun poses.
June 7th marked the 59th year for the Runway for Giving Fashion Show, the longest running charity event in Orlando.
Before showing off apparel from local boutiques including Tuni, The Grove, Gatorlilly's, Arabella, John Craig, and The Collection Bridal, two students and their parents shared personal testimonies and the love of the Lord found at Morning Star. Parent, Mark Andrew, noted, "This is the closest way I will ever see through God's eyes … because (the kids) are so loving, forgiving, and just good human beings."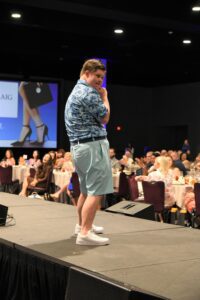 The fashion fundraiser not only raises money, but also awareness for the community to fully recognize the gifts and talents of each child. Principal, Alicia Abbey echoed the importance of the event as it helps "get (Morning Star's) message across through (their) mission, who (they) are as a school, what (they) do for (their students) and how important Morning Star is in the community."
Samuel, a student model, was excited to show off his basketball pose as he sported a blue polo and shorts from John Craig. He was one of the first to put on his outfit Tuesday morning in preparation for dress rehearsal.
Friend and fellow student, Olivia, was a natural as danced down the catwalk with her hand on her hip (her favorite pose). Olivia said it felt great to show off her pink dress in her favorite color. She eagerly agreed she would model again because of the fashion and the quality time spent with family at the event.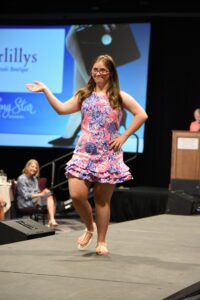 Donations will support academic and instructional needs, technology, and funding for a school nurse. Morning Star Catholic School supports students through variety of different therapies that cater to each individual's needs. The overall goal is to help them achieve their personal best as children of God.
By Lana Kaczmarek, Special to the Florida Catholic, June 08, 2022