WINTER PARK | The first time Drew Beracierto went to San Pedro Spiritual Development Center's Summer Camp in Winter Park was 2006. He was 7 years old. Going in, he thought it would be a fun week. By the end he discovered, "This place is so much more."
From the first day, he knew he wanted to return and did so for the next 10 years with his brother, Alex. "Everybody's dream growing up is to be an astronaut or something like that," Drew said. "My dream was to become a camp counselor. It was a seed planted in my heart from a very young age."
As a camper at age 16, he began the Counselor in Training program. He was hired as a counselor after graduating in 2017 and worked every summer since, except one year during COVID.
He said the counselors' example, how they "genuinely take care of each camper and exhibit God's love in such a meaningful way," was a special witness. "For these counselors, who are so young, to have a deep, meaningful life in Christ and service to us was really inspiring."
This past spring, he became Camp Manager. "It was surreal up until the first day of camp," he said. "It was a dream come true. I felt really blessed and grateful. I knew I had a great responsibility, so it was a lot of different emotions."
Drew had not aspired to the position originally. He was happy as a counselor. But God put the desire in his heart "unexpectedly". In retrospect, he realized God was preparing him from the start.
This summer's theme is "King of Kings". After the counselors selected it, they agreed they could "relate it to the truth of who God is." Drew said he hopes campers come away with a desire "to live a deep and meaningful life through the King of Kings."
He quoted Lk 24:32, "They asked each other, 'Were not our hearts burning within us while He talked on the road and opened the Scriptures to us?'"
"That relates to what we are trying to achieve here by allowing God to work through us to inspire the kids," he said. "To live a deep and meaningful life through the King of Kings."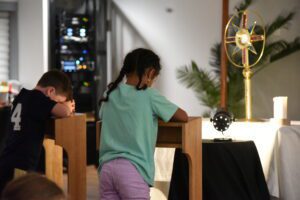 The camp team focuses on the truth of His Scripture and the Sacraments. This is emphasized in Eucharistic Adoration. Drew recalls participating in Eucharistic Adoration at his first camp. It is where he first felt God's presence, as did many others.
At the elementary overnight camp, July 9-15, young campers seemed to understand and experience God's presence as well. Many unabashedly approached the altar and prayed fervently. Others knelt close by, praying.
Drew said Eucharistic Adoration is important because, "God is not just for adults. He is for everyone… Eucharistic Adoration is such a gift. We are blessed the elementary kids receive it so well."
Beracierto's brother, Alex, has been by his side since the beginning. "We've been each other's rock through this whole experience," he said. "The faith it's given us has provided a unique and stronger bond."
He appreciates the family and community San Pedro provides, he says – with gratitude for his core team and director Katie Neu.
"What a sacred place this is. For the people who are blessed to come here, they're always drawn back because of the Holy Spirit which is so strong here. God is absolutely present in everything."
Built in 1960 as a Scripture camp, he affirms, "This place is still on fire… And it's not limited to summer camp!"
By Glenda Meekins of the Florida Catholic staff, July 22, 2022