ORLANDO | Being present at the canonization of St. John Baptist Scalabrini in St. Peter's Square was something many Missionaries of St. Charles Borromeo (Scalabrinians) dreamt for decades.
Their hopes became reality Oct. 9, 2022, when Pope Francis declared the founder of the Scalabrinians a saint.
Amongst those to witness the event were Fathers Noe Vera and Vincenzo Ronchi, two Scalabrinians with ties to Resurrection Parish in Winter Garden. Father Vera serves as parochial vicar, and Father Ronchi formerly served there as parochial vicar. Scalabrinian priests have served Resurrection Parish since 2003.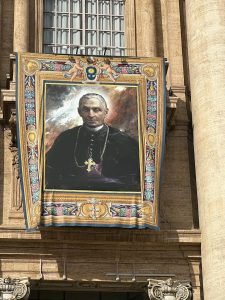 St. John Baptist Scalabrini was a bishop of Piacenza (Italy) who founded the Congregation of the Missionaries of St. Charles (Scalabrinians), a religious order whose mission is to accompany and serve migrants. He also founded the School of Christian Doctrine and the catechetical review (Il Catechista Cattolico). He also held the first National Catechetical Congress in 1889. Pope Pius IX referred to him as "Apostle of the Catechism."
In a recent bulletin, Scalabrinian Father Heitor Castoldi, pastor of Resurrection, said now Scalabrini can "keep interceding, as a saint, for all the ones who leave their home countries in search of a haven to provide a better life for themselves and their families, especially those forced to migrate because of war, conflicts, violence, poverty, and natural disasters. … Let us ask God, through the intercession of St. Scalabrini, for peace and justice in the world, since the main causes of forced migration are violence and poverty."
By Glenda Meekins of the Florida Catholic staff, October 13, 2022