Editor's note: The family's last name has been omitted for the protection of youth.
ST. CLOUD | A commercial featuring a local Catholic family along with soccer stars of the U.S. Men's National Team hopes to dispel the stigma on what is "wrong" with children on the autism spectrum and instead create awareness about "what is right."
The commercial, which has already garnered 50,000 views online, was released last month to promote April as Autism Awareness month. Christian Pulisic, a 22-year-old member of the U.S. Men's National Team, has an older brother with autism and worked with the team's sponsor — Volkswagen — to create a commercial for autism awareness. The commercial would also highlight Elijah, a student of St. Thomas Aquinas School in St. Cloud who is on the spectrum and is an avid soccer player in his own right.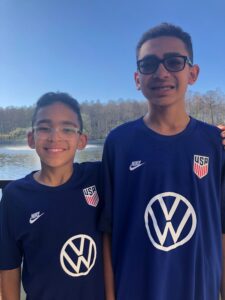 But after hearing the entire family's story, the team and the sponsor invited the whole family to participate in the commercial. Margie, her husband, Manny, and all three of her boys — Elijah, Isaiah, and Jeremiah, are part of the commercial and after filming enjoyed a World Cup qualifying tournament.
"I wanted other people to see they are not alone," said Margie, who got a "crash course" on autism after Elijah's surprising diagnosis. "I hope that people see the able and not the label. I want people to be able to see that there is so much more to a child on the spectrum. … If they can see their ability, it is a totally different ball game."
"I felt a little nervous, but I was excited, and it was amazing," said Elijah, who has played XL soccer, dominating in the Special Olympics team, and Catholic Youth League.
Jeremiah, the youngest sibling who was also diagnosed on the spectrum, enjoyed the experience as well.
"I was happy when they showed us our jerseys with our name. I felt important, especially when we got to stand on the field," he said.
According to the Mayo Clinic, autism spectrum disorder is a condition "related to brain development that impacts how a person perceives and socializes with others, causing problems in social interaction and communication." The "spectrum" refers to the "wide range of symptoms and severity."
Margie did not have issues with her pregnancies or deliveries, and recalled how Elijah's and Jeremiah's toddler years included reaching the typical milestones.
"Everything except for his speech, (his progress) was textbook, including crawling and babbling," Margie said, adding Elijah was taught sign language since he did not speak.
She consulted doctors to search for explanations for her son's lack of speech. While one solution was offering medication, Margie did not feel that was what her son needed.
"As a parent I knew there was something more. I knew there was something different about him," she said.
It was Lisa Landy, a counselor at St. Thomas Aquinas Catholic School, who suggested to Margie she might want to take Elijah, then in the second grade, to a neurologist — who is the medical professional who could offer diagnoses on neurological conditions such as autism.
"That's when I really got a crash course in what autism was," Margie recalled.
Through testing and consultations, the neurologist diagnosed Elijah with autism spectrum disorder and Margie learned how to work with a child on the spectrum. By the time she had Jeremiah, she was able to recognize signs of the spectrum sooner.
Margie wants her children to be proud of who they are, and just as she found help and support at St. Thomas Aquinas, she hopes to help others. Margie credited Landy with helping her come to terms with the boys' diagnosis. Having those conversations and saying, 'Hey, I know what you're going through' was a big support."
She added, Nicholas Pavgouzas, the school principal, also supported her through tough moments, reminding her some of her children's actions are not intentional, just a consequence of their diagnosis.
Working as an accountant at St. Thomas Aquinas, she and her children reap the benefits of a tight knit community that affirms Catholic Social Teaching, especially in how people treat one another.
"(The kids) get it. They're kinder. They're more understanding as to the quirkiness and their differences," she said. "(I'm grateful) to have people in the room who are like-minded, who don't let either one of (the boys) get away with things, but approach it in a way that is understanding."
Margie said she is aware that "bubble" of security might burst when Elijah goes to high school. She has been through many situations where others' judgments affect the boys and the family. But faith reminds the family they are "instruments to show love and wisdom, and that the children — including middle son, Isaiah, who is not on the spectrum but is patient and kind with his brothers — are teachers, too.
"My faith has helped me to stay strong in those tough moments, and my children taught me patience and understanding," Manny said.
"There are plenty of times I can drop to my knees and say, 'God, why?' But that goes both ways," Margie said. "There are also times I am overwhelmed with how much love there is and wonder why I was picked to receive this. Those are things I want to share with other people. … (The boys have) taught me so much about myself as a woman, as a mother, as a child of God. I've opened my eyes in a different way."
By Glenda Meekins of the Florida Catholic staff, May 4, 2022